This post has already been read 63 times!
Senator Uche Ekwunife (Iyom) on Friday visited the Divisional Police Headquarters, Ogidi in Idemili North Local Government Area of Anambra State.
The visit was in reaction to the vandalization of some police facilities in Anambra Central Senatorial District during the End SARS protest which was unfortunately hijacked by hoodlums who derailed from the genuine intention of the protest against police brutality to cause unrest and vandalize public properties.
During the visit, Senator Ekwunife who was received by the Divisional Police Officer, Remijuice Ekure expressed her displeasure over the destruction of properties and loss of lives recorded during the riots that followed the protest. She condemned the actions of those involved in the unfortunate incident.
Speaking she said, "We are here to inspect the extent of damage done in this police facility to enable us partner with the various stakeholders to ensure that we render whatever support that is necessary to encourage the police in the discharge of their duties.
"We are all deeply saddened by the twist of events which led to this nationwide destruction of properties and loss of lives and it is my belief that with the current efforts being made by government to reform the police, these sad events will not reoccur".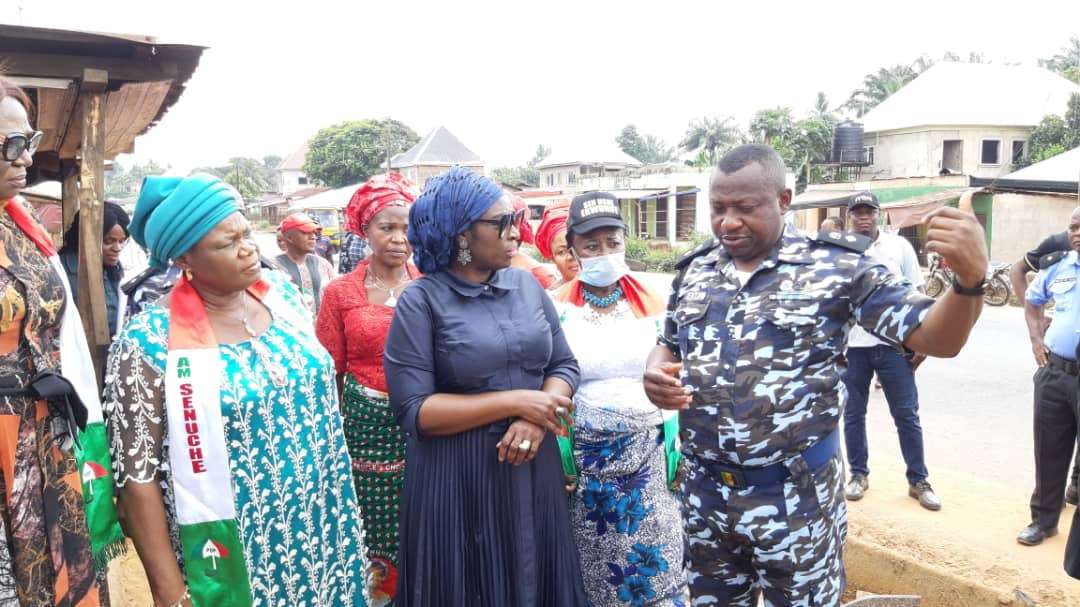 Continuing, the Senator stated that the importance of the police in our society can never be over emphasized. She called on all well meaning citizens to encourage and support the police, particularly at this time when their morale must have be dampened by the incidence of the last few weeks.
While commending President Muhammadu Buhari for addressing the concerns of the End SARS protesters, the Lawmaker advised police officers to fish out the bad eggs among them who give the police a bad name in order to put an end to incidents of police brutality and killing of innocent citizens by errant police officers.
On his part, the Divisional Police Officer, Remijuice Ekure appreciated the Senator for identifying with the police division. He prayed God to reward her abundantly and grant her success in all her endeavours.
Some of the citizens whose shops were burnt in front of the police division during the incident also expressed their joy over the Senator's visit. They thanked her for commiserating with them at their moment of grief.
Source: The Street Reporters Newspaper