The demise of the Leader of Afenifere, Senator Abraham Aderibigbe Adesanya, in 2008 obviously brought to an end the regular meeting of Afenifere in his Compound located in Ijebu-Igbo, Ogun State. 

His hometown and beautiful residence was again agog with the quantitative and qualitative gathering of people from all walks of life for celebration of life of his late wife, Madam Grace Omotayo Abraham Adesanya who died recently. 

Part of the persons who thronged the funeral service and reception in honour of the late Grace Omotayo Abraham Adesanya were politicians, professional groups, artisans, workers' unions, market unions, students' unions, various youth organisations, and others. 
The personalities were hosted by the son of the late leader of Afenifere, Hon Bayo Abraham Adesanya, on Saturday September 18, 2021. That was exactly a week after the passage the wife of the of late Pa Adesanya, Grace Omotayo Abraham Adesanya, who die in her sleep.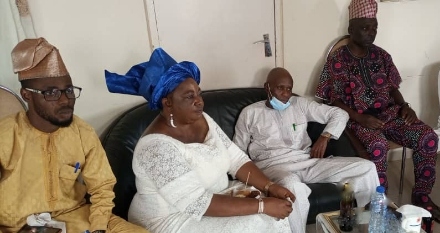 Also among the people in attendance were notable chieftains of Afenifere and the National Democratic Coalition (NADECO), including the former Deputy Governor of Ogun State, Alhaji Senator Gbenga Kaka, who was a close ally of the late leader of Afenifere throughout his lifetime.

According to a statement signed by the President General of the Grand Council of Yoruba Youths, Comrade AWA Bamiji, Hon. Bayo Adesanya, on behalf of the family, appreciated the solidarity and company of every person who were there for them since the incident occurred and those who were at the Ijebu-Igbo country home of the late Afenifere leader. 

Comrade AWA Bamiji, who was at the august event alongside other pro-democracy activists, prayed God Almighty to grant the soul of Madam Grace Omotayo Adesanya "sweet repose and continue to bless the souls of her father and mother-in-law."