Inibehe Effiong was called to bar just over 5 years ago and his name is everywhere. He is young, hardworking, single and expected to still be cutting his teeth in the legal profession, where seniority and hierarchy is inviolable.
But straight out of law school, Inibehe decided to join the human rights community and fight for the voiceless. He came into the activist community with a blistering passion for justice and accountability, particularly from his home State Government, Akwa Ibom.
Today, he runs a flourishing law office in Lagos where he has employed several other lawyers. He has over a dozen cases of citizens rights violation against the Akwa Ibom State government in courts around the State.
His steadfastness and consistency in his avowals since he was called to bar, has endeared him to leaders of the depleting civil rights movement in Nigeria as well as the mainstream media.
While his peers and even seniors are busy waiting in their offices for "juicy briefs" to defray their bills, Inibehe has combined both that as well as moving around the country to offer free legal services to oppressed people who ordinarily will not be able to afford the services of a lawyer.
I am a beneficiary of Inibehe's pro bono legal services. His intelligence and incisive analysis of Nigerian problems has also become the toast of many TV and Radio talk shows around the country and he is a very regular face in those talk shows and consequently, he has become a lot more popular than most of his peers and even his seniors.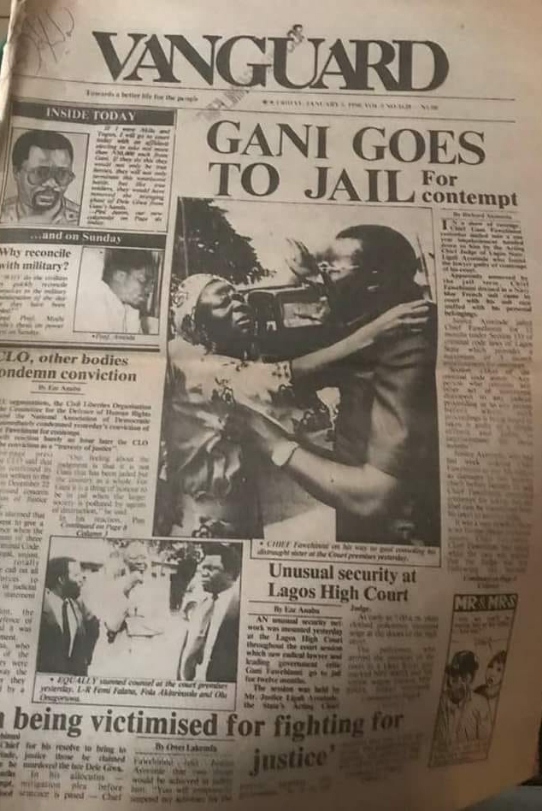 He is also winning celebrated cases in courts and losing some too. This has also come with a lot of envy, particularly from his fellow legal practitioners, mostly the ones from Akwa Ibom, where he hails from.
One article emanated from someone who is CW3. A witness on the side of the Akwa Ibom government that is in court with Inibehe's client and many have sent that article to me as eye witness account of what happened in court and most of those who sent the article to me are lawyers and professional colleagues of Inibehe.
They are trying hard to push the false narrative that he was rude to the judge and that is what he is used to doing. They wish he will be taught a lesson and return from prison never to have his courage again.
But it's not a novelty. When I was arrested, the first set of people who disowned me were my colleague journalists in my State. The Nigeria Union of Journalists in Cross River told newsmen that I am not a journalist.
They disowned me immediately and were working with the governor to ensure I remain in jail. Governor Ayade who arrested me made frantic and fervent efforts to control and maintain a false narrative outside knowing I was caged and had no way of setting the records straight.
Ayade went about lying about how he was the one who started CrossRiverWatch for us, how he bought the first car I drove, how he has been giving me money and how if he opened our WhatsApp communication, everyone will know he is a man sent from God to me and so on and so forth. People actually began to believe him and some still do till now.
The governor and his handlers were sliding into the inbox of many of my close friends and comrades and begging them to discountenance everything from my own sources and dump me in jail. He was even willing to pay them to achieve that. It took God and a coterie of friends and colleagues who trusted my own integrity to continue to stand up for me in my absence.
It is always good to balance the narrative. You have heard the one from the reactionaries. Can the Akwa Ibom state Chief Judge release the CCTV recording of the court and let us see the insolence of Inibehe?
There is no law in Nigeria stopping recording or releasing of Court proceedings. I think a section of the public is interested in that. I do not think that it is proper to allow judges to shut down our advocates when we the litigants aren't allowed to talk from the dock. Where then is the fair trial?
If we litigants are considered unlearned, lawyers like judges, are part of the ministers in the temple of justice. They shouldn't just be called the bluff because of the bloated ego an umpire who is not an angel, either.
My point is that, I have known Inibehe since he was called to bar. He has been my lawyer too. He is one of the most responsible Nigerians that I have known. He is not disrespectful where there is no injustice.
He is not an arrogant lawyer. He is just a different lawyer. Eager to do things differently. He is not a conformist. He is a reformist. Reformists generally blaze through the maze of life. They don't navigate the normal route. Don't envy them because you will wound yourself.
They knock down entrenched giants on their way to accomplishing their mission. They also suffer and endure a lot of adversity to change the way things are done. Inibehe is in that class. You envy him at your own peril.
He is cut out for this. He is not a coward and will not shrink his decibel. He will be out with candor and vigor and we will honor him as our Senior Advocate of the Masses SAM3, after Chief Gani Fawehinmi (1988) and Ebun Adegboruwa (2015).
#FreeInibeheEffiong
Yours sincerely,
Citizen Agba Jalingo.