Oyo NDE Trains 30 Enviropreneurials In Entrepreneurship Skills
Determined to curb the high rate of unemployment in the country, the National Directorate of Employment (NDE) has assured that it will continue to inculcate solid business management training in unemployed persons that would instil self-confidence in managing their chosen business ventures successfully.
Speaking at the official flag-off of the Basic Business Training (BBT) for Enviropreneurship Development Scheme (EDS) participants in Ibadan, Oyo State capital.
The State Coordinator, NDE Oyo State, Mrs Olayemi Olayinka, who spoke on behalf of the Agency's Director-General, Mallam Abubakar Nuhu Fikpo, said the Federal Government, through NDE, in a bid to rescue our environment under the burden of waste management that have writhen the world, has commenced a entrepreneurship training for 30 unemployed youths who have just completed their training in the conversion of waste materials to finished valuable product [Waste to wealth].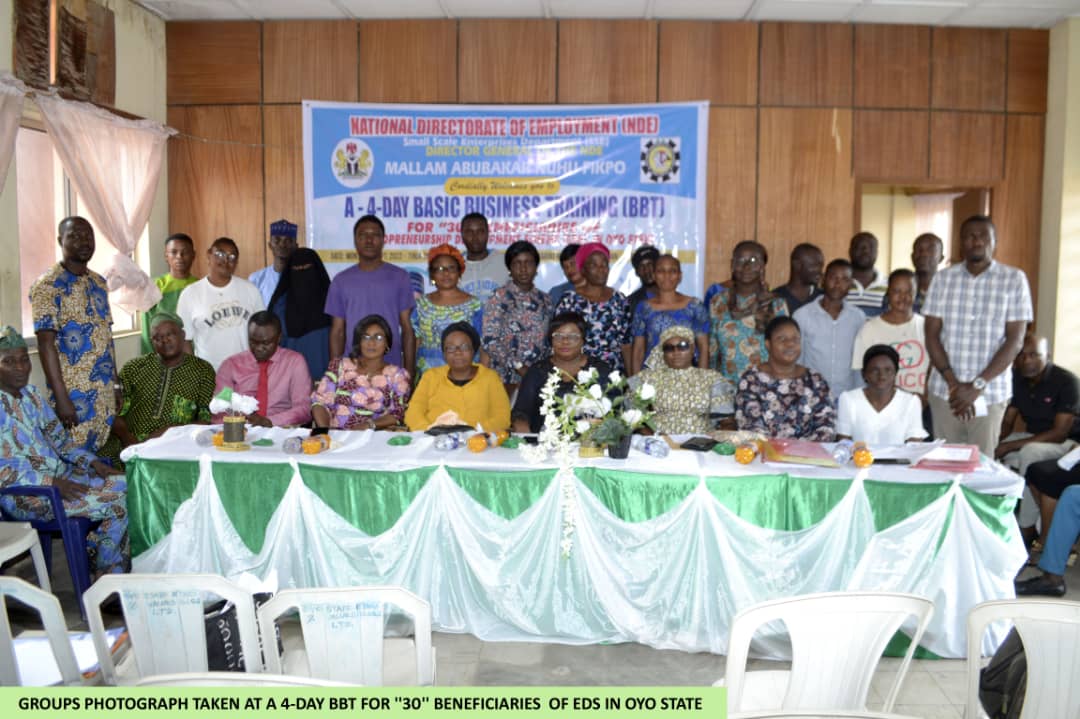 She explained that the concept of the training was borne out of the desire to guide the graduated Enviropreneurship in turning the skills acquired into a business venture, expand their business horizon and gives a solid business management training that would instil in them self-confidence in managing their chosen business ventures successfully through entrepreneurship skills training that would be impacted in them by various NDE resource persons in the course of this training.

The Representative of the Director Small Scale Enterprise, Mrs Rosemary Okolo, noted that the training is an exit plan for those that has undergone the Enviropreneurship Development Scheme and will help them recognise the great potential in them, enhance financial inclusion and boost the country's GDP.

Similarly, the Head of Small Scale Enterprise Department Mrs Steve-Ogundipe, thanked the government for the initiative and charged the participants to aim at self-reliance by effectively utilizing the knowledge impacted in them to start-up and improve on their existing businesses.