This post has already been read 328 times!
"Fani-Kayode , A Political Attack Dog Under Attack And The End Of His Political Gambling Methodology"
I have long seized to talk about the man Femi Fani-Kayode, both the Marine influence under which he operates, as well as those who patronize his nuisance and atrocious value, the moment he was taken to the presidential villa through the arrangement of the governor of Yobe State then as acting National Caretaker Committee Chairman, of the All Progressives Congress, (APC) to meet the President in his office in Abuja, to pledge his loyalty with the assurance to turn a new leaf.
At the request of the Governor, the President agreed to have a group snapshot where Kayode was seen standing close to the current president, Mohammadu Buhari, on that occasion.
That did not amuse me one bit. I felt pity for Mr. President. And immediately after watching that drama, I adopted a prayer line on which to pray for his safe exit as the President of Nigeria at the end of his tenure as those who pretend to be his men Friday, do not hold him in high esteem as many of us do.
The photograph was publicized by the bloggers, and further paid for by Kayode to enable it to go viral to indicate to the world that he is now a Buhari person, for a President we so cherished, whom this indecorous sounding human devil called Feni-Kayode takes pleasure often, in abusing whenever it suits him to do so without any provocation whatsoever.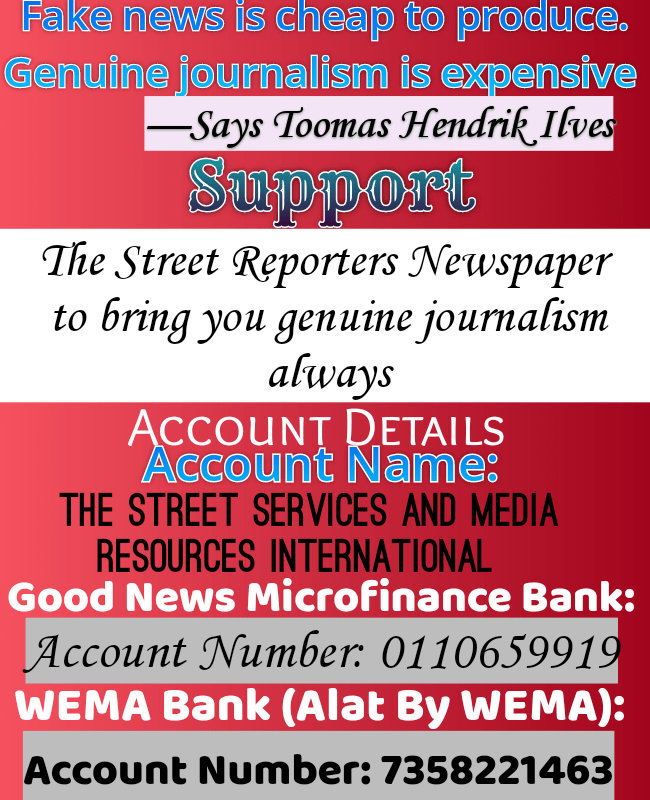 There and then I thought our party, the All Progressives Congress, (APC), was fast losing its essence in their disrespect for the feelings of Mr. President whom Kayode pours invection often with adjectives that were impervious and unacceptable in modern society in use to address a president of one's country.
And he went away with all the atrocities without being reprimanded. If he could be allowed to do that to a retired Army General of Buhari's caliber and disposition, then he could do that to anybody.
All because those at the top, I was reliably informed, thought he had shown sufficient signs of one suffering from some form of derangement therefore chances are that he could unleash his canon on anyone, and nobody would wish that to happen to him or her, so Kayode went unmolested or taken to task on all of those ill-mannered behaviors.
And more so because some of his kinsmen in corridors of power were fairly and partially in support of his actions which further emboldened him. And many a time, they interceded for him as a show of solidarity.
The time is coming, and very soon, when he, and those like him, will surely be consumed by their vomits with no one to bail them out. The Lord, God almighty, cannot be mocked by cannon fodder. Which is what the likes of Kayode represent.
Now that he has chosen once again to sharpen his venomous and unbridled mouth towards Mr. Peter Obi, a young man, in his innocence, fairly younger than him who has displayed an uncommon grasp of Nigeria's problems and had proffer practical and workable approach to them agreeable to many and has shown the capacity and the courage to defer from the status quo, Nigerians should give this intercession a deep thought and a trial to the shame of the human devils who abound and have held our beloved country Nigeria to ransom.
What else could be done to prove competence than that in selflessness, for one like Obi, with exceptional capacity to withstand stress considering the numbers of countries abroad he had visited within such a short time, to carry the message of hope to those in the diaspora and yet still looking unruffled to go many miles further, teaching and preaching to Nigerians of what to expect in the new Nigeria under his stewardship?
Obsequiously they all embraced his message and pledged to go along with him to Nigeria. Does this look like someone Kayode can antagonize?
And in none of these outings has Mr. Peter Obi down-talk or heaped insult on the person of the current President General Mohammadu Buhari nor accuse him directly as others are fond of doing at times like this, of being the direct course of the present problems of Nigeria.
Does he rather speak in parentheses in areas that touch on leadership, very mindful of the office Mr. President now occupies.?
Many today are having their voices heard, hope rekindled all because of the assurances given by this Peter Obi, where many now believe their votes cast would have meaning.
His is an interest worth defending and a lot of people I know have promised to join forces to give Kayode or anyone for that matter, a taste of their venom.
We must be mindful of what the Marine forces and their human agents such as Kayode, are trying to turn Nigeria into, under the claim of being Christians by quoting Bible verses to make it look like one that is backed by the Lord.
Any man or woman who shamelessly takes delight in abusing people anyhow, and bringing them to disrepute especially the unrestrained manner Kayode insult those he chooses shows something is fundamentally wrong with his inner composition.
He is very proud to wear the nomenclature of an attack dog which was on display in his recent public outing against or between himself and his rival, Senator Dino Melaye, both of whom are coaxed by Marine forces at various degrees of inducement. Kayode is said to be more in their grip than Dino.
And that was evident more of who among the two enjoyed the public disgrace they ignited and was willing to continue but for some paymaster's advice for a ceasefire to be observed, the battle would've still been on, said Kayode, who, practically speaking is not a true member of the ruling All Progressives Congress, (APC) a party to which I belong. He is a mere political gambler.
But this, however, will mark Kayode's last defection to another ruling party which the Labour party is likely going to become by Obi's candidacy, the Lord's willing, so says one of my friends, as that has been his modus Operandi. And I seem to agree with him on that point.
His is akin to a belly-full tiger, far away from its original habitat on whose back you can experience temporal and very secured residuum. But as soon as the food sustaining its appetite to long to eat more – wanes, you automatically become its next target to feed its empty belly.
I am an APC man to the core. I have displayed that in all my outings in support of my party and the President including a few friends in my state with leadership qualities, competence, and composure I thought to deserve to be given a chance to ascend to leadership positions.
But in all of these, not even a thank you did I get other than conspiracies from those you would've thought have gotten their fair share and would have been so glad and willing to encourage others, but were those who connive to deny me of my due, typically of the politics prevalent in Cross River State, All Progressives Congress, (APC).
I abhor evil tendencies as a Christ Devotee. And the insensitivity of the party leadership at the top in listening to complaints of those genuinely deserving their attention from the state chapters who are unable to "demon-cross" those whose lies have become their armor, and this is having a growing impact on its followers, myself included and its seems to make the party less and less attractive to those who now feel marginalized and are looking forward to a new done.
A ruling party of such greatness and dissipation in my view should have an arm of its snorkeling amongst its own in the states to take stock of the performances of individual members who are championing the activities of the party in their efforts and make their findings and submissions independently to the hierarchy and the government or the presidency in this case, without passing through local leaders of the party in the various states who may be biased of such fervent and committed party men of their accomplishments.
That is lacking in APC. Only the strong survive. And to be strong in this context means the ability to tell more lies, equivocate and be involved in deceit, corner every money given for projects to benefit all into one's pocket, be parochial and develop backbiting skills and envy.
This is why anybody with a bag full of decoys that may carry temporal effects can easily make inroads into the core structure of the party and influence decision-making with everybody conceding especially those who are inordinate feeling such an intruder has a magic wand.
And this gives room for lies and conspiracy to prevail against those of us who do things based on conviction and not inducements, financial or otherwise.
There comes a time a man or a people should stay back and reflect on their actions to see if it attracts dividends commensurate to the efforts exerted so far or not.
No amount of incentives nor induced poverty can change that conviction of mine, that condemns falsehood whether on individual grounds, group or party level as something to be rejected in all its exhibitions.
People like Kayode as we now see in their chameleonic nature are neither principled nor endowed. I thought he was. A character exerting such energy and galloping everywhere should.
But he isn't. No endowed human being behaves as he does always towards their inclinations be it in defense of a right or to persuade people to agree with your views or abide by certain rules.
He merely was sent to school quite alright by his parents who cherished education. Like it was in the days of late Pa, Obafemi Awolowo's Western Nigeria.
And he was forced to study whatever it is he did in school. Certainly, he is not an endowed person.
Is likely that the same people decided to use him to play ping-pong in the spirit world, hence his present state of irrationality, being grumpy, his tenaciousness in showing off desertion in the most childish manner ever imagined for a man of his age, and his acting most ludicrously are so recurrent.
No truly endowed human being example of the standing I exert in circumstances under which I do who is conscious of what is in him and put the same at work for result can be said to be materially deficit the extent to which lack becomes the driving force behind his actions which goes contrary to the image he portrays and what he professes.
Except such an individual is been possessed by evil spirits unknown to them lose their sense of pride and dignity in exhibiting firmly who they are, especially where they are tuned to be engrossed with the admiration of that which is out of their scope of the endowment to attract.
If you are true of the Lord, everything good is bound to be attracted to you by the fact that you're a light sitting on the hilltop. Yours is to make correct that which is pleasing unto the Lord your God that reigns sublimely within you even at the so-called hard or bad times.
For an example of one like me who has chosen to dabble into politics other than running a successful assemblage of truth searchers to listen to the deep things of the Lord which is part of my endowment, sad moments involving a conspiracy of various nature abound because of the very character of the game.
It does not give room for one to practice honesty or admire to applaud those who do. Lie telling seems to be a matter of choice and sounds amusing but not something forbidden at all in politics. Those involved in it, just like I do, call it a game.
Very few people have I met on this road are truly honest. But most who are filled with the Lord use the gains derived therefrom, in politics to affect society positively even at their inconvenience.
That is where politics could be said to be a veritable tool but not when men without conscience are allowed to champion its course, almost unchallenged. It becomes a curse to society instead.
An endowed person who becomes a leader, at whatever level, exhibits contentment by nature. Because he always sees what is in him to be more precious than what is out of him.
The barriers between them hinge, on time. Anything which is not outrightly special and meaningful would mean less to him or doesn't attract him at all.
His is to see society grow using what he has to achieve and not involve in conduct that is inimical to the values he turns to project against which he holds dear.
And not engaged in excessive stealing of patrimony, of what belongs to the people his been allowed to serve. Those temptations barely surface but do not have a place within his core values.
This is why an endowed person hardly would waste his precious time meant to develop himself and the society in which he lives to engage in revenge.
Revenge is prevalent more amongst opportunists, indolent persons with little to offer life or society. And those with ego problems which is the reason why they're most engaged in backbiting, blackmail, and character assassination of those endowed.
Any man or woman who feels bamboozled by why the Holy Spirit is ingrained in changing the tide that has engulfed Governor Nyesom Wike of River State and those of his fellow governors and confederates who are mostly members of the People's Democratic Party (PDP), who have chosen to openly fight side by side for the first time with him as a group unlike others who do so underground against the injustices meted on the people of the South, and our Eastern brothers, by Alhaji Atiku Abubakar and his gang of desperados, should go back and read the book of Ezekiel in the Holy Bible.
Those who are of the illusion to think that what Wike and co., are doing is in support of the candidacy of Alhaji Bola Ahmed Tinubu see nothing wrong in having a Muslim, Muslim ticket as an attempt to openly undermine Christendom, an idea that General Buhari, the current president, and commander-in-chief of the armed forces of Nigeria, of all people, refused to entertain for the same glaring reasons that it is an abrogation of the norms, is not reading the times, nor the tide accurately.
If Governor Wike himself, decides to do a hundred-degree somersault over that which he has accelerated into action, for anything sake, would be shooting himself on the two legs and eroding history, which will come without any room for repentance for that which has suddenly made him our hero.
Nigeria no longer sees parties, we assess individual actions and intentions and how the sacrifices they make and the services offered serve a common purpose.
Unfortunately, political parties are now using partisanship to stiffen the will of the people from making their choices of who they consider most competent to govern them against those generally unfit but became candidates as a product of financial inducement the party tern to put forward as the best choice.
And this comes as an abuse where their rights are being undermined by the various party leaders who do so without compunction.
We expect such attitude to be done away with, with the new moves throwing up themselves as seen in the "Obedience movement's" incursion taking a toll on the entire political configuration.
The country earnestly yearns for change. This generation of men and women is blessed. So much that it is in their time that the Lord of Host and not the deity or gods in the ethereality, both Marine and others, are going to do mighty things to change Nigeria.
Eloquence or grandiloquence has no place here and would not play any major role.
Change has come and it is fast eroding the instrument of falsehood that has engulfed the land almost in perpetuity. Talk is cheap. These kingdoms and those of deceit who populate it are about to run tattered.
I speak as an Oracle. And sincerely hope you will keep up with me here as I bring the concluding part of this dissertation in a few days to come, the Lord willing.
End Time Message!