Alozie Opens Up On Stepping Incident, Reveals What Lauren James Didn't Do
This post has already been read 763 times!
Super Falcons' Michelle Alozie has spoken on the widely reported tramping incident by English forward Lauren James during the recent FIFA Women's World Cup.
Despite the reported apology by the Lauren James on the issue, Michelle Alozie has revealed that Lauren James did not privately reach her after the controversial action.
This is contrary to speculations, following a stomping incident in Nigeria's loss to the Lionesses at the just-ended FIFA Women's World Cup.
Chelsea forward stomped on the defender in the round of 16 tie which the Super Falcons lost 4-2 on penalties after normal and extra time ended barren. Lauren's action earned her a red card and a two-game suspension.
Channels Television reports that while the incident drew much attention from within and outside Nigeria, with the English star later apologising on social media, Alozie said the Chelsea footballer did not reach out to her personally contrary to speculations.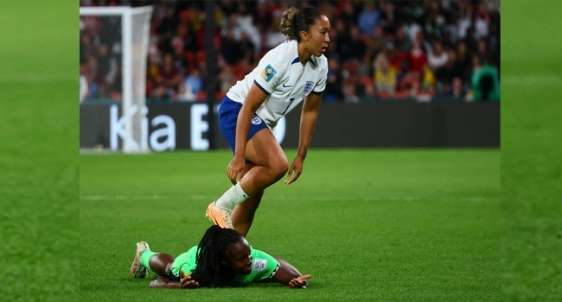 "No, she did not reach out to me but the apology was on Twitter and Instagram," the Houston Dash star said on Channels Television's Sports Tonight on Monday.
Since the incident, Alozie's photos have become regular memes for many social media users, a development she described as "funny".
"I think it was kind of funny how it all came about. After the game, obviously, I was really upset and wasn't really looking at my phone," Alozie, who was featuring in her debut World Cup, said. "So, some of my teammates were like 'Michelle, you have to see this photo of you maybe it would make you smile a little bit' because I was kind of upset."
Despite the bonus row that marred Nigeria's preparations for the tournament with many fans dismissing their chances, the Super Falcons reached a second consecutive knockouts outing at the World Cup.
"We did not let the media define anything," she said when asked how Coach Randy Waldrum's girls left the tournament without losing a game in open play.
Nigeria's stellar showing in the competition drew applause from many with FIFA rating them as the number seven team in the tournament.
Alozie believes the performance will serve as a launch pad for the further development of women's football in Nigeria. She said featuring at the World Cup was a childhood dream come true.