This post has already been read 542 times!
By: Dr Bolaji O. Akinyemi
The cathartic #EndSARS protests that recently rocked the nation, leaving vistas of catastrophes, imbroglio, cataclysms, vandalisation and deaths in its wake after being hijacked by hoodlums and some disgruntled individuals have made indelible and remarkable impacts on our society.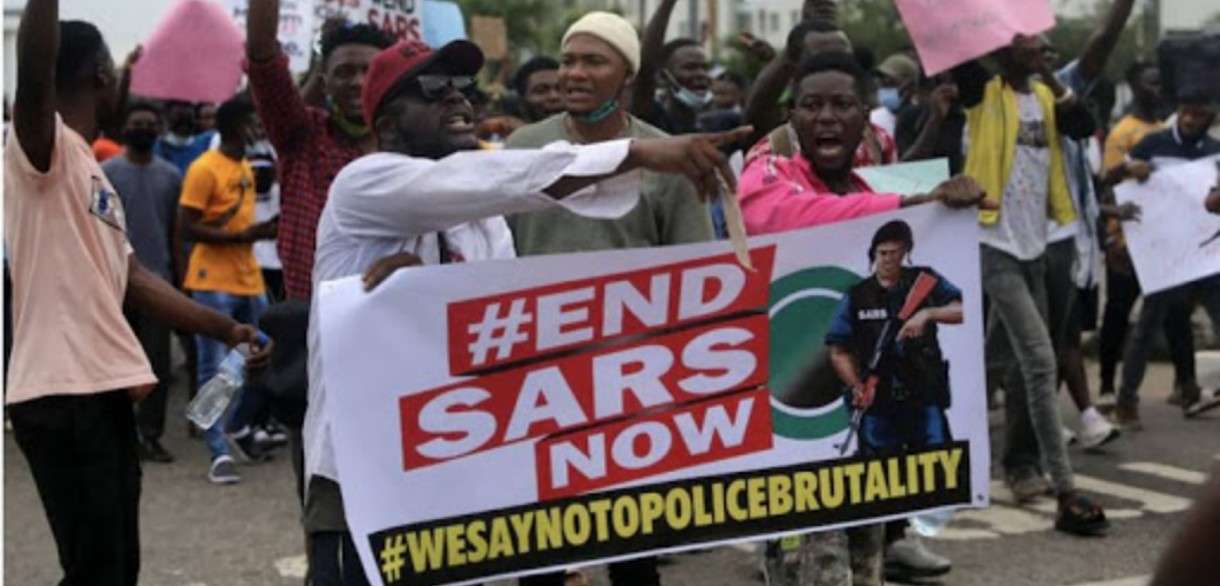 The magnitude of the devastating effects of the upheavals was unexpectedly much more than the awareness that the protests were intended to create about the need to demand for our inalienable rights and change. With the impacts on her annals, Nigeria, to say the least, can never be the same again.
Apparently, the protests kindled the consciousness to end everything undesirable.
With #End as prefix for something to end, everyone seems to have their own campaigns and slogan: #Endpoverty, #Endunemployment etc.
Angered by the humongous and or outrageous salaries and allowances of the National Assembly members as well as Ahmadu Ali's Customs Service brutality of 200 million Nigerians, I departed Lagos for Abuja with the hope to end the real 'SARS' senators and reps' salaries and to remove Ali's knees off the neck of our trade which is already gasping for breath.
Arriving there was not an issue, but gaining entrance into a public place built with taxpayers' money and for which provision was made recently to be renovated with N37 billion was an arduous task. At the pedestrian access of the visitors' car park, I had walked in as a bonafide citizen of the Federal Republic that I am.
But I was stopped by a security detail who demanded to know whose guest I was. Of course, I reminded him of my right to come to a complex where two of my representatives — Senator Solomon Olamilekan Adeola, AKA YAYI (Lagos West) and Honourable James Adisa Owolabi (Ifako-Ijaye) — have their offices.
He pressed on, insisting to know whom exactly I had come to see and whether I had any official invitation.
Knowing fully well that I had never met any of the legislators even though they are my representatives and I felt that the checks had become my albatross, suddenly, the name of Senator Ade Fadahunsi jumped to my mind. I only needed to dial his number: "Hello sir. Bolaji Akinyemi is here sir. I happen to be at the pedestrian entrance of the National Assembly." "Immediately, he replied: "Please let me speak with the security."
And that was it! Pronto, I found myself at the entrance of the Assembly complex.
However, the same entry protocol played up and I was allowed into the Senate building. But there was a snag: l didn't remember to ask Senator Fadahunsi where to find him. I fiddled with my phone and there was another snag.
Only God knew what happened to the network! My line was not connecting! So how do I locate his office? I had to mention his name to the elevator attendant who directed me to 105. At 105, a lady was at the desk. She was attending to one light-skinned gentle man who, in every sense, smelled senatorial. He proved his decency as he excused the lady to attend to me while he waited.
I announced that I had come to see Senator Ade Fadahunsi. As usual with ladies (if you know what I mean, I am not trying to be chauvinistic but just sharing familiar experiences) the lady tried to mislead me and said 106.
The gentleman whom I later found out was Senator Ibrahim Abdullahi Danbaba, from Sokoto turned to her and remarked: "Such irresponsibility! Why will you misdirect a guest when you have a list that you could consult! Please, do the needful and guide him right."
And I asked myself a question: Could this gentleman also be one of our senators or is he from the US? He seemed very caring! And I found my way to 1.15 where I was well received by Most Distinguished Senator Ade Fadahunsi.
I mentioned to him my desire to see a cut in his pay. He laughed and simply said that he didn't fix it and if my employer decided a pay slash, I could either accept it or quit the job. So, jokingly I asked him which would be his option and he responded: "l can't make my decision until yours is made." We all laughed it off!
With some catching up to do, we went on to discuss other personal issues in the midst of which he suddenly remembered that he was supposed to be in a meeting. For whatever reason he asked me to go with him and I didn't decline. Thank God l didn't. That invitation gave me the privilege of witnessing a budget defence session.
We arrived meeting Room 438 amid a drilling session. Senator Uche Ekwunife (Anambra Central) had the floor and responding to her fire powers was Mr Williams Alo, the Permanent Secretary, Federal Ministry of Special Duties And Inter-Governmental Affairs (FMSDIGA) who led the team from his ministry to the Budget Defence Hearing: "Appraisal of The Implementation of 2020 Appropriation Act And Defence Of 2021 Budget Proposals."
Next to have the floor was Senator Ishaku Elisha Aboh, (Adamawa North) who wasn't 'toying' with anything, at least none to my knowledge, neither was he with his senatorial duties for which he was on the committee.
He fired a salvo. 2020 Appropriation Act is 13 trillion, National Assembly budget is 128 billion, which is far less than one percent of the budget. When volume is considered, 128 billion seems crazy, but when done in percentage, it is less than one percent of the total Appropriation Act.
Like a scale, something dropped off my eyes. But then, why is it that it is this 'toy guy' that will educate me?
I said to myself, I don't think less than one percent of our National budget to the legislative arm is out of order with the best global practice.
Well, this wouldn't make me give up my involvement in the push for a cut in the National Assembly members' pay, not necessarily because it's a jumbo, but because they need to make some sacrifice, given the very poor state of our economy.
He raised another question with reference to the #EndSARS Movement in which Senator Ade Fadahunsi, on a lighter mood, said that it was coming from a senator of the Nigerian youth and the authentic representative of #EndSARS generation.
The Chairman of the Committee, Senator Yusuf A. Yusuf (Taraba Central) never betrayed his headship of the committee. Soft spoken, extremely intelligent, he was disturbed about the PDP-controlled states where the governors may not give the needed support to the intervention programme of President Muhammadu Buhari.
This drew a sharp reaction from distinguished Senator Ade Fadahunsi. For those who may not know him, I must say that if you know what it means to be a thorough-bred Ijesha man, you would forgive him.
He reiterated the need to play down on party politics as Nigerian youths are tired of partisan politics and are only interested in the deliverables of democracy, food on the table and employment.
He added that when the Nigerian youths sneeze, the country catches cold. Even at the National Assembly the fear of the Nigerian youths is the beginning of wisdom, while #endBadGovernance is their nightmare.
Ade Fadahunsi further reiterated that it was annoying that EFCC, ICPC as well as The Ministry of Special Duties were all on the less than 1% of National Assembly budget sniffing for corruption, the media and the public are on same, screaming corruption! But the actual corruption killing the country is in the over 99% that is in the hands of the executives, who is sniffing them for corruption.
That is where you have the roads not built, hospitals not equipped, schools not funded, teachers not paid nor trained.
I then reasoned that NNPC is the main pot of the rot and its ministry is under the purview of the president as minister of Petroleum. Obviously, we have had a very embarrassing stench oozing out of the place, but no one seems disturbed.
The effect of propaganda is damaging to our sense of reasoning. We are made to believe that 'all' our woes are as a result of jumbo salaries of the legislators.
Our executives are fond of disparaging the legislators, but ours is a democracy, a system of government built on a tripod: The Executive, Legislative and Judiciary. Our many years under the military rule, with the absence of the legislative arm of government informed our naivety, with our legislators developing a subservient mentality to the executive.
Some will even opine that the National Assembly should be scrapped, when indeed that is the actual symbol of democracy and people's representation in government.
The National Assembly didn't fix their salaries for heaven's sake. So, I advised myself to take my protest to the body that has the statutory rights to review salaries and emoluments which is the National Salaries and Income Wages Commission.
The privilege to observe the budget defence session on Wednesday, 4th November, 2020, was indeed an eye opener for a first time observer of such a special session.
A paltry budget of a little over N1 billion for a ministry that has the statutory responsibility to serve as a strategic tool for grassroots development, effective implementation and monitoring of government policies and programmes for national development according to the vision of the President Muhammadu Buhari administration that created the ministry is a joke taken too far.
And I ask a question, are we serious in this country at all? Strategic tool for grassroots development at N1 billion in a country of 774 local government areas? Do we know what that means? FAILURE!!
How in the world do you hope to monitor implementation of 13 trillion with N1 billion if the N128 billion budget of NASS is less than 1%, then N1 billion is less than 0.01 of N13 trillion and that is the tool we want to activate grassroots development with, when some of the projects involved are constituency projects?
I am not a Developmental Economist. Maybe those who are could help us. But obviously, it doesn't seem to me that we are ready for development.
In 2018, the Government gave N1.6 billion to the Customs Service for recruitment of 3,200 Nigerians. The screening and exams were conducted since two years ago. But up till now nothing has been heard about the exercise.
The #endSARS protesters would have been less than they were, had the 3,200 gotten the Customs Service job. If the Federal Government would not ask about the N1.6 billion given to the Customs Service for recruitment of 3,200 Nigerian youths and the National Assembly has put off their mics, would parents whose taxes were gathered to give their children the jobs also keep mute, while watching their children waste away?
Do I need to call the attention of Nigerian youths to the next #tag protest? Ahmadu Ali's Customs Service and the brutality of 200 million Nigerians. See you at Customs Service Headquarters, Wuse Zone 4, FCT Abuja, every remaining days of 2020.
Ahmadu Ali must not be allowed into his office until you collect 3,200 jobs from him.
#AlimustGo2!
Source: The Street Reporters Newspaper 
You
can
call
us
using the "Call Us Now" button on this site. Or Email your article or press release to us via: news@streetreporters.ng and follow us on Twitter and Instagram @StreetReporters and
Facebook
at www.
facebook
.com/StreetReporters.ng to get our latest updates! ============================
Dear Reader,
To serve our readers with free authentic and comprehensive information is becoming more and more expensive by the day. So, we request that you support us daily, monthly or annually with any amount to assist us in providing daily free access to our publications to our readers. To support THE STREET REPORTERS NEWSPAPER, you can pay into the company's corporate account: Wema Bank (ALAT BY WEMA): Account Name: THE STREET SERVICES AND MEDIA RESOURCES INTERNATIONAL ACCOUNT NUMBER: 7358221463. Sterling Bank: Account Name: THE STREET SERVICES AND MEDIA RESOURCES INTERNATIONAL Account Number: 8227410821 And if you would like us to connect with you and add you or your organisation to our list of Partners, send details of your bank transfer and Whatsapp number via email to: partners@streetreporters.ng OR Whatsapp number: +2348175047979 Send press releases, media coverage invites to: news@streetreporters.ng