Buhari Puts Niger Republic First, Again
This post has already been read 426 times!
By Ikeddy Isiguzo
Take a look at the picture of the type of vehicles President Muhammadu Buhari bought for Niger Republic with money Nigeria borrows. Then look at the vehicles our police use.
How does one justify patriotism that puts Niger Republic first? Why does Buhari's charity begin with Niger Republic? He has not even scratched our own issues.
Who uses such luxury vehicles for security? And why are they not available to Nigeria's security agencies?
After the protests about Nigeria building a rail line into Niger Republic with borrowed funds, the "Niger Republic first policy" continues.
Obviously, learning from Buhari Zamfara State Governor, Bello Mohammed Matawalle has done enough to be honoured Wednesday with a national award on security in Niger Republic.
Niger's President, Mohammed Bazoum, presented the award to the Governor.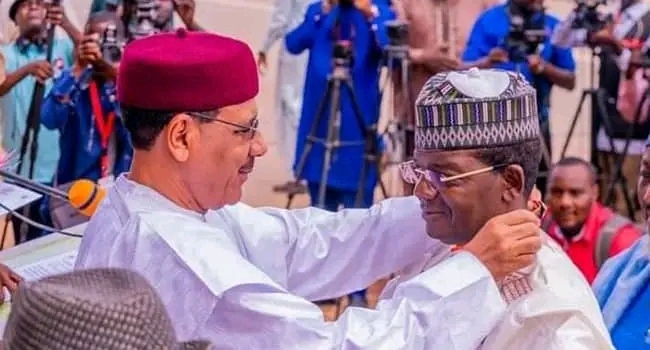 Matawalle had given five Hilux vans to Niger Republic in what he calls intelligence sharing arrangements. Zamfara is the worst hit in the security challenges in the North West.
The other Governors awarded were Jigawa State's Abubakar Badaru, Alhaji Abubakar Bagudu of Kebbi State. They had all contributed to improving Niger Republic at the expense of our people.
How does this concern you? The money being spent in Niger Republic is part of the resources that should have be invested in tackling the problems of those parts of Nigeria.
In Buhari's case, they are federal resources that should have been used for the good of Nigerians, especially at a time of withering resources. We have been borrowing.
As scarcity of resources make living in those parts of Nigeria more difficult, they migrate to other parts where they engage the communities in fights over lands. This worsen the security situation. We even have less food available and other issues arise.
Buhari, as always, must know something he won't tell us. He gets better at ignoring Nigeria daily.