This post has already been read 397 times!
The Anambra State government has suspended newly appointed TC Chairman, Hon. Mbazulike Iloka over circumstances leading to the death of his wife, Mrs Chidiebere IIoka, barely few days after his swearing-in as Nnewi North LGA TC Chairman.
The letter dated August 11, 2022 and signed by the Commissioner for Local Government, Chieftsincy and Community Affairs, Hon. Tonycollins Nwabunwanne, stated that "following the sad and sudden death of your wife, late Mrs Chidiebere Noka, on the 7th of August, 2022, there has been a massive public outcry over the circumstances leading to the cause of her death, including alleged possible homicide.
"While you are presumed innocent until the completion of investigations, it has become imperative that you should step aside to allow unfettered invesnganons and justice.
"Consequently, you are directed to step aside and hand-over the affairs of the local government to the head of local government administration not later than 12th August, 2022, until further notice", the letter read.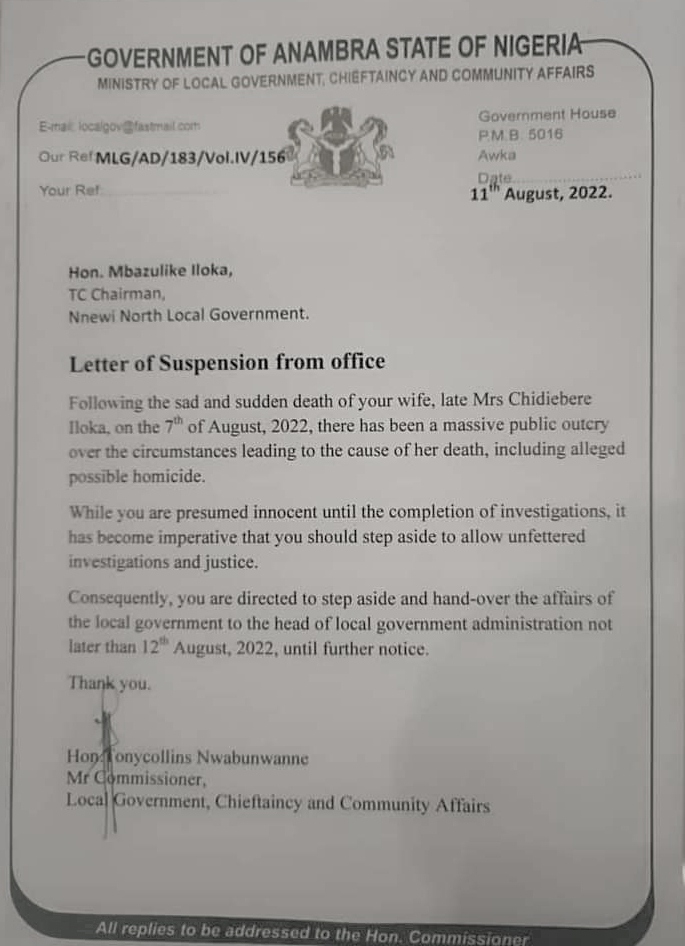 You
can
call
us
using the "Call
Us
Now" button on
this
site. Or Email your article or press release to
us
via: news@streetreporters.ng and follow us on Twitter and Instagram @StreetReporters and
Facebook
at www.
facebook
.com/StreetReporters.ng to get our latest updates! ============================
Dear Reader,
To serve our readers with free authentic and comprehensive information is becoming more and more expensive by the day. So, we request that you support us daily, monthly or annually with any amount to assist us in providing daily free access to our publications to our readers. To support THE STREET REPORTERS NEWSPAPER, you can pay into the company's corporate account: Wema Bank (ALAT BY WEMA): Account Name: THE STREET SERVICES AND MEDIA RESOURCES INTERNATIONAL ACCOUNT NUMBER: 7358221463.
Sterling Bank
: Account Name: THE STREET SERVICES AND
MEDIA
RESOURCES INTERNATIONAL Account Number: 8227410821 And if you would like us to connect with you and add you or your organisation to our list of Partners, send details of your
bank
transfer and Whatsapp number via email to: partners@streetreporters.ng OR Whatsapp number: +2348175047979 Send press releases,
media
coverage invites to: news@streetreporters.ng