This post has already been read 47 times!
Member Representing Sapele State Constituency in the Delta State House of Assembly (DTHA), High Chief Felix U. Anirah has felicited with his constituents, urging caution and compliance with COVID-19 pandemic protocol as second wave of the Coronavirus spread across the globe.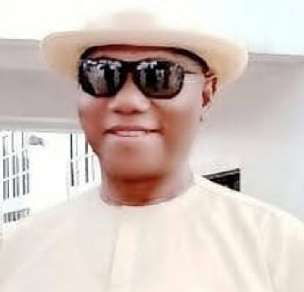 Hon. Anirah, who described the season as special in his Christmas message, said, "This is a holiday season unlike any other.
"We cannot gather in large groups, but we can still connect with our family and friends on the phone and online. It's particularly important to reach out to those who may be alone.
"This is a challenging time for everyone, and even more so for some. I am so grateful to our health care workers, educators, and others who continue to serve throughout our communities.
"Many people are experiencing stress right now, especially business owners, workers in grocery stores and restaurants, performing artists, and leaders who must make difficult decisions in every sector. Thank you, everyone, for doing your best to support public health guidelines, " Hon. Anirah.
Appreciating first responders and security personnel and wishing everyone a merry Christmas and a happy New year, he said, "I'm grateful every day for all of our First Responders and Military personnel, who work in high risk situations to serve and protect us throughout the year. I also want to recognize and thank our Delta volunteers, who are the backbone of our many cultural, sports, youth, and seniors' organizations.
"Difficult times can bring out the best in us. I'm grateful to live in this state, surrounded by so many thoughtful and caring people. We have more challenges ahead, but we can and will get through this together. My family and I look forward to a time when we can greet you in person with a handshake or a hug" he concluded.
You can call
us
using the "Call Us Now" button on this site. Or Email your article or press release to us via: news@streetreporters.ng and follow us on Twitter and Instagram @StreetReporters and
Facebook
at www.
facebook
.com/StreetReporters.ng to get our latest updates! ============================
Dear Reader,
To serve our readers with free authentic and comprehensive information is becoming more and more expensive by the day. So, we request that you support us daily, monthly or annually with any amount to assist us in providing daily free access to our publications to our readers. To support THE STREET REPORTERS NEWSPAPER, you can pay into the company's corporate account: Wema Bank (ALAT BY WEMA): Account Name: THE STREET SERVICES AND MEDIA RESOURCES INTERNATIONAL ACCOUNT NUMBER: 7358221463. Sterling Bank: Account Name: THE STREET SERVICES AND MEDIA RESOURCES INTERNATIONAL Account Number: 8227410821 And if you would like us to connect with you and add you or your organisation to our list of Partners, send details of your bank transfer and Whatsapp number via email to: partners@streetreporters.ng OR Whatsapp number: +2348175047979 Send press releases, media coverage invites to: news@streetreporters.ng