This post has already been read 481 times!
By Prof. Usman Yusuf
Let us be clear, all this political gymnastics around the religion of the ruling party APC's Vice Presidential candidate for the 2023 general elections and the dust it has raised, is just to accommodate the lifetime presidential ambition of Asiwaju Bola Ahmed Tinubu. Don't let anyone tell you differently.
Although a Presidential candidate emerges through a party's primary election, choosing the Vice Presidential candidate is the prerogative of the winner of that ticket not the party's.
So, if anyone has any problem with APC's Vice Presidential choice and the bogus, almost insulting reason given for that choice, you know who to blame instead of vilifying your favourite scapegoats; the Hausa-Fulanis, Muslims and Islam.
Doing so as is being done by the leaders of the "APC Northern Christians" group is uncharitable and a big political miscalculation.
I am yet to meet or hear of a Northern Muslim, Muslim Cleric or Traditional ruler that is celebrating the fact that both the Presidential and Vice Presidential candidates of the ruling APC party are Muslims.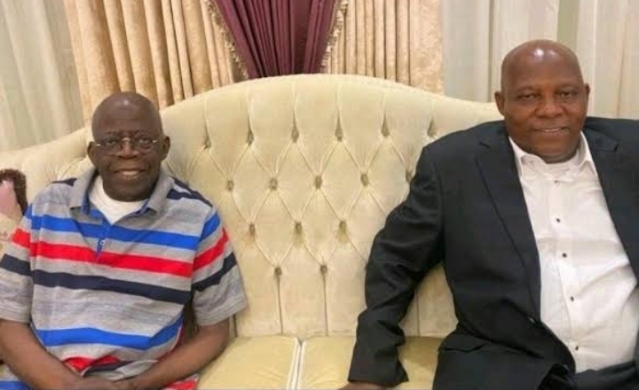 One thing I know for sure is that, no Northern Muslim Presidential candidate of any political party would even contemplate attempting this lopsided ticket.
I will take the liberty of dispensing with all political correctness and say it as it is. The plain truth is that only a Muslim Presidential candidate from the South West (SW) geopolitical zone would have the audacity to float this combination which is an exact replica of the 1992 ticket of Abiola and Kinkibe.
It appears as if the APC is out of touch with the pulse of the nation in 2022. Thirty years since this memorable 1992 Muslim-Muslim ticket, Nigeria's rich ethnic and religious diversity has been manipulated by politicians in a very negative and divisive way thereby balkanizing the nation along ethnic and religious fault lines.
Political Calculations and Miscalculations
Asiwaju Bola Ahmed Tinubu: Politics is about winning elections not sentiments. I would assume that it is this calculation that informed Asiwaju Bola Ahmed Tinubu's choice of Senator Kashim Shettima, a Muslim from the Northeast as his Vice Presidential candidate.
Nigerian electorates will surely give their verdict on this ticket on Election Day in February 2023.
APC Northern Governors: The jostling for the Vice Presidential slot among Northern Governors of the party started long before it became public.
These Governors were the driving force in the campaign for the APC Presidential ticket to rotate to the south in 2023. They gave directions to the delegates from their respective states as to which candidate to vote for at the party primaries.
No one in the North believed for once that their motives for campaigning for power shift to the south were altruistic.
The calculations of each one of them was to be the chosen one or at least a fellow sitting Governor among them to be the one.
APC Northern Christians: To be honest, I didn't know such group existed within the APC untill this Muslim-Muslim ticket brouhaha broke out.
Incidentally, the leaders of this group were some of the staunchest supporters of Tinubu leading up to the primaries.
They are also some of the biggest beneficiaries of their party's poor stewardship of this country in the almost 8 years that it has been in power.
Their calculation has always been that Tinubu, a Southwestern Muslim, would choose a Northern Christian from among them as his running mate if he wins.
Now that they have lost out, they have all of a sudden become the self anointed champions of the "marginalized" Northern Christians.
All is Quiet on the South Western Front
Has anyone noticed the uncharacteristic silence from the SW on this matter?
What happened to this region's vibrant media, television pundits, academics, Lawyers, trade unions, Clergies of mega churches and the Christian Association of Nigeria (CAN)?.
Would there be this deafening silence from the SW if the top of this Muslim-Muslim ticket were a Northern Muslim?. I wondered aloud.
There would no doubt have been a loud synchronized chorus of "Islamization" and "Fulanization" of Nigeria from church pulpits, palaces, universities, newsrooms, market places, offices and the streets in this region.
I watched Seun Akinbaloye's program, Sunday Politics on Channels TV where the Hon. Minister of Works Mr. Babatunde Fashola struggled to justify his political mentor's choice of a Muslim running mate (transcribed below).
"I think religion should leave the public space and go back to where it belongs; the homes and the religious centres.
There is too much religion in our public life, religion is a private thing, praying in public and others I think we should just stop them and get down to real business".
Babatunde Fashola, 24-7-2022
APC And Religion In Nigeria
The ruling APC has woefully failed to properly manage the rich ethnic and religious diversity of this country for our common good.
This mismanagement has widened the chasm between our people. By 2023, the APC will have an 8 year record of its stewardship that Nigerians will interrogate.
The religion of its flag bearer or his running mate will be the last thing on the minds of the citizens when they go to the polls.
Politicians: At a time when the nation is facing the worst insecurity of our lifetime and citizens are burdened by excruciating economic hardship, our politicians seem oblivious to the mortal danger that Nigeria's many challenges, particularly insecurity pose to our existence as a nation.
The scramble for 2023 elections has already begun with political bouncers all over the media platforms trading childish insults instead of presenting credible ideas to the citizens on how to dig the country out of the ditch the APC has put the nation in.
Nigerians are a deeply religious people at least publicly but, instead of using faith as a rallying point for good, our politicians use it to divide the people for their selfish gains.
Democracy offers plenty of opportunities for anyone not happy with any political party the freedom to choose another. It will therefore be irresponsible for any person or group of persons to express their grievances in ways that will adversely affect the nation's fragile democracy and tenuous security.
This time more than ever before, Nigeria needs a leader who is physically and mentally healthy, someone with integrity, vision and boldness.
One that can assemble a competent team, listen to wise counsel and govern with a milk of human kindness. Above all, we need a leader that can heal our wounds and reunite the country.
For fairness, equity and justice as is enjoined in all our Scriptures, our politics must reflect the nation's rich ethnic and religious diversity.
APC's Muslim-Muslim ticket is neither for God nor country.
*Usman Yusuf is a Professor of Haematology-Oncology and Bone Marrow Transplantation.
Tagged:
APC
Asiwaju Bola Ahmed Tinubu
Muslim-Muslim Ticket
Usman Yusuf
Vice President