This post has already been read 860 times!
The ancient city of Ibadan, which is the South West Political Headquarters, won't forget in a hurry, the 2022 edition of Yoruba National Day, which fell on Friday, 23 September, 2022.
The day has deeply gone down in history of Ibadanland, a famous convergence city of Yoruba Warlords in olden days, as the day of merited honour for a globally accepted Yoruba political leader, core progressive, great philanthropist, human capacity developer, who doubles as presidential candidate of the largest Political Party in Africa, All Progressives Congress (APC), with 22 sitting Governors, out of 36, Asiwaju Bola Ahmed Tinubu, as he was hugely celebrated by the masses and lives he has positively touched across the globe and bestowed a very unique and beautifully carved Odu'a Award, AFRICAN MAN OF THE CENTURY by Agbarijo Egbe Odo Yoruba (Grand Council of Yoruba Youths), which elicited thunderous shout and wild jubilation from the enthusiastic audience during the presentation.
The group noted that the Yoruba will say "Iroyin o to afojuba", "newsreports can never be compared to making sure you are a witness".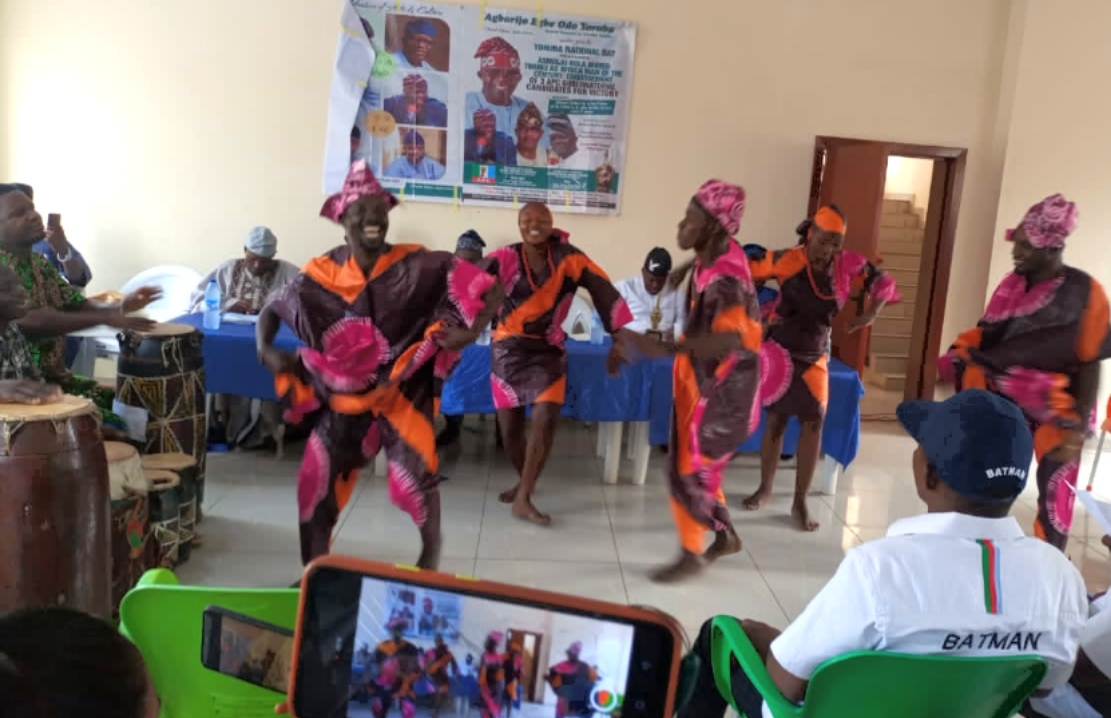 The one-in-town event, as the youths tagged it, the Yoruba National Day featured Asiwaju Bola Tinubu as African Man Of The Century, Mega Endorsement Of Three APC South West Gubernatorial Candidates plus the beautifully carved Odu'a Award presentation to other notable dignitaries.
The event was packaged and delivered by Agbarijo Egbe Odo Yoruba, (Grand Council of Yoruba Youths), which prides itself as an organisation with 21 years experience in the field of mass mobilisation across the states of the federation.
Students' and Youth Organisations from other regions in Nigeria who felt cheated due to their inability to attend the event were asked to wait for the Part Two of the gathering, the forthcoming Nigeria Youths 4 Tinubu, holding on Tuesday, 14 February, 2022.
The event is expected to have in attendance notable students' and youth organisations across the 36 states of the federation and the Federal Capital Territory (FCT), "to show their undying love for the Grand Commander of African Politics, Asiwaju Bola Ahmed Tinubu, on Valentine's Day, under a very conducive environment, of the newly built IleriOluwa Campaign Office, Osogbo, Osun State.
"It's going to be a three-day interactive session of prominent Nigerian youths and Students with leading Political, Religious and Traditional Rulers in Nigeria, happening just a week to the Presidential/National Assembly election and the Opposition would be able to recover from its shock till years after the election", President-General of the Youth group, Comrade Awa Bamiji said.
Among the dignitaries in attendance at the Ibadan event were Otunba Jumoke Ogunkeyede (JMK) (2nd Guest Speaker), Hon Emmanuel Adelowo (AMEYE), (representing Chief Iyiola Oladokun, Chief Host), Comrade AWA Bamiji (Convener/President General, Grand Council of Yoruba Youths), Prof Soji Adejumo (former Oyo State SUBEB Chairman/Oyo State Coordinator, Asiwaju Tinubu/Kassim Shettima Coalition forgot Good Governance), Ambassador Sola Iji (1st Guest Speaker/Representative of Asiwaju Bola Ahmed Tinubu) Hon Bayo Adesanya (Son of late Senator Abraham Adesanya/Representative of Mr Sunny Ajose), Chief Prince Felix Shokan Oni (Ore Ara Ilu Awardee/Illustrious Son of late Chief (Prince) T. A. Oni, a renowned Ibadan Business Mogul and Owner of Oni and Sons Limited), Alhaji Gbadagesin Azeez (Representing Prof Sabitu Olagoke, Spiritual Head of Shafaudeen Islamic Center), Hon Joshua Oyebamiji (Representing Hon Isaac Omodewu, Oyo State APC Chairman, Host), Mrs Alli, Wife of former Secretary to the Oyo State Government, representing the Wife of former Governor of Oyo State/Awardee, Chief (Mrs) Florence Ajimobi, who received Iya Eto Ti Ile Odu'a Odu'a Award, for the latter, Comrade Segun Mayegun (former NANS President, 3rd Guest Speaker, who got Otunba Gbenga Daniel Award).
African Man Of The Century Awardee, Asiwaju Bola Ahmed Tinubu, was represented by Ambassador Sola Iji.
The lecture of this year's Yoruba Youth Leadership Summit in commemoration of the Yoruba National Day on September 23 annually, Aseyori Idibo To Nbo Lona Ni'le Odu'a, E Gbe Kin Ni Yi Wa, Awa L'okan (meaning Yorubaland Electoral Victory, It's Our Turn, Bring It Forward, was deeply delivered by the three invited Guest Speakers and the proceeding of the event was conducted purely in Yoruba language.
The most interesting part of this celebration of Yoruba National Day, was Odu'a Award presentation to Asiwaju Bola Ahmed Tinubu, among other Receipients, who was represented by the first Guest Speaker, Ambassador Sola Iji, from Ondo State, by a Political Leader/erudite Scholar in University of Ibadan, Prof Soji Adejumo, Oyo State, while spectacular Cultural Performances was by a renowned Omo Odo Agba Cultural Troupe, spontaneous springing up of the second High Table which hosted Comrade Segun Mayegun, who travelled down to Ibadan by road, all the way from Kogi State, arriving after everyone on the first high table had gone around 4:30pm.
Several students gathered in honour of their ever revolutionary leader, most popular former President of the National Association of Nigerian Students (NANS), Comrade Segun Mayegun, who was incarcerated several times during the June 12 elections' result actualisation Struggles by the successful military Juntas, formed side attractions.
The mammoth crowds directly under the decking and two big tents downstairs beside the building and its fence, that were adequately carried along by the two projectors to screens.
Lorry load of Nigerian Police officers drafted from both the Oyo State Police Command, Eleyele and Iyangaku Area Command to the venue kept guard while the event lasted.