Virtual Canton Fair to Kick Off October 15
The China Import and Export Fair, better known as Canton Fair, will kick off its 132nd session online on October 15, 2022 with more domestic companies registering to display their products according to the fair's organizers.
"We have further opened up the application for exhibitors, allowing qualified companies to participate in the online exhibition of the trade fair," said Xu Bing, spokesman for the fair, during a press briefing on Sunday.
A total of 34,744 domestic export-oriented enterprises, an increase of about 40 percent over the previous session, will participate in the online exhibition of the fair, China's largest of its kind.
The online exhibition will last until March 15 next year. The fair is usually held twice a year in Guangzhou, capital of Guangdong province, in April and October.
The fair, seen as a barometer of China's foreign trade, will set up 50 exhibition sections for 16 categories of commodities.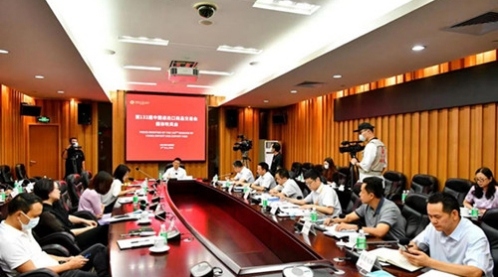 Some 416 companies from 34 countries and regions will also display their production online during the fair.
"A large number of high-quality enterprises including 2,094 brand companies and more than 3,700 high-tech and time-honored enterprises will display their products online during the fair," Xu said.
Of the products, over 130,000 varieties will have digital and smart features and more than 500,000 are green and low-carbon commodities.
The spokesperson of the Canton Fair and Deputy Director of the China Foreign Trade Center, Xu Bing, had also on October 9 at a press conference, introduced the overall preparations for the Canton Fair to the participating media.
Xu Bing said that the Chinese government attaches great importance to the work of the Canton Fair.
He noted that China's President Xi Jinping sent congratulatory letters to the Canton Fair twice, fully affirming the historical role of the Canton Fair and pointing out the development direction for the Canton Fair.