Bello Urges Kogi People To Vote For Ododo For Posterity
Governor Yahaya Bello of Kogi has tasked residents of the state on voting for Alhaji Usman Ododo, the All Progressives Congress (APC) candidate in the Nov. 11 governorship election, for posterity.
Bello said this on Sunday in a radio and television broadcast to celebration the 32nd anniversary of the creation of the state.
He expressed the belief that Ododo had all it took to consolidate the achievements of his administration.
"Alhaji Usman Ododo is the candidate that we have selected and presented to Kogi as the candidate for the 2023 Governorship Election and our preferred successor.
"He is well known for his humility and humanness, underlined by professionalism and strong leadership skills.
"I am confident in his ability to continue the upward trend in our growth graph established by our New Direction Administration and I solicit your support for him in the Nov. 11 Kogi governorship elections.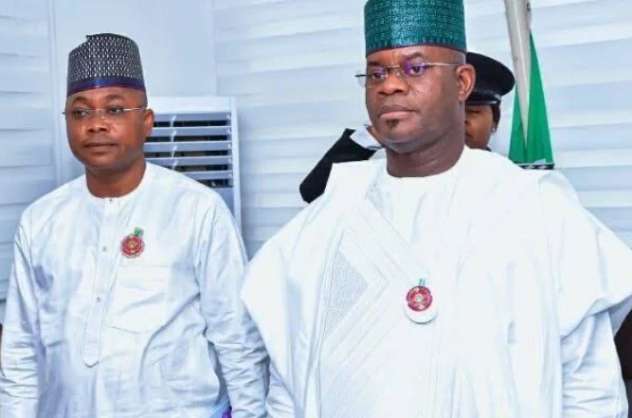 "Our vision is clear: to provide a ready Blueprint for our future leadership to continue developing Kogi State into Nigeria's foremost and most secure emerging commercial hub, leveraging our geographical location, natural endowments, and human resources for a sustainable future," he said.
Bello added: "This envisions a functional socio-polity with self-sufficient economy, high standards of living and abundant socioeconomic opportunities that is sustained by industrialisation in an operational environment that promotes ease of doing business and climate-smart processes."
He added that the government anticipated improved infrastructure, education, healthcare, security and agricultural advancements, with enhanced cooperation and integration amongst the people.
Bello said that he looked forward to that future with an urgent imperative to ensure that the state do not fall into the hands of a leadership that would ignore the needs of the people.
"Let us remember that any success we have seen as a state since we became one of the federating units in the Federal Republic of Nigeria is not the work of a single individual or administration, but the collective effort of every citizen, " he said.
Bello also assured that the government was putting finishing touches toward the distribution of the palliatives to cushion the effects of the fuel subsidy removal on the people.
"These are hard times, but we promise to be with you every step of the way, " he said.
(NAN)