Massive Mele Kyari Must Go Protest Rocks Warri As Niger Deltans Want Tinubu To Sack, Probe NNPCL's GCEO
Niger Delta people in their numbers stormed the streets in a peaceful protest rally calling on President Bola Ahmed Tinubu to immediately sack and probe Engr. Mele Kyari, the Group Chief Executive Officer Of the Nigerian National Petroleum Company Limited (NNPCL).
The protesters yesterday matched through the major Warri\Sapele Road to the Warri zonal office the Nigeria National Petroleum Company Limited (NNPCL) and Department of Petroleum Resources (DPR), Delta State.
The rally was organised by 26 youth and civil society organisations (CSOs) under the umbrella of the Niger-Delta Coalition.
Some of the leaders included the National Coordinator, Niger Delta Youth Alliance (NDYA), Comrade Oris Bakpa; the President, Niger Delta Youth Empowerment Network (NDYEN), Comrade Elvis Abebiyein; the Regional Coordinator, South-South United Youth Association (SSUYA), Comrade Peter Okprgboro; the National Chairwoman, Niger Delta Women for Change (NDWC), Comrade Bridget Oghenekohwo, among others.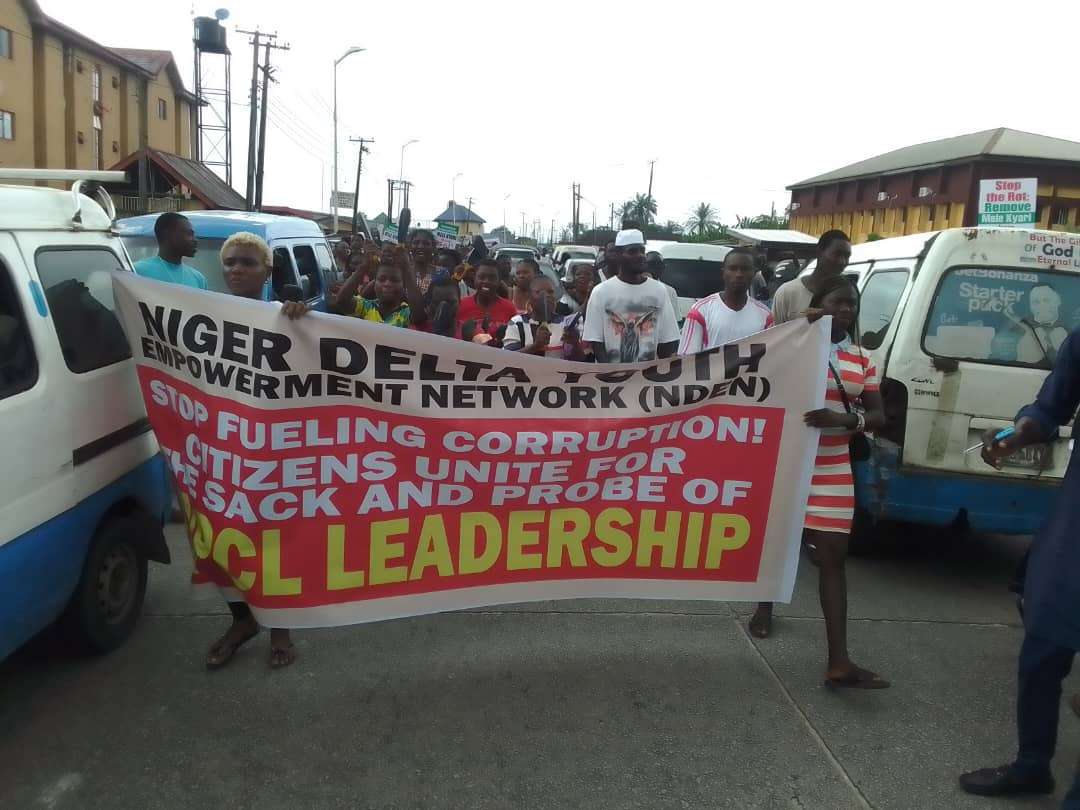 The Coalition said, "We, the Niger-Delta Coalition, a conglomerate comprising 26 dynamic youth associations, in conjunction with several distinguished Civil Society Organizations (CSOs) and Non-Governmental Organizations (NGOs), stand united in expressing our profound apprehension regarding the alleged financial improprieties, misuse of authority, lack of vision, poor performance and autocratic conduct exhibited by Engr. Mele Kyari during his tenure as the Group Chief Executive Officer of the Nigerian National Petroleum Company Limited (NNPCL).
"As concerned and dedicated citizens of the Niger-Delta region, we fervently implore
President Bola Ahmed Tinubu to take immediate action to remove him from office and institute a comprehensive inquiry into his conducts.
Nigeria is often characterized as a nation blessed with abundant oil resources.
"Nevertheless, a glaring deficiency within the NNPC is the presence of dormant refineries scattered across the country", the protesters said.
The Niger Deltans noted that the NNPC boasts of four refineries, two in Port Harcourt and one each in Warri and Kaduna, but regrettably, "despite the staggering allocation of 100 bilion Naira for refinery rehabilitation in 2022, these facilities, with a combined production capacity of 445,000 barrels per day, have failed to produce any refined products for the past several years.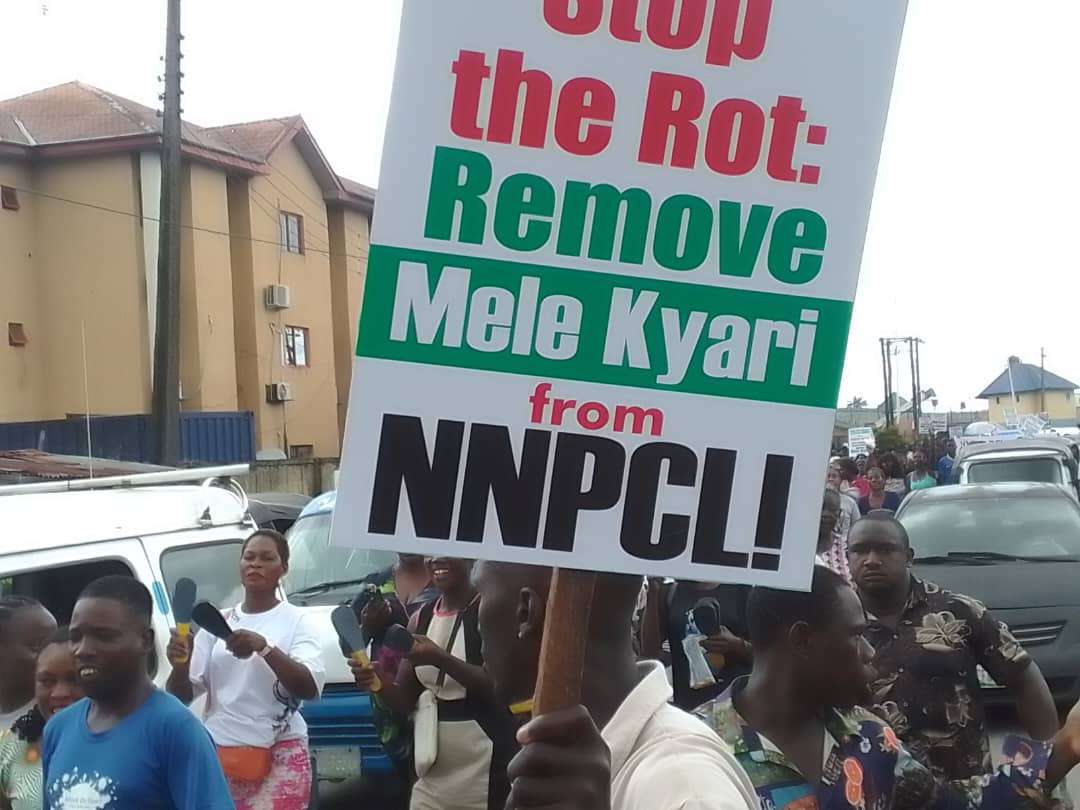 "This lamentable situation has forced Nigeria, the continent's largest oil producer, to
heavily depend on imported petroleum products due to the NNPC's inability to operate
its refineries efficiently.
"As a result, the nation's economic backbone is irrefutably tethered to fuel prices and supply. As expected, a disruption in this vital sector would undoubtedly plunge the entire economy into a state of peril, a scenario we are already
witnessing.
"The adverse ripple effect of this heavy reliance on the oil industry is unmistakable visible in Nigeria's inflation rate, which reached a staggering 25.80% in August of this year.
"The implications of such high inflation figures are far-reaching, encompassing elevated living costs, discouraging business environment, and a palpable instability in the nation's overall economic health. Such an extraordinary inflation rate is categorically unsustainable, and it poses a grave threat to the nation's well-being", the protesting people of the oil-rich region said.
Furthermore, the groups alleged that "irregularities in the awarding of oil production contracts have cast a shadow of opacity over remittances to the Federation Account, giving rise to grave concerns about transparency and accountability in these financial transactions.
"Likewise, the dubious procurement of pipeline surveillance contracts, void of a transparent selection process, has sparked a multitude of questions about the responsible management of these critical responsibilities.
"As a collective of concerned and dedicated Niger-Deltans, we vow to uphold the law and employ peaceful demonstrations as a means to beseech President Bola Ahmed Tinubu to remove Engr. Mele Kyari from his position and launch an investigation into the leadership and management of NNPCL under his stewardship, specifically addressing the urgent issue of refinery revitalization.
"The lack of pump price regulations and mismanagement of the post subsidy regime has led to fuel price being sold at over 700 naira per liter in some parts of the Nation", the protesters observed.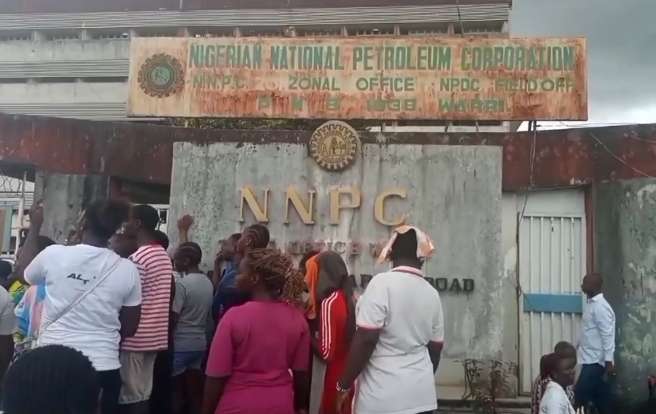 In conclusion, the protesters noted that "it is palpably evident that under the leadership of Engr. Mele Kyari, there has been no discernible surge in oil production and remittances to the Federation Account.
"We implore President Bola Ahmed Tinubu to take decisive action, relieving him of his role and instigating the much-needed transformation of our beleaguered refineries, ultimately mitigating Nigeria's reliance on fuel imports.
"Enough is Enough! Mele Kyari Must Go and must be Probed", the protesters concluded.