This post has already been read 635 times!
By Chris Ugwuja, Nsukka
Enugu State government has commenced immediate mass vaccination for Yellow Fever in Ette and Umuopu communities in Igbo-Eze North Local Government Area of the state, after confirmation of the outbreak of the disease in the areas.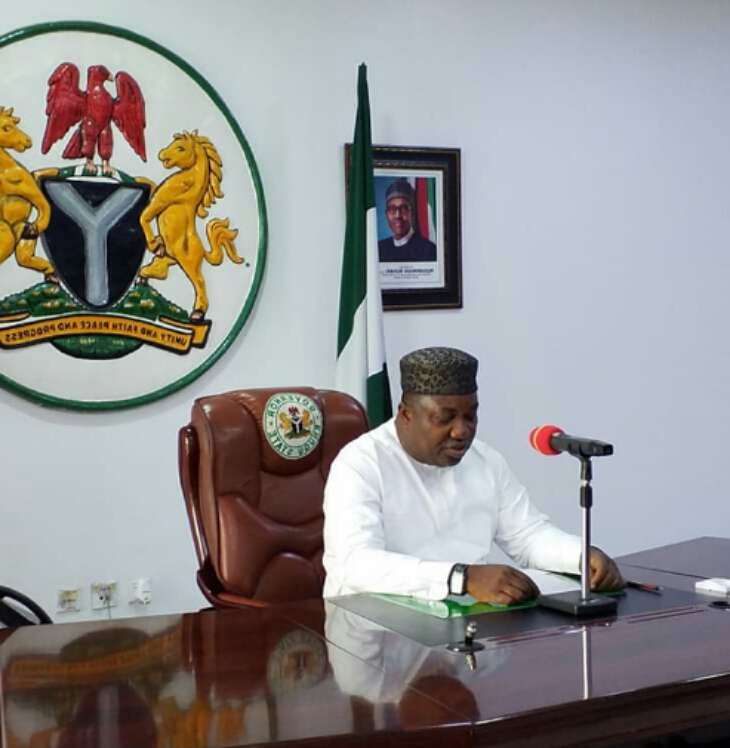 The state government has also commenced the immediate fumigation of the affected communities against the mosquito vector with the appropriate chemicals as well as the "activation of the Enugu State Ministry of Health Emergency Operations Centre for Yellow Fever".
In a statement issued by the Commissioner for Health, Dr. Emmanuel Ikechukwu Obi, the state government disclosed that it has begun Active Case Surveillance to obtain necessary information on the epidemic for further decision making.
A medical team from the State Ministry of Health, led by the Health Commissioner, Dr. Obi and Officers of the Enugu State Fire Service, also led by the Chief Fire Officer, Engr. Okwudiri Ohaa, were in the affected communities, on Wednesday, to commence vaccination and fumigation exercises, respectively.
Dr. Obi added that the government has prepositioned General Hospital, Ogrute, Enugu-Ezike, commenced treatment with Ambulance Service for emergency and "constitution of the Enugu State Multi-Sectorial Technical Working Group for the Yellow Fever Epidemic".
The Health Commissioner pointed out that the state government has embarked on risk communication in the affected communities, and has formally notified "the Federal Ministry of Health, Nigerian Centre for Disease Control (NCDC), National Primary Health Care Development Agency (NPHCDA), and the National Arbovirus and Vectors Research Centre for a sustained response since Yellow Fever has also been reported in other states in Nigeria".
Disclosing that the measures were in compliance with the directives of Governor Ifeanyi Ugwuanyi of Enugu State and in line with laid down guidelines to combat such epidemic, Dr. Obi said: "We thank the Traditional Rulers, Religious Leaders, Presidents General of Town Unions, other stakeholders and the good people of Enugu State who have in so many ways contributed to this expedited response to the epidemic in Enugu State".
He therefore advised the public that: "If you have been recently vaccinated against Yellow Fever, you do not need to be vaccinated again. Yellow Fever is transmitted through mosquito bites, thus remove its breeding sites around you. If you are not feeling well, please visit a nearby hospital."
You
can
call
us
using the "Call
Us
Now" button on this site. Or Email your article or press release to
us
via: news@streetreporters.ng and follow us on Twitter and Instagram @StreetReporters and
Facebook
at www.
facebook
.com/StreetReporters.ng to get our latest updates! ============================
Dear Reader,
To serve our readers with free authentic and comprehensive information is becoming more and more expensive by the day. So, we request that you support us daily, monthly or annually with any amount to assist us in providing daily free access to our publications to our readers. To support THE STREET REPORTERS NEWSPAPER, you can pay into the company's corporate account: Wema Bank (ALAT BY WEMA): Account Name: THE STREET SERVICES AND MEDIA RESOURCES INTERNATIONAL ACCOUNT NUMBER: 7358221463.
Sterling Bank
: Account Name: THE STREET SERVICES AND
MEDIA
RESOURCES INTERNATIONAL Account Number: 8227410821 And if you would like us to connect with you and add you or your organisation to our list of Partners, send details of your
bank
transfer and Whatsapp number via email to: partners@streetreporters.ng OR Whatsapp number: +2348175047979 Send press releases,
media
coverage invites to: news@streetreporters.ng