This post has already been read 80 times!
The 6th Floor of WAEC Building where ALGON is headquartered is witnessing a beehive of activities with full attendance of staff of ALGON National in an inspiring and purposeful meeting.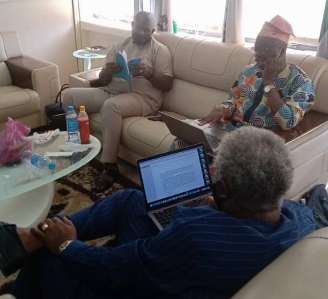 As at press time, the Secretary General of ALGON, Hajiya Binta Adamu Bello, alongside the new Chief-of-Staff to the President Hon. Itiako Ikpokpo in company of other Management staff of ALGON alongside members of staff of ALGON are having a close door meeting.
It is anticipated that the meeting will provide a new direction in the areas of capacity Building, synergy and networking across the LGA's and Councils workplace organisational ability, other vital areas like Programmes, training, skill development, partnership are all common feature. Staff are also in high mood in anticipation of a better way forward.
Details later….