Nigerian-born Journalist Simon Ateba Under Attack Over New White House Press Rules
Nigerian-born journalist and Chief White House correspondent of Today News Africa in Washington DC, Simon Ateba, has allegedly come under racial attack over the introduction of White House news rules, which he claims to be the target.
The White House had recently unveiled new press badge restrictions and rules for access, which was meant to yank reporters' press badges, insisting that all journalists who currently have a press pass will have to reapply by July 31.
The rules, it was gathered, ushered in a new era by closing what is termed "a legal loophole" that shielded journalists from retribution in the past.
Appeals Court had blocked White House from suspending reporter's Press Pass under former President Donald Trump, a ruling which came with assurance that the White House could remove any "rogue, mooning journalists" if such a disruption were to happen.
However, Simon Ateba in a tweet alleged that a "reporter who claims to freelance for Japan news agency @nhk_news & @NHKWORLD_News brutally attacked me at the White House today."
Ateba explained that "He reminded me that "you're a guest in this country," and I should therefore feel inferior and not do my job. His family originally came from the Middle East but now he feels entitled in the United States.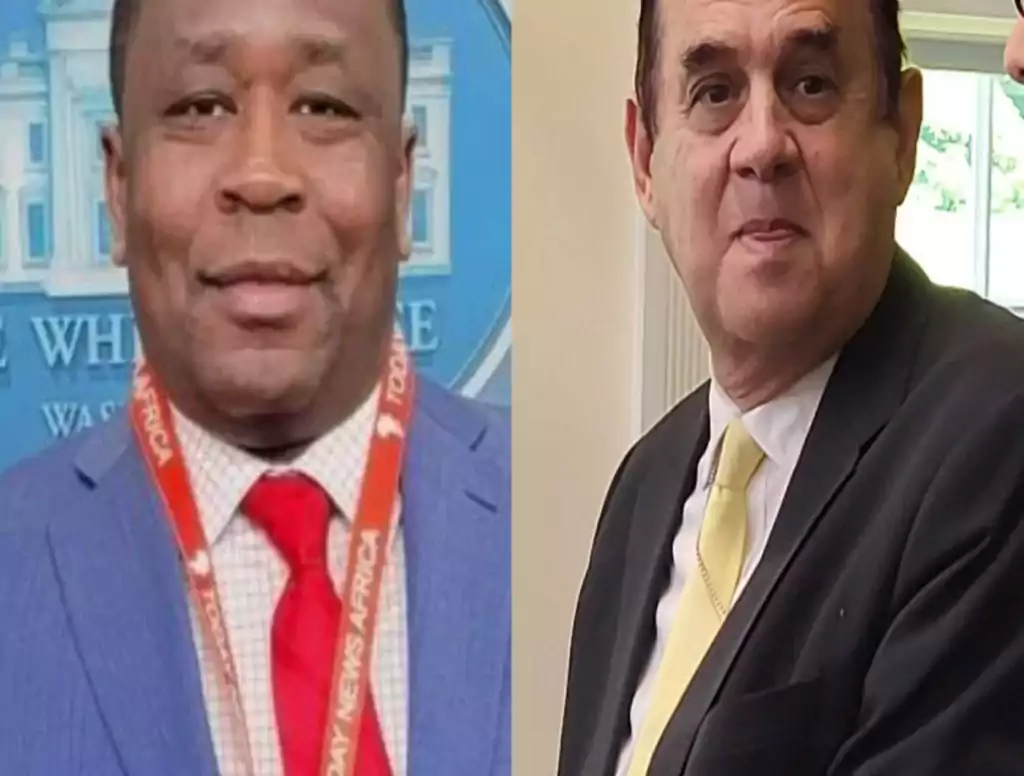 "He's said racist things to me in the past. At CPAC, my friend @AlexandraLevi20 had tell him repeatedly to leave me alone since I did not want to speak with him. That was just last March.
"He brutally attacked me today because he said I am responsible for the White House new rules targeting me", Ateba alleged.
The Today News Africa Chief correspondent disclosed that he some people feel intimidated, saying "I have intimidated many people here only because I have understood the fundamental truth about life: Once you learn how to die, you learn how to live.
"The truth is, one day we will die and that day could be today. Anywhere you find yourself, do your job as best as you can, forget about where you were born, how poor your parents were and all those things.
"All people come from somewhere. Dismiss the false mask of superiority or inferiority that people wear. Our end is the same: Death and there's no glory in the grave, no certificate in the graveyard, no one is taking any beach, swimming pool or house to the grave.
"Do not feel inferior or superior to anyone, just do your things, just do your job and damn the consequences.
"What is interesting is I never criticize anyone, never attack anyone, don't feel superior or inferior to anyone.
"When someone yells a question, I have yelled a question in the past, when someone asks a controversial question, I have asked a controversial question in the past. So I am not that different.
"On Twitter, when I DM someone, it's to compliment them, help them, discuss something or meet.
"I never DM anyone to attack or blast them. No matter what they post, I have posted worse in the past. But many attack me. Many send DMs to attack me and I just block them.
"You know, I have lived long enough and got white hair by the way to know that whether here in Washington DC where I am writing this or over there wherever you are reading it, the truth remains that most people fail to understand that they are not superior to others in the way that they imagine. May God help us", he concluded.