Moroccan Embassy Seeks Partnership With NAN
This post has already been read 755 times!
Alhaji Ahmed Gombe, External Consultant to the Embassy of the Kingdom of Morocco in Nigeria, has called for a partnership between the News Agency of Nigeria (NAN) and Morocco's news agency, MAP, in the areas of exchange, capacity development and peer review.
The consultant made the call during a courtesy visit to the Managing Director of NAN, Mr Buki Ponle, on Thursday in Abuja.
Gombe, who is also Special Adviser on Information Management and Strategy to Gov. Muhammad Yahaya of Gombe State, commended NAN for the quality of its services and manpower.
He said Morocco's own news agency, Maghreb Arabe Press (MAP), can benefit from NAN's wealth of experience, capacity and reach through strategic partnership.
"I will like to make a proposal with NAN, so that whenever we have events in Morocco, NAN can be actively involved in MAP's activities.
"The last time, I was saddled with the responsibility of getting NAN representative accredited for a MAP event, and the quality of your representation was highly appreciated," he said.
Gombe also said Africa has become the centrepiece of Morocco's foreign policy and that Nigeria and Morocco enjoy a very cordial bilateral relationship.
"Nigeria and Morocco have 22 bilateral agreements – the highest on the continent – many of which were signed during the present administration of President Muhammadu Buhari," he said.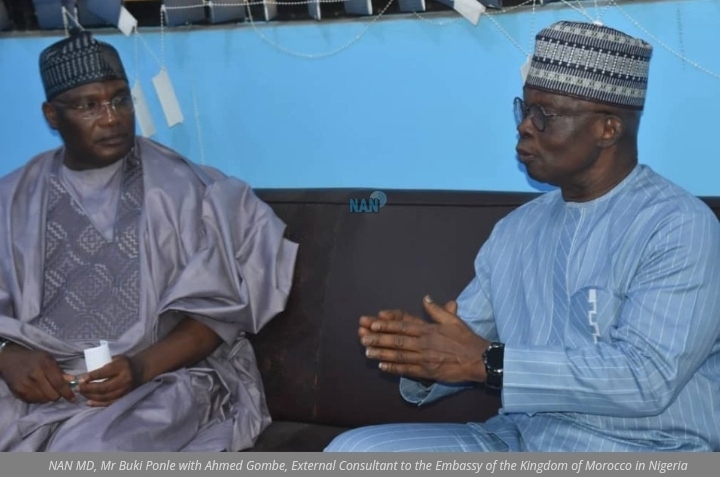 He cited the investment of OCP Africa in developing fertilizer solutions in Nigeria and the Nigeria-Morocco gas pipeline project as evidence of Nigeria and Morocco's diplomatic and economic cooperation.
He, therefore, called on NAN to further cement that relationship by forging a mutually beneficial relationship with MAP.
Gombe promised to broker a meeting between the Moroccan ambassador and NAN MD "to have an engagement on how to further strengthen the relationship between the agencies."
Responding, Ponle said partnering MAP would be in line with NAN's focus as a world-class media organisation.
"We have signed Memoranda of Understanding with Turkish and Belgian news agencies, as well as other international media organisations.
"We had made an attempt to have a meeting with the MAP in the past, but with you, we are optimistic that our relationship will be cemented," he said.
Ponle, who said Africa has always been the centrepiece of NAN's operations, said the continent should start telling its own stories from its own lens. (NAN)