Workers' Welfare Integral Part Of Our M.O.R.E Agenda – Gov. Oborevwori
Governor Sheriff Oborevwori of Delta State has assured organised labour of his administration's commitment to workers' welfare, saying they remain an integral part of his M.O.R.E Agenda.
Oborevwori stated this while addressing protesting workers on the hardhip caused by fuel subsidy removal by the Federal Government at Government House, Asaba on Wednesday.
Represented by his Senior Policy Adviser, Rt. Hon. Funkekeme Solomon, Governor Oborevwori thanked labour unions for their peaceful protest, assuring that the Governor would pass their message to President Bola Tinubu and also address issues of peculiar concern to the State workers and citizens.
"The Governor is happy with the way you have presented the concerns and issues affecting workers this morning.
"Governor Oborevwori is a man of the people and he is very conscious of the need to be people-oriented in his government.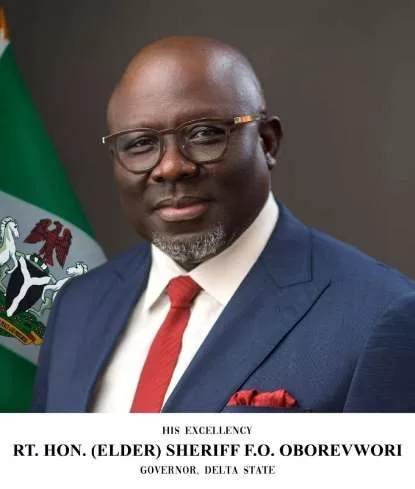 "As a member of the National Economic Council, he is fully aware of his responsibility to Deltans and the message you have brought will be dispatched and forwarded to the President.
"The concerns you have raised are not peculiar to the workers, it is a matter for all Deltans and all Nigerians. No party is spared of the consequences of the policies the Federal Government has rolled out.
"As a Government, we are with you and we have noted what you have said about Delta and as soon as we have the State Executive Council in place, Labour will be invited for talks because he needs your input.
"There is no way the Government will go ahead without considering your input. So be rest assured that Labour is an integral part, a stakeholder in this Government.
"Ours is a grassroot Government, one that knows the pains of the people and every policy will be geared towards ensuring that the people's interest comes first before any other interest.
"Not only will we take your message to the President, your concern would be examined and Labour will be part and parcel of the negotiation for a robust people-oriented and people-friendly palliative", he said.
Earlier State Chairman of the Nigeria Labour Congress (NLC,), Comrade Goodluck Ofobruku said they were at Government House to protest the bad policies and other anti-people and anti-workers policies of the Federal Government against the people of Delta State.
He said the increase in the price of fuel to over N600, occasioned by the removal of fuel subsidy by the Federal Government, was way beyond the reach of the average Deltan and workers in the State and Country.
He said the situation had left workers spending over 70 per cent of their salaries on transportation leaving them with nothing to pay their children's school fees.
He appealed to Governor Oborevwori to consider providing palliatives for the people just as some other States had done.
Ofobruku said: "As workers and indigenes of Delta State, we have been managing to survive because for those of us who work, our salaries are fixed and small.
"We can no longer breath because the policies of the Federal government are choking us and poverty has increased astronomically and that is why we have come here today to cry to our Governor who is the father of this State to take our message to the President of this Country, that they should stop all these anti-people and anti-workers policies that they are churning out everyday.
"Let them bring policies that would make the people live and be happy".