This post has already been read 131 times!
Following offensive Easter advert by Sterling Bank in which the bank likened the resurrection of Jesus Christ to Agege bread, the bank has apologised, however, the apology has continued to be dominated by anger and rage by those who pained by the insensitive advert.
In its Easter celebration messages, the bank had shared a post with the quote, "Like Agege Bread, He Rose" across its social media handles, but the message has drawn widespread criticisms from many Christians.
In its reaction to the unbridled criticisms, the bank pulled down the insensitive content on its social media page and replaced it with an apology.
The bank lamented that the content of the infographic and the message it contained was insensitive and failed to consider the very sober nature of the event being commemorated, the resurrection of Jesus Christ.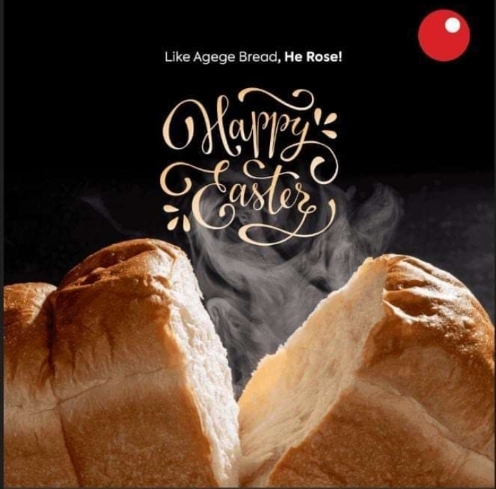 Sterling Bank, however, noted that the message had no malicious intent, saying that "there is no place for content that fails to fully account for the feelings of billions of people all over the world.
"Our honest intent was to join our millions of customers in Nigeria and worldwide in celebrating this solemn event, but our execution fell short on this occasion", the Chief Executive of Sterling Bank, Abubakar Suleiman, bemoaned.
The financial institution added, "Our policies are clear on what constitutes acceptable customer communication, and this message should not have been released to our customers.
"On this occasion, our editorial processes fell short of our policy standards.
"As a responsible institution, we immediately withdrew the offensive material and initiated a review of the circumstances that led to this failure.
"We will further sensitize our workforce to ensure this unfortunate lapse in judgement never repeats itself.
"We thank you for your continued trust in us and apologize again for this unfortunate incident", Sterling Bank management said.
However, some infuriated Christians have continued to urge Christians to boycott the bank all together.
Someone said, "This is a deliberate ploy to perpetrate religious hatred and insensitivity.
"Sterling Bank is also stoking the embers of religious intolerance.
"May we ask if the Muslim MD of the Sterling Bank would have authorized such insult against Islam?
"The Chief Executive of Sterling Bank; Mr. Abubakar Suleiman with his Management, has clearly demonstrated his hatred for the Christian faith and his disgust for Christians at large", an angry Christian charged.
"At the time we are preaching for unity and ecumenism, the likes of Mr. Suleiman and his cohorts are busy fanning the embers of hatred and religious intolerance", the Christian added.
Totally rejecting what has been described as "insult on our Christian faith", some Christians called on Christians to immediately "Immediate withdrawal of all church accounts from Sterling Banks nationwide", close "all accounts of churches and all missionary or faith based schools, hospitals, companies and other organizations in all branches of sterling Banks in Nigeria", and close "your personal account with Sterling Bank", as well as demanding the "immediate sack of the Chief Executive of Sterling Bank".
Sterling Bank To Be Sanctioned
In its reaction on Monday, the Advertising Practitioner Council of Nigeria (APCON) threatened to take necessary action to ensure that the bank is sanctioned for "the exposure of such offensive advertisement according to law."
The council also described the advertisement as "distasteful", adding that it was neither submitted nor approved for exposure by the Advertising Standards Panel, the statutory body charged with the responsibility of ensuring that advertisements conform with prevailing laws.
The council added that it will ensure that no "religious belief or faith is ridiculed or any blasphemous advertisement (is) exposed in any guise."
can
call
us
using the "Call
Us
Now" button on this site. Or Email your article or press release to us via: news@streetreporters.ng and follow us on Twitter and Instagram @StreetReporters and
Facebook
at www.
facebook
.com/StreetReporters.ng to get our latest updates! ============================
Dear Reader,
To serve our readers with free authentic and comprehensive information is becoming more and more expensive by the day. So, we request that you support us daily, monthly or annually with any amount to assist us in providing daily free access to our publications to our readers. To support THE STREET REPORTERS NEWSPAPER, you can pay into the company's corporate account: Wema Bank (ALAT BY WEMA): Account Name: THE STREET SERVICES AND MEDIA RESOURCES INTERNATIONAL ACCOUNT NUMBER: 7358221463. Sterling Bank: Account Name: THE STREET SERVICES AND MEDIA RESOURCES INTERNATIONAL Account Number: 8227410821 And if you would like us to connect with you and add you or your organisation to our list of Partners, send details of your bank transfer and Whatsapp number via email to: partners@streetreporters.ng OR Whatsapp number: +2348175047979 Send press releases, media coverage invites to: news@streetreporters.ng