This post has already been read 87 times!
The founder of Ilana Omo Oodua, an umbrella body for all Yoruba self-determination groups and eminent Professor of African History, Stephen Adebanji Akintoye, also known as Banji Akintoye, has spoken how the Yorubas will react to the next move of the released Yoruba Nation agitator, Sunday Adeyemo, also known as Sunday Igboho.
Professor Akintoye, who spoke in an interview with the Nigerian Tribune, said the next agenda of Sunday Igboho will put the Yoruba Nation in jubilant mood.
He also gave insight into the effort that went into his release by the Republic of Benin and the reason behind their move to court to stop the gubernatorial elections coming up in Osun and Ekiti states and the ongoing constitution amendment by the National Assembly.
Prof. Akintoye said, "Leaders of our many Yoruba self-determination organisations decided to take INEC to court to restrain them from holding gubernatorial elections in Ekiti and Osun States after deep considerations and widespread consultations.
"Our contention is that our organisations have individually and collectively declared repeatedly in the course of over one year that the 1999 Constitution is a fraud.
"In that position, we have been strongly supported by a large array of leading citizens and legal luminaries.
"Even the National Assembly has admitted this and has therefore embarked upon an effort to remedy the constitution – even though they know that they have no powers to amend the constitution.
"In short, the rulers of Nigeria have been treating us Nigerians as people without rights, people they can simply continue to rule even without a proper constitution.
"Of course, we Yoruba self-determination organisations, having made it known to the whole world that we are resolved to seize our Yoruba nation's self-determination and establish our Yoruba nation as a sovereign country of our own in the world, decided that we would not look on as our Yoruba people continue to be treated as part of Nigerians who are being ruled as people without rights, people who are essentially slaves.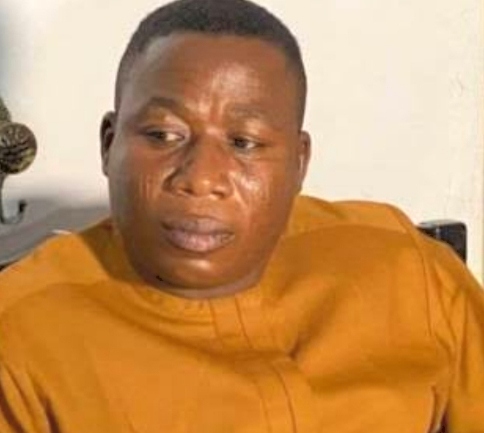 "To carry out our decision, we have two options – either to resort to violence to stop the elections, or to use the power of the law and the courts. We opted for the use of the power of the law and the courts, in accordance with our determined and well-known policy that our self-determination struggle shall be peaceful and law-abiding.
"Let it be known to all that we will pursue the court option absolutely vigorously, supported by the overwhelming majority of our Yoruba people – the overwhelming majority of Yoruba people at home and in the Diaspora, including the newer Yoruba Diaspora in most countries of the world and the older Yoruba Diaspora in countries like Brazil, Cuba, and most other countries of the Americas. We are determined to win and we shall win", he said.
Prof. Adebanjo Akintoye maintained that "Most members of the National Assembly know that the National Assembly has no constitutional power to amend the constitution.
"Let us not forget that every newly elected National Assembly since 1999 has played around with meaningless efforts to amend the constitution, and that such efforts have never resulted in any change in the constitution.
"The current game playing with the constitution is no more than a cynical tactic to deceive Nigerians to hope that the constitution will be amended, and that whatever elections are conducted now and in 2023 will be validated by the amended constitution.
"They don't believe that they can validly amend the constitution. As for the masses of our people in Ekiti and Osun States, they are not waiting or eager to vote in any Nigerian election; they are expecting to have their own sovereign, independent, Yoruba country soon.
"Their overwhelming political cry today is Yoruba Nation now! No going back!", he asserted.
While speaking on effort that went into securing the release of Yoruba Nation agitator, Sunday Adeyemo, also known as Sunday Igboho, the founder of Ilana Omo Oodua, Prof. Adebanji Akintoye, said "Sunday is not under any temporary release. He has been released, period. Because he has wisely chosen to keep his choices to himself for now, some people have been engaging in various kinds of fanciful theories.
"Those who wished that he should never be released are now telling the world that he has not been released, or that he has only been partly released, or that he has been released because of sickness, etc.
"The truth is that he has been released. This Sunday is a phenomenal giant of a man. When he makes his next steps known, Yoruba people will jump for joy.
"Yes, it took a lot of effort for those of us who stayed close to him to secure his release.
"The two of us engaged in the effort were my humble self and my deputy, Professor Wale Adeniran.
"Professor Adeniran is a wonderful asset to our team because of his unwavering loyalty and his mastery of the French language which is the official language of Benin Republic", Prof. Akintoye said.
He revealed that minutes after the Yoruba nation agitator, Sunday Adeyemo was arrested at the Cotonou Airport and they got the information and moved immediately into action.
"Though it was night, we managed to secure the services of a good lawyer to handle the case.
"We learned that some people wanted to take Sunday to Nigeria that night, but we were determined that, that would not happen.
"Our lawyer was very helpful throughout that sleepless night. By entering his presence as Sunday's lawyer, he preempted any step of taking Sunday to Nigeria.
"Then followed the court appearances, our hiring of more lawyers, our frequent efforts to stop great crowds of Yoruba youths from coming over the borders from Nigeria to storm Cotonou, our travels round parts of Benin Republic to seek the assistance of prominent traditional rulers.
"By November, we were at last in direct contact with significant personalities in the top ranks of government.
"High level negotiations followed. It was always just our two-man team of Akintoye and Adeniran, with God upholding us and fructifying our efforts.
"But I must not forget that one former student of Prof Adeniran was often by our side to render various kinds of assistance, and those two Yoruba youths from Nigeria and resident in Cotonou came to help from time to time", Prof. Akintoye narrated.
He added that "Professor Adeniran and I just fortunately happened to be in Benin Republic the day Sunday was arrested and detained.
"I solemnly vowed that day that I would not leave Benin until he was released. I am grateful to God that the ordeal is now over.
"Throughout his incarceration, majority of Yoruba people at home and abroad were constantly urging me to get him released, constantly praying for him.
"He deserves it all. I must let all our people know that we owe a great debt of gratitude to the president and government of Benin Republic.
"Theirs is a civilized modern government and it is impossible to get them to assist any savage, murderous, agenda", Prof. Akintoye said.