IGP Undertakes Convoy Patrol to Tackle Security Challenges In Plateau State
Nigeria's Acting Inspector General of Police (IGP), Kayode Adeolu Egbetokun, has initiated a critical duty tour, conducting a convoy patrol to assess and address the prevailing security situation in Plateau State.
The move, it was learnt, was in response to the ongoing security challenges in some parts of the state.
During the tour on Wednesday, July 19, 2023, the IGP engaged with key stakeholders, including the Plateau State Governor, His Excellency Caleb Muftwang, and the Plateau Stakeholders Forum.
According to a statement by police spokesman, CSP Olumuyiwa Adejobi, the meeting with Governor Muftwang at the State House in Plateau State saw extensive discussions on the complexities of the security situation and exploration of strategic solutions.
Channels Television reports that following the meeting, the IGP convened a gathering with the Plateau Stakeholders Forum at the Police Officers Mess in Jos, facilitating comprehensive deliberations and collaboration to address the prevailing security challenges and promote lasting peace and stability in the region.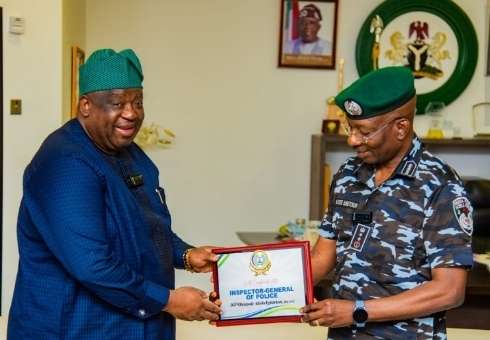 In addition, the IGP visited Mangu Local Government Area, the epicenter of the immediate security challenge, where he engaged with the local community and police operatives to corroborate intelligence received on the situation.
This interaction, the Television station reports, provided valuable insights and reinforced the Police's commitment to addressing the security challenges faced by the people of Mangu, with the ultimate aim of restoring peace and order in the area.
During his engagements, the Inspector-General of Police emphasized the importance of improved preventive deployments, effective intelligence gathering, and community engagements to proactively address the security concerns in Mangu.
He reaffirmed the commitment of the Nigeria Police Force (NPF) to protect lives and property, as well as to restore peace and harmony in the region.
The IGP stressed the NPF's determination to deploy necessary resources, strengthen preventive measures, and implement proactive strategies to address security concerns not only in Plateau State but also across the country.
Furthermore, Acting IGP Kayode Egbetokun urged the people of Plateau State to refrain from attaching religious or ethnic colorations to criminals perpetrating heinous crimes in the area.
He emphasized that a criminal remains so irrespective of religion or ethnicity, and such colorations could only exacerbate the challenges of peaceful coexistence and national unity.
The duty tour undertaken by the Acting IGP underscores the commitment of the Nigeria Police Force to address security challenges across the nation, collaborating with relevant stakeholders to find sustainable solutions.