Why Values Of the Church Should Be Reflected Anywhere Her Representatives Are Found Serving – SDP Presidential Candidate
The presidential candidate of the Social Democratic Party (SDP) in the 2023 general elections, Prince Adewole Adebayo has stressed the need for Christian body to use participation in politics to raise men who will represent the church in governance, by doing things the right way.
Adebayo made this known on Tuesday, 13th September 2022 at St. Matthias House Abuja, while giving his speech as a guest speaker at the opening ceremony of The Church of Nigeria Standing Committee, in view of the preparation of the next general election in 2023.
He noted that if the church is well represented in institutions in the country, the value of the church will be reflected and things will be done rightly.
"Anywhere, we find representatives of the Church, whether they're serving on INEC, the value of the Church should be reflected.
"At the end of the day, when the devil is tempting them with twenty thousand Naira, ten thousand Naira, they are already trained to wrestle with the devil.
"The value of the Church will be reflected and if the value of the Church is reflected, people even those who are not of our faith because of the tribulation they are going through, they would say that someone from our side should take the saddle."
He further advised that it is important that Christians should participate in politics because Christ instructed that what belongs to Caesar should be given to Caesar.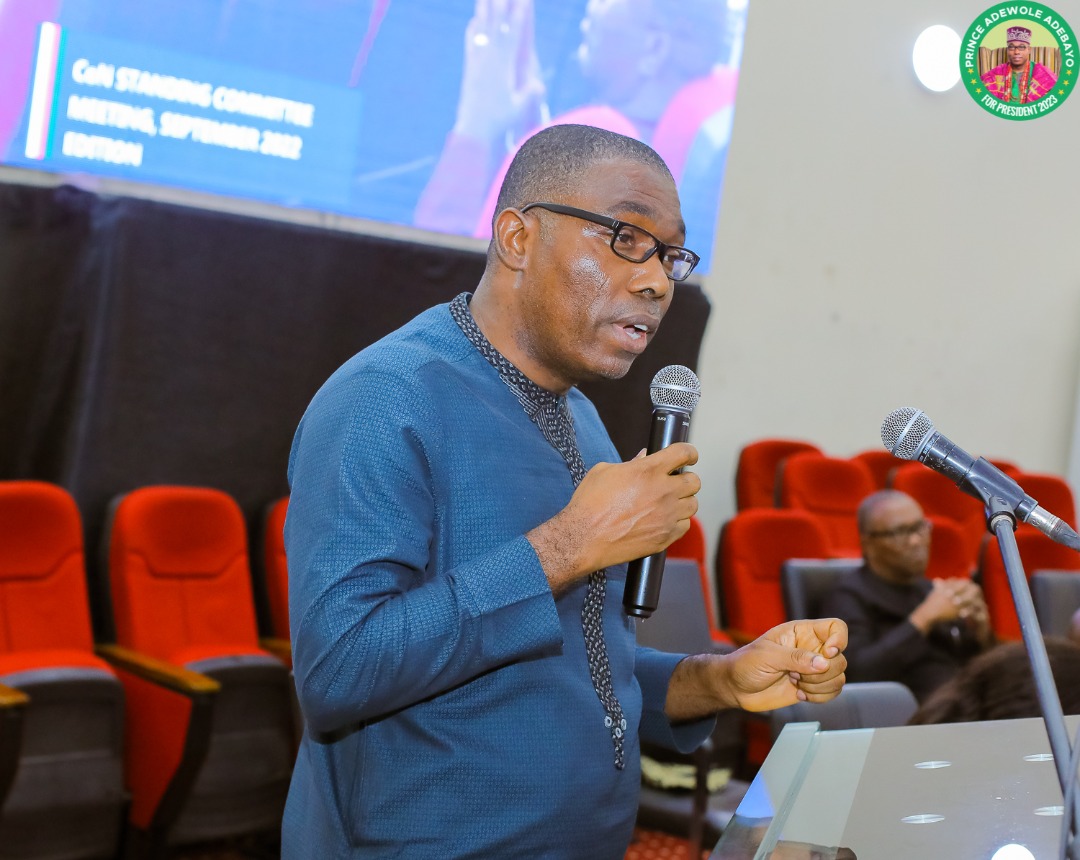 He said, "The election is a circular exercise for the country but for us in the church, everything we do is spiritual because just like Jacob, he wrestled with the angel of God before he could find his destiny.
For this generation, we have been equipped with the new testament to wrestle with the devil in everything that we do".
"The Church has laid a good foundation in participating in institutions; that's why the church founded schools so that Christian values will be expressed to youth through the school system."
Prince Adewole Adebayo was invited by The Most Rev'd Henry C. Ndubuka, MA, BD, MA (Ed) Arc Bishop and Metropolitan Primate of all Nigeria to speak as a guest speaker at the opening ceremony of Church of Nigeria Standing Committee in view of the preparation of the next general election in 2023.
Members of Prince Adebayo's entourage included Sen. Ugochukwu Uba, Former Minister of Youth and Sports Development, Solomon Dalung, Chief Godwin Osigbeme, Pastor Ade Alabi and Comrade Olarewaju Osho.
Mr Peter Obi, presidential candidate of Labour Party was also present at the ceremony.
Prince Adebayo urged Christians to be guided by the church to play a redoubled role in the electioneering process so that, it is no longer seen as something which is unseemly, unholy, unclean, but that which depends on the values individual players bring into politics.