After The Commendations, When Will Ogoja Rice Mill And German Hospital Become Functional?
This post has already been read 367 times!
Immediate past Cross River State Governor, Senator Liyel Imoke visited the Ayade's N8.5Billion Vitaminzed Rice Mill in Ogoja, along with his successor, three years ago. Governor Ayade took Imoke on a tour of the mill and while speaking to journalists, Imoke said: "With what I am seeing here, I believe that the quality of rice that will come from here will meet global standard." Ayade also said on the occasion that the rice mill was nearing completion.
Two years after, September 2021, governor Ayade again took a tour of the mill with some of his visitors and told the public that the mill was ready for President Buhari's commissioning. The date of the commissioning was fixed and changed twice but none ever held, till date.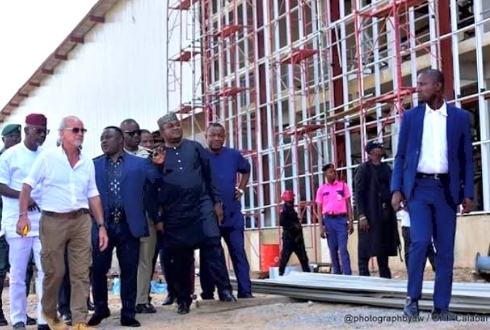 Governor Ayade also told Channels TV, a year ago that the rice mill was ready for commercial purposes and production had commenced. Someone in government even challenged me and promised to send me a bag of the rice as a proof. But till date, like most of governor Ayade's datelines, it only ended with the headlines.
Now he needs new headlines, maybe for election campaigns, he is cutting and editing old video tapes of visits by several persons and the commendations they rightly gave, to look for praises instead of concentrating on how to ensure those machines begin to mill rice that we can easily pick in the open markets.
Everyone that has visited the rice mill will agree that it is a great initiative. I have been there personally. We all want our State to grow and develop. But the question on the lips of most persons, including those working for the governor is, why are the industries not functioning? Why do they function or produce only when the governor visits or when he has visitors to show off? Why don't we get to see products from these industries in the market?
Last year, we saw our governor packaged a few cartons of 'kisime' noddles and did photo ops with with Governor Okowa of Delta, Tambuwal of Sokoto and Governor Ikpeazu of Enugu state.
He said the noddles factory was ready and operational. The remaining cartons that were produced for the photo ops were moved to inmates in Afokang prison. Since then, we haven't hear anything about Kisime.
Garment factory workers have been asked on several occasions to wear their best work uniform to duty everytime the Governor has a VIP visitor or when they want to do government house propaganda videos.
They fill the factory with air fresheners and the workers sit across the over 700 machines. Once the governor and his entourage enter, the workers begin to shout and hail the governor and clap as planned.
Once the visitors leave, status quo returns and five years after the purported completion, the garment factory has no product in any market, not even in Calabar. Not even a face towel.
CallyAir came with a lot of noise and excitement from the governor. I was the first independent journalist to enter the first aircraft and announce to the world that the aircraft has arrived from Europe while raising concerns that the governor had not acquired the Airline Operators License AOC, for CallyAir. Today, CallyAir is grounded with Aero who were managing the aircrafts.
Talking about the Obudu German Hospital, the lies refuse to stop. A hospital is not a bunch of beautifully painted buildings with some equipment inside. A hospital, whether located under a canopy or a rickety kiosk, is a place providing medical and surgical treatment and nursing care for the sick or injured.
The only public institution offering that service in Obudu today is the Sacred Heart hospital, owned by the Catholic Mission. But Governor Ayade has been going around telling people that he has completed a German hospital in Obudu. Let him show us who and who has been going there for any medical needs. Beside, the entire property has been bought over by Siemens and Cidacrest, leaving the state with no stake whatsoever in the project.
The final take away from here is that, whether from opposition or from the ruling party, we all want Ayade to develop our state and once anything good is achieved, it will be applauded by every man and woman of goodwill. And there is nothing wrong about that.
But to continue to lie about the completion of projects when they aren't yet completed is a huge sign of irresponsibility by a governor that is already notorious for that. Then trying to use people's commendations to score political capital when no product from those factories is in the market, is like a masquerade going out without its mask. Nothing has been achieved other than further de-marketing.
Yours sincerely,
Citizen Agba Jalingo.