This post has already been read 517 times!
By Bilkisu Adejoh
Ahead of the 2023 general elections in Nigeria, ASHRAAF Islamic Foundation has hosted it's (1444AH) 5th Annual Maulid Nabbiy Lecture Series on Saturday 19th of November, 2022 in Abuja with the theme; Islamic Perspectives on Elections and Democratic Governance.
Delivering his lecture on the theme, the Grand Khalifah Tijjaniyah of Nigeria, HRH Muhammad Sanusi II who was represented by the coordinator, Centre for Community Development, Kwara State University, Ustaz Muhammad Awwal Olohungbebe urged Nigerians to come out in their numbers to vote credible and compassionate leaders.
In his words, "Given that many Muslims feel that Islam mandates political engagement as part of religious practice, Islam will continue to play a role in politics and public policy.
"As far as Nigeria is not a Sharia state, Muslims must be realistic, we should not go against what Qur'an and Hadith have said and at the same time we should not let go our rights as human beings".
The Grand Khalifah added that we should decide together on who is going to be ruling us base on the value and virtues we have created for ourselves. We have to vote and be part of the process, not just the voting, we have to be voted for as well, we need Muslims at the helms of affairs, not just for them to protect Muslims but to enshrine justice and fairness to all the peoples not necessarily Muslims alone.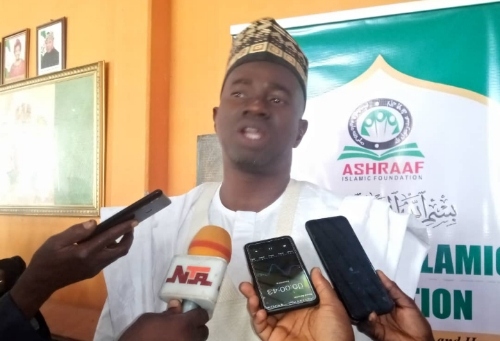 Speaking as the Chairman of the occasion, the Honourable Speaker House, Federal Republic of Nigeria, Rt. Hon. Femi Hakeem Gbajabiamila urged Muslims to showcase peace as they exercise their franchise as one of their fundamental human rights and be good ambassadors of Islam.
He tasked that sentiments should be kept aside and Nigerians should unite and vote the right candidate.
Also speaking, the founder of Ashraaf Islamic Foundation, Dr Sharafudeen Abdulsalam Aliagan,urged muslims to revisit their sources and understand them without a bias against things that they erroneously labeled as Democracy is inherent to Islamic values and Islamic historical experience.
He further tasked muslims to come out and exercise their franchise peacefully.
Speaking further, he advised that make sure that when you become in a position of responsibility, you dispense justice in accordance with Allah's will.
Aliagan charged political office holders to adopt the leadership and governance styles of Prophet Muhammad (SAW) in their dealings with the electorate.
He added that Prophet Muhammad (SAW) was a successful leader because he was patient, kind, just and truthful.