International Day of Democracy: Activists, Policymakers Share Messages to Defend Democracy 
This post has already been read 489 times!
As the world mark the International Day of Democracy on September 15, global leaders and activists are sharing messages on social media to defend democracy, the National Endowment for Democracy (NED) reports.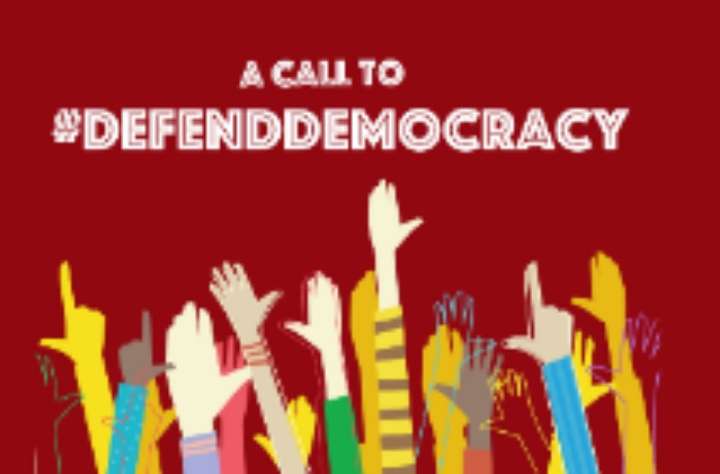 This came after signing an open letter, "A Call to Defend Democracy," initiated by the National Endowment for Democracy and Stockholm-based International IDEA.
NED encourages citizens around the world to add their own video message to the campaign by using the hashtag #DefendDemocracy.
This act of solidarity, The Street Reporters Newspaper reports, comes at a critical time as the coronavirus pandemic poses serious threats to the freedoms we cherish.
Already the open letter, which launched on June 25, 2020, holds the signatures of more than 500 political, civil leaders, Nobel Laureates, and pro-democracy institutions, and continues to grow.
They have signed the open letter to defend democracy, warning that the freedoms the people cherish are under threat from governments that are using the crisis to tighten their grip on power.
The coronavirus pandemic, it is said, poses serious threats to democracy, such that many governments around the world have assembled emergency powers that restrict human rights and enhance state surveillance, often disregarding legal constraints, checks and balances, and time frames for restoring constitutional order.
The letter is aimed at raising awareness and mobilising citizens and policymakers to protect democracy — recognising that this is the most effective system for handling global crises while protecting the rights of all citizens, particularly minorities and vulnerable groups.
"The current pandemic represents a formidable global challenge to democracy. Authoritarian leaders around the world see the Covid-19 crisis as a new political battleground in their fight to stigmatize democracy as feeble and reverse its dramatic gains of the past few decades," the letter states.
"Democracy is under threat, and people who care about it must summon the will, the discipline, and the solidarity to defend it. At stake are the freedom, health, and dignity of people everywhere".
While it is unsurprising that authoritarian regimes are using the crisis to tighten their grip on power, some democracies have also introduced emergency powers without the necessary safeguards to ensure measures can be rolled back, the letter says.
"This unprecedented demonstration of global solidarity is a sign that democracy, while threatened, is also resilient," says Carl Gershman, President of the National Endowment for Democracy and one of the signatories.
The pandemic and the global movement for racial equality have shown that democracy is more important than ever.
Democracy allows for civil society to mobilise, for inequalities to be confronted, for policy issues to be openly debated, for trustworthy information to flow freely, and governments to be accountable to citizens — all essential tools for successfully dealing with the current public health emergency and its consequences.
"Now is the time when all of us must stand up for democracy. We need to make it clear to everyone what is at stake and that we will not allow leaders with authoritarian tendencies to use this or other crises to increase their power and decrease our rights. We need to defend democracy—whether in the ballot box, in the media or on the streets. This is what the letter is about," says Kevin Casas-Zamora, Secretary-General of International IDEA.
A new report, "Global Democracy and COVID-19: Upgrading International Support," provides recommendations for policymakers and civil society to counteract the negative impacts of Covid-19 on democratic processes.
According to the report, the pandemic has had both positive and negative effects on global civic activism.
It noted that although civil society across the world has faced rigid restrictions, the adaptive experience of finding new ways to mobilise is helping them circumvent some of these new obstacles.
The report added that finding new ways to undertake both online and offline campaigns, civil society in Russia, Chile, Poland and Israel has managed to voice concerns either regarding pandemic responses or over political restrictions.
"The very real threat of COVID-19 emergency
measures has spurred civil society organisations into launching campaigns monitoring governments' rights abuses during the health emergency – good examples of this can be found in Argentina, Nigeria and Zimbabwe as well as across the
Western Balkan", report observed.
During a Battle of Narratives: Building Public Support for Democratic Renewal, a panel of experts, including members of NED's Board of Directors and grantees, will develop arguments supporting democracy that will appeal to people across regions, cultures, and generations; yet our work is far from over.
"Democratic ideals will always have enemies who are inventive and concocting reasons for what they do, but democracy defenders should have confidence, because democracy is the one road all people can walk down together," Madeleine Albright, former U.S. Secretary of State and Chairman of the National Democratic Institute, stated in her #DefendDemocracy video message.
"It is the only system that contains, within itself, the capacity to open debate to heal itself."
Others joining the debate through video statements include leading political scientist Frank Fukuyama; President of World Uyghur Congress, Dolkun Isa; the Chairman of the Institute for the Study of Global Antisemitism and Policy, Natan Sharansky, policymakers, student activists, and dozens of leaders around the world.
"This pandemic has been a gift to dictators and authoritarian leaders all over the world. The destruction of the autonomy of Hong Kong.
"New political prisoners in Turkey. Emergency powers in the Philippines. A rigged election and a crackdown in Belarus.
"A constitutional coup d'etat violating presidential term limits by Vladimir Putin in Russia. All of this while people were looking the other way," said Vladimir Kara-Murza, the Vice President of Free Russia Foundation in his video.
"When the world reopens, all of these and many other crises must be addressed.
"For now, I'm grateful to be a part of this important initiative that is not allowing people to forget", he said.