This post has already been read 321 times!
A Federal High Court sitting in Abuja, Nigeria's Federal Capital Territory (FCT) has remanded Nigerian Journalist, Citizen Agba Jalingo at the medium security custodial center in Kuje for allegedly publishing an article that was 'insulting' to Mrs. Elizabeth Frank Ayade, wife of the younger brother of Governor Ben Ayade of Cross River State.
The court was presided over by Justice Zainab Abubakar.
Two charges bordering on false publication intended to cause, "annoyance, ill will and insult," on the person of Mrs. Ayade, wife of Mr. Frank Ayade, were preferred on Citizen Jalingo in suit number FHC/ABJ/CR/565/2022.
Advertisements
He is alleged to have committed an offense punishable by Section 24 (1)b of the Cybercrimes (Prohibition, Prevention, Etc) Act 2015.
He was arraigned on Monday and pleaded not guilty to both charges.
Shortly after, the prosecution counsel, Fidelis Ogbobe Esq. sought an adjournment for trial which the defense counsel, F. Baba Isa did not oppose but pleaded for the matter to be stood down as the lead counsel, Marshal Abubakar Esq. was on his way.
Mr. Ogbobe opposed the application, citing Section 354 of the Administration of Criminal Justice Act, 2015 which stipulates that when parties are called, the Court shall proceed to hear the matter.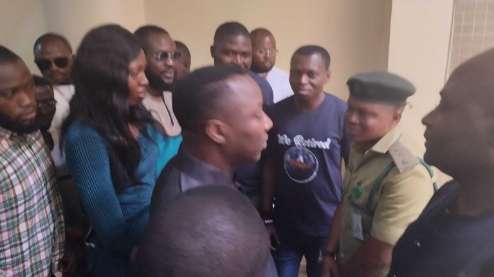 He argued that; "The excuse is a calculated attempt to postpone the arraignment," and asked the Court to not take the defense seriously.
But, Isa said in the interest of justice, the sins of the Counsel should not be visited on the defendant.
However, Justice Abubakar indulged the prosecution and did not grant the application.
When Mr. Abubakar appeared in Court, Justice Abubakar said in her records, he was absent from Court. She also declined the defense request to move the motion for bail.
She subsequently adjourned the matter until March 30th, 2023 for the Court to take the bail application of the defendant and May 31st, 2023 for the trial.
Exiting the Courtroom, Mr. Jalingo was greeted by several activists, friends, allied and associates, including the Presidential Candidate of the African Action Congress in the 2023 general elections, Omoyele Sowore.
Mrs. Ayade who was in Court on Monday, had in July 2022, through her lawyer, Uyi Frank Obayagbona Esq written to Mr. Jalingo seeking a retraction of an article that queried why a suspended staff of the University of Calabar, Paschal Aboh Esq was facing trial for impersonating a student of the Nigerian Law School, Abuja campus while the person who allegedly contracted him (Mrs. Ayade) was walking free.
She asked for an apology to be published in two national dailies, including, but not limited to Facebook, Instagram, and Cross River Watch (not CrossRiverWatch) as well as NGN 500 million in damages.
He was given fourteen days to comply otherwise legal proceedings will be instituted against him.
However, Police from the FCT Command on August 19, 2022, stormed the Ogudu, in Lagos State residence of the Journalist, and arrested him, several hours after holding his wife and daughter hostage.
He was subsequently detained at the Alapere police station and later, at Area F Command in Ikeja before he was flown to Abuja the next day where it was revealed that Mrs. Ayade had abandoned the civil approach and rather petitioned him for allegedly defaming her character.
He was released later that night and when asked to return two days later on August 22nd, was asked to go back to Lagos since Mrs. Ayade failed to show up.
But, news filtered in, in January 2023, that the Police abandoned the criminal defamation case and opted to arraign Agba Jalingo for alleged cyber crimes.
Also, civil proceedings secretly filed in September 2022 at the High Court of the FCT, were served via substituted means at the gate of Hit 95.9 FM Calabar where Mr. Jalingo is not a staff.