Why Nigeria's Voters' List Dirtiest In The World – Intersociety Reveals
… Says Over 20m Fake, Underage And Stolen Identities on Register
… 8m Minors, 2m Migrants, 4m Fake Names And 6m Stolen Identities Still Exist; 10m of 44m PVC Holders Compromised
…Genuine Voting Population of 120m Overshot to 140m with Over 20m Fake and Ineligible Identities,
…. As Only 14m of 40m to Vote
…With Over 20m of the 93.5m Registered Voters Fake, 29.5m Registered Voters Denied PVCs And 77.7m Voting Age Disenfranchised
The International Society for Civil Liberties and Rule of Law (Intersociety) wishes to state categorically and authoritatively that Nigeria presently operates the dirtiest Voters' List in the democratic world; polluted with fake and ineligible identities numbering over 20m. This graphic position of ours follows our Revised Special Investigative Report which is now 26 pages. The decision to revisit the Special Report for updates followed fresh discoveries regarding the fate of the National Register of Voters managed by the Independent National Electoral Commission ahead of the country's all-important Feb 25, 2023 Presidential Election and related others. Intersociety had on 26th Oct 2022 unveiled a 24-page Special Investigative Report exposing at least 50 rigging plots hatched under the watch of INEC.
Major highlights of the Special Investigative Report are massive disenfranchisement of genuine Nigerian citizens of voting age numbering 77.4m (as it then was) and enfranchisement of ineligible persons, fake names and stolen identities numbering several millions-done on the ground of ethnicity and religion. There was also discriminatory and grossly lopsided distribution of Permanent Voters' Cards (PVCs) using acute North-South and Muslim-Christian disproportionate distribution or 90% Muslim PVC issuance and 50% Christian PVC issuance. In the revised Special Investigative Report, fresh findings have been made strongly showing that the current Nigeria's Voters' List is nothing to write home about. The List is also nothing short of 'poll rigging engine house for 2023'. Emerging facts from the ongoing country-wide display of the Voters' List in the country's 774 Local Government Areas and 8,809 Electoral Wards as graphically highlighted in the latest (21-11-2022) press conference addressed in Abuja by the Coalition of the Opposition Political Parties (CUPP) have further necessitated the revision of the Special Investigative Report. This is to the extent that we have additionally found that Nigeria under INEC operates the dirtiest, most bastardized and corrupted Voters' List in the world.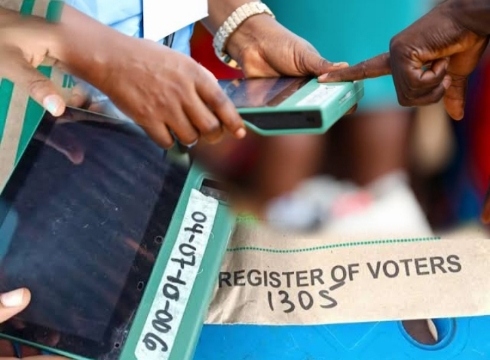 Apart from our discovery that the National Register of Voters is presently riddled with over 20m fake and ineligible identities, further breakdown shows that the country's projected genuine voting population of 120m has been overshot to 140m with over 20m fake and ineligible identities. It must be remembered that Nigeria is currently projected and credited internationally with population of 218.27m as at 20th Nov 2022, out of which, 120m fall under voting population. The 120m voting population has been overshot to 140m, out of which INEC claims "93.5m exist for 2023 polls". That is to say that the Nigeria's current registered voting population of "93.5m" is polluted with over 20m fake names, stolen and ineligible identities. It is also independently correct to say that total of 77.7m citizens of voting age in all have been disenfranchised from participating and voting in the 25th Feb 2023 Presidential Poll. The disenfranchised 77.7m citizens include 30m citizens of voting age never registered as voters in Nigeria, 29.5m registered but still denied PVCs since Feb 2019 and August 2022 and 18.2m registered citizens whose 2022 registrations were recently destroyed on flimsy grounds by INEC.
With over 20m of the "93.5m" registered voters as fake, stolen and ineligible identities; and with 29.5m still denied PVCs, the remaining 44m are likely genuine holders of PVCs; out of which 10m are compromised or under threat of being compromised by criminal political actors in full collusion with INEC or its criminal top officials. The grand implication of the above is that Nigeria may be heading to the 25th Feb 2023 Presidential Poll with only 34m-40m genuine PVC holders. It is 40m if the projected 6m PVC distribution between now and end of Jan 2023 is added and practicably achieved. Owing to sundry insecurity and harvest of voter accreditation and voting bottlenecks and hitches by INEC and security agencies, only 35% 14m of the projected 40m genuine PVC holders may cast their votes and have their votes count in the Feb 25, 2023 Presidential Poll. There is also likelihood of the 'living votes' figure of 14m swallowed by greater percent of projected 'dead votes' of at least 18m.
It is recalled that in the 2015 Presidential Poll, out of 30m-plus votes generated, 13.8m came from fake votes or votes generated outside biometrics or PVC voting. It was out of the 13.8m "dead votes" that Buhari got 10.2m and Jonathan 3.6m. The over 20m fake names, stolen and ineligible identities presently flooding the National Register of Voters have been found to include at least 8m Muslim minors or underage children and 2m migrants majorly found in the North-West States of Kano, Kastina, Sokoto, Zamfara, Jigawa, Kaduna and Kebbi; the North-East States of Bauchi, Yobe, Borno and Adamawa and the North-Central State of Niger. Freshly and independently believed to presently polluting Nigeria's Voters' List are estimated 6m stolen identities or stolen and diverted PVCs belonging to registered Nigerian citizens of voting age denied PVCs since 2019 as well as estimated 4m fake or fictitious names flooding the Register in at least 22 States.
CUPP Discoveries Commendable But Exoneration Of INEC Unacceptable
The latest discoveries by the leadership of CUPP are very commendable; however, totally unacceptable are attempts to exonerate the top leadership of INEC headed by Prof Mahmood Yakubu. We make bold to say that not only that the leadership of the Commission is directly and vicariously liable or culpable but also the entire management of the Commission including the Chairman and all serving National and State Resident Electoral Commissioners should have resigned from their seats, positions and duties. The level of their culpability in the litany of electoral illegalities is inescapable. The CUPP also clearly contradicted itself especially going by shocking findings made by the respected political pressure group. Having thoroughly gone through the laws of the country especially those governing Nigeria's electoral process, we could not find and still cannot find where a politician is legally empowered to smuggle fake names or stolen identities or underage children or migrants into INEC register or server as "registered voters" without full involvement of INEC adhoc and substantive staffers including members of its top management.
The CUPP's commendation of INEC top management especially the Commission's Chairman for "deleting 2.78m ineligible names from the Voters' List" is groundless, logically incoherent and selfishly protective. This is owing to the fact that the deletion was highly controversial and questionable; more so when the CUPP leadership seemed not to border to ascertain the bio, ethnic and religious identities of the deleted '2.78m', especially against the backdrop of the fact that the Commission embarked on another round of destruction of millions of freshly registered genuine citizens of voting age, turning blind eyes on millions of underage children, migrants and fake names polluting the National Register of Voters. Several independent analysts have found that greater part of the deletion was concentrated in the South particularly South-East and South-South, leaving the North with paltry percent of the deletion. Totality of these explains why even in the CUPP's latest findings, not only that the millions of underage children and fake names uncovered in its 14th Sept 2022 exposure have remained undeleted but also more numbers have been added.
Signed
For: International Society for Civil Liberties and Rule of Law (Intersociety)
Emeka Umeagbalasi, Criminologist/Researcher
Board Chair @Intersociety
Chinwe Umeche Esquire
Head, Democracy and Good Governance Program @ Intersociety
Chidinma Udegbunam Esquire
Head, Campaign and Publicity Department @ Intersociety
Contacts:
Mobile Phone/WhatsApp: +2348174090052, +2348190098016 (alternative)
Email: info@intersociety-org.ng, Website: https://intersociety-ng.org