This post has already been read 476 times!
There were indications recently that all reconciliation efforts between aggrieved top members of the Peoples Democratic Party (PDP) have crumbled when the party's presidential candidate of the party, Alhaji Atiku Abubakar, insinuated that he has moved on with his presidential campaign without PDP leaders in the camp of Governor Nyesom Wike of Rivers State.
The Street Reporters Newspaper had reported that there pointers to the effect that the aggrieved PDP Governors and their allies may have opted to support opponents of the PDP Presidential Candidate ahead of the February 25, 2023, presidential election.
On Monday, Governor Samuel Ortom of Benue State declared that he would rather die than support the presidential ambition of Alhaji Atiku Abubakar next year.
Governor Ortom, by his declaration, has finally laid to rest speculations as to whether the vocal Governor would queue behind the presidential bid of the PDP candidate.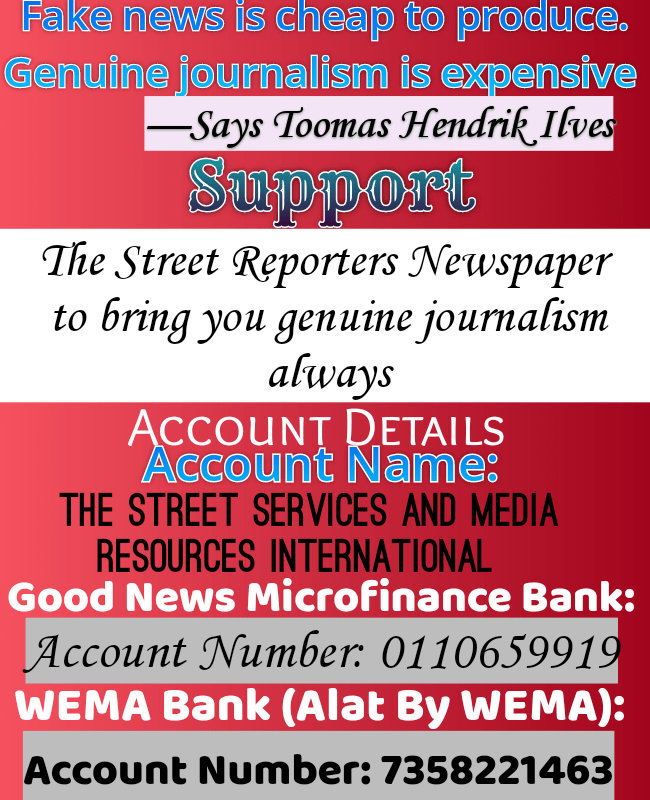 A former vice president, Atiku Abubakar, had, since he announced his presidential bid ahead of the 2023 general elections, proclaimed himself a "unifier".
However, pundits believe that as the leader of the party by virtue of his emergence as the presidential flagbearer in line with the tradition in the PDP, it has become obvious that Alhaji Atiku Abubakar has been unable to reconcile his primary constituency, the PDP.
The cracked walls in Atiku's party has widened that by implication, the PDP may have finally lost the support of governors in the famous G-5, Governors Nyesome Wike of Rivers State; Okezie Ikpeazu of Abia State; Seyi Makinde of Oyo State and Ifeanyi Ugwuanyi of Enugu State and Ortom of Benue State.
Governor Ortom spoke vehemently against supporting Atiku, late Sunday night, when he hosted the other four governors to a dinner party at the banquet hall of the Government House, Makurdi, the Benue State capital.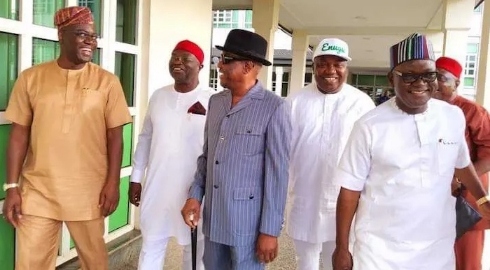 The counterparts of the Benue State governor were in the state to grace the flag-off of the PDP election campaigns for the 2023 general elections and commissioning of projects executed by the Governor Ortom administration in Makurdi slated for Monday.
The host Governor explained that he would rather die than to support Atiku whose kins­men have been killing his people, adding that just last week, herdsmen killed another 18 persons in the state for no just reason.
According to him, "To hell with Atiku and any­one supporting him. They should go and tell him. You want me to be slave to a Fulani. Its better I die. Anybody supporting Atiku is an enemy of Benue.
"My people are being killed and you want me to be quiet. My tenure ends in May (2023) and you can do whatever you want if you think you have the powers.
"I have written my will. When I gave it to my wife, she cried all night. If I die at 62 many of my mates have gone long time ago and if I die today, I'm a ful­filled person. But let it be recorded that I died resist­ing the invasion and killing of my people.
"I will never support a Fulani man to become president. If there is an­other person who is ready to work with me and ensure the security of my people, I will work with him", he stressed.
While he commended Wike, who is the title hold­er of the 'Eagle of Tivland', Ortom noted that when the state came under siege, Wike was the first person who roared and warned that if you kill Ortom, you have killed the whole Ni­geria.
Ortom observed that Wike did not keep quiet when Benue was under siege, noting that he visit­ed with stakeholders from Rivers State and committed N250 million and subse­quently he has committed over N700 million to Benue IDPs.
He condemned Benue sons, particularly those at the National Assembly, who have been keeping mute over the killings in the state, threatening that "from tomorrow (Monday) I'm turning my venom on the National Assembly members from the state who are romancing with Buhari to kill the Benue people."
He was convinced that as PDP launched its cam­paign, it was his firm be­lief that the party would win the 2023 elections, in­sisting that "Benue is PDP and PDP is Benue State."
He warned those plan­ning to come and rig elec­tions in Benue to shelve such idea, adding that it would not be condoned.
Governor of Rivers State, Nyesome Wike, who spoke on behalf of his counterparts, said the G-5 were out to help Nigeria from imminent collapse.
He said, "The G-5 gov­ernors are the integrity governors and anyone can challenge us. We have come to give Governor Samuel Ortom solidarity support for the flag off of campaigns in Benue and to tell Benue people that we are with Governor Ortom; like or hate us we are with Ortom. You cannot break us. We are bonded together.
"Leadership is risk tak­ing. Whether you like him (Ortom) or not, Ortom has shown leadership", he ar­gued.
Wike reiterated his call on Senator Iyorchia Ayu, the National Chairman of the PDP, to respect the agreement that he would resign if the presidential candidate of the party eventually emerges from the North.
He further advised Ni­gerians to be wary of poli­ticians who do not respect agreements now that they were yet to get to office, stressing that they would not keep agreements or promises, when they even­tually get into office.