Cross River Witnessed The Most Peaceful Elections Reflective Of People's Will
Senator Sandy Onor's Tribunal Case Against Prince Otu, Willy-nilly Is Merely Psychological And Face-Saving; It Has No Record Or An Iota Of Truth To Upturn The Results As They Are
Continued From Blunders Part 1
"These were barely the display of deliberately purchased prototype industrial machinery scattered all over the place by the outgoing administration with a limited functional capacity just as the name implies, to give the impression of the prevalence of mass industrialisation in the state all meant to justify the billions of the various bailout funds of the Federal Government from which many of the neighbouring states some of lower status like the Government of Ebonyi followed in that respect by that of Rivers who used theirs specifically to build massive flyovers, new road networks, culverts, including schools and Hospitals. Ours may have been invested somewhere else as alleged, which should form some of the inclosures in the handover notes to the incoming Governor to arm himself with; during his first press briefings after the swearing-in ceremony on the 29th of this month. Imagine how time flies."
"I am sure if the incoming Governor, Prince Bassey Otu allows himself to be pressured or be bamboozled for any reason whatsoever by those who have served the outgoing government and made so much undue wealth as alleged throughout its tenure and because they participated in the campaigns that were made compulsory as part of their duty and commitment as political appointees and party executives, therefore, they feel entitled to be given a further appointment to continue in this present administration amid a pool of those who have not been given anything whatsoever as their benefit for supporting the party, then he wants to indirectly inherit the ugly Kama of the last administration bedevilled with indolence and imputations encouraged by untruth which the administration was being rightly perceived characteristically."
"I may not be surprised by tales of arm-twisting or the pressure on the incoming governor to do certain biddings because such an atmosphere was created by the outgoing government including some highly placed party executives especially those from the Northern part of the state to stifle the hands of the incoming Governor Otu in a way, before and after the party primaries in his anticipated moves to make his choice of who to work with and who to run with as his deputy and many other considerations that favoured someone other than persons from either the Northern Senatorial District or strictly the choice of the party or government so to speak which were supposed to be the incoming Governor's to make but were usurped by imperialistic considerations under which he was been subjected then. And that gave an impression in the public eye suggesting why with such squelch in place, he may not be given free hands to operate when he eventually becomes Governor. This was largely responsible for the mass exodus we found of most political elites who suddenly left us in APC involuntarily to join the Original Caterpillar of a faction in the PDP to avert such instinctive previsions. But to the glory of the Lord who had destined Prince to be Governor, we won overwhelmingly."
"I know how much Prince Otu reduced himself at a point due to circumstances surrounding his elections, during the initial part of the journey which prompted the outpouring of unwieldy converts of total Efik support packaged by an elite class where even those who had vowed not to see Otu ever becoming anything requiring their support, talk more of becoming a Governor for purely enviousness or other personal reasons, trooped in to show their concern and solidarity which compelled the outgoing governor's involuntary consideration whose support evolved eventually to become totally submerged, but at a very high cost to the recipient including dehumidifying the beneficiary, even though he had no choice but pretended as if he did. This life has no balance. So much ugly reminiscences on one's way to victory. No wonder the tendencies to resort to shortcuts becomes an extenuating excuses to desparados."

– Obi Ojage
Before I proceed I would like to beg the many privileged great men, women, including all the youths who are coming across my write-up for the first time, to kindly forgive my lengthy text.
It is due to the common vexation which has now become a burden in my heart on your behalf that does not let me sleep and I am pained and would want to pour it out or release a few as they occur to me in one-read, as I may not have you here again perhaps, to join me have a glimpse of the anomalous incidences plaguing our state and nation. Please, bear and do forgive me.
By the way, they shouldn't be any cause for alarm, as notable and influential leaders in the state are of the main People's Democratic Party, (PDP) and not a faction to which Senator Sandy Ojang Onor belong, especially the true leaders recognised by the National body such as the former Governor of the state, Senator Liyel Imoke, Senator Gershom Bassey, Barrister Efiok Cobham, and few others across the entire state who have long sent congratulatory messages gallantly to Prince (Senator) Bassey Otu on his throbbing victory are not disposed to such a waste of ones precious time now being engaged by Onor and his fellow travellers to keep the election tribunals busy and to enhance the fortunes of the learned men and women of the noble profession who are keeping vigil waiting to exacerbate the ignorance thereto for their gains. Why not?
And I doubt if the former Governor, Mr Donald Etim Duke much as I can guess would want to insist on something that has no bases than faces saving.
He once told me in a private conversation in his house before the elections which became accompanied by the unfortunate emergence of the "rufurufu fights" between us based on self-interest, of the real reason he was supporting Sandy Onor as a member of his party even where there was someone or others from the South, being the current clamour also contesting, contrary to the insinuations of most of his tribesmen and women of the Southern Senatorial District where he hailed from, who were being emotional over the issues more or less, and understandably so.
No matter the numbers or different gods consulted or employed by other parties especially the People's Democratic Party, (PDP) of Sandy's faction, even with the assistance of double Caterpillar including bulldozers to complement the distractions of our structures of committed men and able youths made up of young girls and boys, it would have been practically ridiculous for Senator Onor to win the Governorship election with or amid the heavily divided house on which platform he was billed to run. And to defeat one as popular as Senator Otu who is been backed by the consciousness of his contesting on the platform of a ruling party regardless of whatever assessment is being placed on the incumbent Governor may be of little effect.
More so, not when a known defender of truth an abhorrence of injustice or unfairness as my humble self is in association, there is bound to be a renaissance of some sort with spiritual undertones from a Christ Devotee which would instantly ignite a psychological or psychical attachment or spiritual hype to it except the are irredeemable rifts in existence or the candidate of such party as ours is either physically incapacitated, morally bankrupt or greedy and unpleasant for People's liking for that to happen.
AND unfortunately none of those cases did Otu suffer to have caused Onor to defeat him in the last election. It is inconceivable as I had always opined.
After all, in an election, there is bound to be a winner and a loser especially when the result is a true reflection of the People's wish for a candidate who is popular and accepted as Prince of the All Progressives Congress, (APC), cross river state, where going to court becomes absolutely and unnecessary as it is noticed over what is being played out in the primitive and shameful selection we find all over the places as a function of unforgivable lies, in the name of victory, done in total disregard of the People's will and wishes expressed at the various ballot boxes where elections were held. And only the Lord almighty knows what shall befall the perpetrators of this retrogression in due time.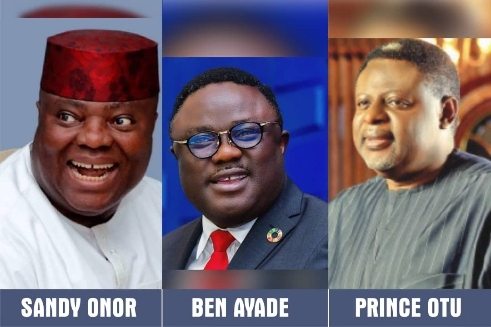 I strongly believe from my experience that they shouldn't have been anything in this world further to cause successful human beings or to find a successful person materially, the type rumoured to be involved in most of the malpractices where there are engaged in telling a lie or stamp such a lie to cause the rejection of something noble to be embraced, over a controversy in the name of partisan politics or what-have-you, if not prompted by some evil forces which never allows some people to be morally upright for fear that the Holy Spirit may come to their aid to make them feel inwardly fulfilled which is their bane.
It has never happened before in this state ever, whether in the short reign of their Excellencies Chief Clement Devid Ebri, who is known for his thoroughness, and that of Mr Donald Etim Duke or Senator Liyel Imoke, where particular sets of individuals are made to stay in a particular government appointment for throughout eight full years of the term of the administration without a change being effected. More so where no significant inputs in their performance that I know of, were recorded to justify such on individual cases.
Whereas there are a whole lot of others who are highly qualified for those designations. And most of these sedentary lots created the grounds for the sabotage that was recorded in the defeat we suffered in the Northern Senatorial District of our state.
You find a few such cases of retention in political appointments commonly done without complaints mostly at the federal level far away. And that is understandably so because it does not affect the indigenes of their various states directly nor those who have jointly worked for such success to be attained by leaders governing such states.
Only elected persons are mandatorily entitled to enjoy such length of service not those appointed by elected governors. If they should be, but in selected cases.
Not in this case where the same faces who were seen in PDP as few year back with the governor, holding political appointments and being carried over to the APC to maintain the same portfolio without a corresponding performance to justify their retention including the head of the service. It's imperialistic to find such behaviour in a democratic dispensation where compensation is apt and carried out in a fair and evenly manner.
I vividly remembered an occasion during the administration of the former Governor of the state, Mr Donald Duke when a particular prominent man in the state approached me to speak on his behalf to the then-governor for an appointment offer. And I obliged and went to meet the Governor over it. Do you know what he said to me thereafter?
"He said Comrade, if you're talking about that particular individual you'll be unfair because he has been a commissioner and had held other positions in government before I came, what about others who have not got anything, you mean they too do not deserve to be given an appointment in a democracy and government meant to be enjoyed by all especially party those members had worked to secure my victory?"
This was highly responsible for why all of those who were seen as a nobody's before Duke's emergence as Governor of the state are today the human Lords we celebrate because the then governor DUKE refused to allow the perpetuating of the haves who never wanted to give way for the have-nots to ever have, but only themselves by using heavy lobbying methodology and counting on a certain amount of money they may have craftily donated to assist the candidate during the elections or houses donated with one plan in mind, and that is to keep the have-nots at bay, but Duke said no way to those conventions conceived out of selfishness! People forget so soon because their heart is evil.
However, he further advised that the fellow should go and do something else. At that point, I was tongue-tight and could not utter any word further. And that made a lot of sense to me and so it is now. For whatever justification, it's selfish and a display of witchcraft, short and simple.
Many of those young men in politics who have built houses and are now driving one or two Prado jeeps and Lexus including other vehicles being displayed in the various compounds which is neither from their salaries nor intellectual competence supports; had refused to see how much they're blessed by the coming of Democracy to have acquired all that, similarly, to allow others to also test a little of the spoils would not but what they should continue to insist on being appointed as if the politics are meant for them alone.
That's the greed that's killing our humanity, especially in Africa where persons of low acuements are the dominant forces occupying high positions meant for those who have developed themselves in different fields or with skills through effective learning or practice in addition to having special endowments all in the name of partisan politics.
I am sure if the incoming Governor, Prince Otu allows himself to be pressured or be bamboozled for any reason whatsoever by those who have served the outgoing government and made so much undue wealth throughout its tenure and because they participated in the campaigns which is compulsory as part of their duty and commitment as political appointees and party executives, therefore, they feel entitled to be given a further appointment to continue in this present administration amid a pool of those who have not been given anything whatsoever as their benefit for supporting the party, then he wants to indirectly inherit the ugly Kama of the last administration bedevilled with indolence and imputations encouraged by untruth which the administration was being rightly perceived characteristically.
I may not be surprised by tales of arm-twisting or the pressure on the incoming governor to do certain biddings because such an atmosphere was created by the outgoing government including some highly placed party executives especially those from the Northern part of the state to stifle the hands of the incoming Governor Otu in a way, before and after the party primaries in his anticipated moves to make his choice of who to work with and who to run with as his deputy and many other considerations that favoured someone other than persons from either the Northern Senatorial District or strictly the choice of the party or government so to speak, which were supposed to be the incoming Governor's to make but were usurped by imperialistic considerations under which he was been subjected then.
And that gave an impression in the public eye suggesting why with such squelch in place, he may not be given free hands to operate when he eventually becomes Governor. This is largely responsible for the mass exodus we found of most political elites who suddenly left us in APC involuntarily to join the Original Caterpillar of a faction in the PDP to avert such instinctive previsions. But to the glory of the Lord who had destined Prince to be Governor, we won overwhelmingly which should render the court issues a nullity.
I had to take the extra trouble to persuade some of these elites I know personally the majority of who constitute my audiences on my pages and different platforms on social media or through my highly elucidating and balanced writeups as acclaimed by most of my readers, many of which were fallouts of conversations I had with these fellows, where I vehemently refuted the claims that Otu will be a pantaloon in the hands of the outgoing Governor and his army of bees armed with illicit money allegedly gotten from the spoils with no known accomplishments except for their continues talk of industrialisation encouraged by the food on the table preambles that serves as an opium to stir up the majority of those who gave choruses to the melody and enhance the symphony to increase the overtures to make them perpetually glued to the hidden ephemerality which needed just a little more time to be experienced.
These were barely the display of deliberately purchased prototype industrial machinery scattered all over the place by the outgoing administration with a limited functional capacity just as the name implies, to give the impression of the prevalence of mass industrialisation in the state all meant to justify the billions of the various bailout funds of the Federal Government from which many of the neighbouring states some of lower status like the Government of Ebonyi followed in that respect by that of Rivers who used theirs specifically to build massive flyovers, new road networks, culverts, including schools and Hospitals.
Ours may have been invested somewhere else as alleged, which should form some of the inclosures in the handover notes to the incoming Governor to arm himself with during his first press briefings after the swearing-in ceremony on the 29th of this month. Imagine how time flies.
I know how much Prince Otu reduced himself at a point due to circumstances surrounding his elections, during the initial part of the journey which prompted the outpouring of unwieldy converts of total Efik support packaged by an elite class where even those who had vowed not to see Otu ever becoming anything requiring their support, talk more of becoming a Governor for purely enviousness or other personal reasons, trooped in to show their concern and solidarity which compelled the outgoing governor's involuntary consideration whose support evolved eventually to become totally submerged, but at a very high cost to the recipient including dehumidifying the beneficiary, even though he had no choice but pretended as if he did.
Those were some of the quarrels I had with the incoming Governor initially each time we met privately in his House to analyse political situations from which he often suggested more prayers as answers.
Prince never wanted to rock the boat for whatever reasons, and told me so plainly, owing to his Macavalian outplaying of the supper boss over whom he used wisdom to overcome. And it paid off handsomely, however.
This life has no balance. So much ugly reminiscences on one's way to victory. No wonder the tendencies to resort to shortcuts becomes an extenuating excuses to desparados.
I hope that shouldn't be the case now that he has the entire people watching out to see him deliver on his promises of what is practically possible not to duel on lies or fabrication for anything's sake nor to impress anybody.
He must do everything first to change the looks of the state capital Calabar and further to change the perception of people about our government as being a place where lies have their origin.
Cross River must gain back its original status of being the greenest and cleanest in the country. Indeed there is a retrogression in production in terms of the inputs of those appointed in positions of responsibility in the last administratiistis than what we've ever seen in all the administrations in the state.
This is so because people are barely given positions based on their disposition to the Governor not necessarily on competence. These appointees are meant to sit there and carry out instructions sometimes from two entities known to "will" the same powers and authority, without applying themselves to using their initiatives to see how well they can improve the service based on their perception other than the situation where their only relevance is to negotiate their share of the fallouts of whatever it is without any physical inputs that can be traced to the holders of such position or felt generally as something uniquely done specifically with public funds allocated for that purpose.
For example, during the previous governments in the state in cases where there are persons holding an executive position of either commissioner of agriculture for instance or that of lands or environment, you'll feel exactly what their duties were or what they were doing based on their commitments and thought projections against what is obtained in the outgoing administration where everything is screwed towards being showcased through explanation by one man at the top without delegating powers evenly and sometimes absolutely if need be, depending on the competence of the person.
It is usually the result gotten from such places that generate the curiosity of one or the public tracing to know the name or names of a commissioner or the commissioners involved who may have been responsible for the turnaround in those places. And not what the present outgoing governor usually says himself about the developments of such places which are laced or seen or considered by members of the public as mere propaganda.
Today, as we speak in the state, one hardly knows who is the commissioner for the environment as well as that of agriculture or that of works or what have you. And what they've achieved due to this incosideration power is not devolved for assessing performance, because nothing of significance happens at those places for mention except for heavy propaganda meant to raise hope, and keep hope alive; pending the arrival of the incoming administration. Here we are!
I was advised to make the write-up short as possible this time, for the times are now short. And especially so; now that campaigns are over. It's time to reconstruct and to apportion blames for its sake. We never know what the evil men are planning in the country on how long the various tiers of government may tarry considering the incessant heat all over the country occasioned by mistrust and other evil tendencies.
Therefore, I have chosen to end so far. The next story in the series shall be on why we lost the Northern Senatorial District Election as the ruling party. And why the incoming Governor should reduce the size of his cabinet to the traditional 13 number of well-tested persons who would be carrying on in them the true tag of an executive Commissioner in the field and over the positions they're meant to serve.
And this will be strictly based on their participation in the last campaigns to increase the zeal of party men and followers in case of another time. Followed by just a handful of renowned technocrats from wherever but not based on tribal considerations or family as witnessed in the last dispensation but on merit. With all the support given, Prince cannot afford to fail.
End Time Message.
GOD WITH US….