This post has already been read 879 times!
Voting has commenced with early arrival of voting materials in some parts of Lagos State with reports of low voter turnout and some hitches.
The state governorship election is more or less a two-horse race between the candidate of Labour Party (LP), Gbadebo Rhodes-Vivour and that of the ruling All Progressives Congress (APC), Babajide Sanwo-Olu.
Also in the race is Abdul-Azeez Olajide Adediran (Jandor) of the Peoples Democratic Party (PDP).
The Street Reporters Newspaper brings you updates on the ongoing electoral process in Lagos State.
LagosDecides2023: Voting commences at Tinubu's polling unit
Voting began at the Polling Unit 085, Ward 3, Alausa, Ikeja, Lagos State at 8:32am where the President-elect, Bola Tinubu cast his vote.
The INEC officials arrived at the polling unit at 7:30 am.
Announcing the commencement of the exercise, the Assistant Presiding Officer Unit III of the Independent National Electoral Commission (INEC), Adebola Adebiyi, said the voting would end by 2:30 pm.
She read out the voting process in line with the electoral guidelines.
She also displayed the BVAS and empty ballot box while urging voters to adhere strictly to the rules and regulations.
The Commissioner of Police in Lagos State, Idowu Owohunwa, also visited the PU for inspection around 8:19 am.
LagosDecides2023: INEC Not in VGC PU — Omoni Oboli Laments
Popular Nollywood actress, Omoni Oboli has called on Nigerians to tag INEC, as they have failed to show up in her usual polling unit at the Victoria Garden City (VGC).
According to her, there were instructed to go to the polling unit on the Expressway.
The mother of four, in company of other prominent people like Fela Durotoye and his wife, confirmed the development in a video via her Instagram page on Saturday morning, 18th March 2023.
She further disclosed that many people are in the polling unit, waiting for INEC officials to exercise their franchise.
Omoni said, "So it's a 8:00 AM, and we're set up; as you can see, we are fully set up here. Everything is completely organized all the polling units are here but Inec has said they are not coming into VGC; they're going to set up on the express.
"I don't understand why thousands of people are in here to vote and then you want us to go to the express.
"This has never happened before they're saying they're not coming in, so please start tagging INEC and tell them we're all set up, we're here, we're waiting, and they set this up, pulling it this way we posted the last time.
"I've always voted here for years, you know, every election cycle. Yeah, now they said they're going to the express setup. I wish you all come out to express…. Nobody has any drama at this time; please, please, let's do it."
LP Gubernatorial Candidate, Rhodes-Vivour Votes
The Lagos governorship candidate of the Labour Party (LP), Gbadebo Rhodes-Vivour, arrives at his polling unit 045, Oshifila/Abule Igbira in Anifowose, Ikeja.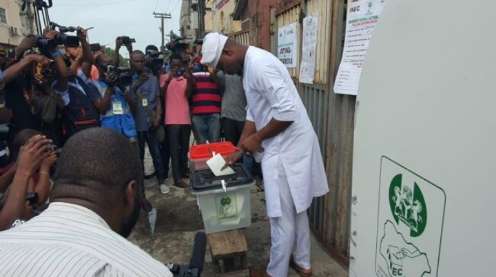 He completed both accreditation and voting a few minutes before 10:00 am.
Payment delays deployment of INEC officials in Amuwo-Odofin, Lagos
Delay in the payment of the ad hoc staff of the Independent National Electoral Commission resulted in a protest at the Registration Area Centre of the commission located in the Amuwo-Odofin Nursery and Primary School, Mile 2, Lagos on Saturday.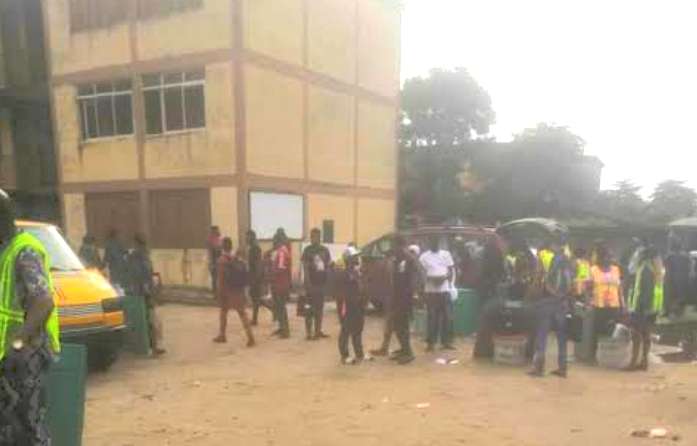 Some of the ad hoc staff, who spoke to our correspondent, said that they were promised ₦15,000 each before they left the RAC but they had yet to be paid at past 9am.
One of the ad hoc staff who identified himself as Matthew said, "We were told that we would get ₦15,000 before we leave here but they are yet to pay and are even threatening us."
Meanwhile, voting has commenced at the three polling units inside the school.
Low Voter Turnout in FESTAC Town
However, low turnout of voters heralded the governorship and House of Assembly elections in parts of sprawling FESTAC Town in Lagos on Saturday.
No voter was seen at some polling units as at 8.40 a.m.
Law enforcement agents and those of para-military agencies were ubiquitous in most parts of the town to ensure security.
A voter, Mr Sulaimon Ojo, said he arrived at his polling unit in FESTAC Town from nearby Maza-Maza area at about 8 a.m. only to find that the exercise had yet to take off.
"I will wait patiently because I want to be part of good governance,'' he told the News Agency of Nigeria.
Voters Flee As Suspected APC Thugs Attack Polling Unit In Lagos
Reports indicate that voting has been disrupted at a polling unit in Lagos by hoodlums suspected to be members of the All Progressives Congress.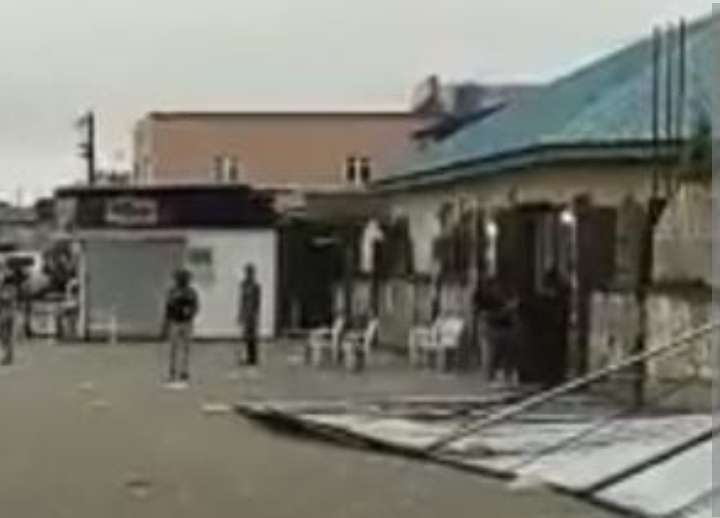 An eyewitness gave an account of how the political thugs drove away voters at polling unit 005 in Sangotedo area of the state.
Recall that the Lagos State Parks Management Committee Chairman, Musiliu Akinsanya aka MC Oluomo, had recently threatened those who won't be voting for the APC in the state, telling them to stay at home but later said it was a joke when police began investigation over a video capturing his threat.
MC Oluomo had said, "We have begged them. If they don't want to vote for us, it doesn't call for a fight. Iya Chukwudi, if you don't want to vote for us, stay at home."
He later said that Iya Chukwudi is his neighbour.
President-elect, Tinubu, Wife Cast Vote
The president-elect, Bola Ahmed Tinubu has cast his vote in his polling unit at Alausa in Ikeja, Lagos State.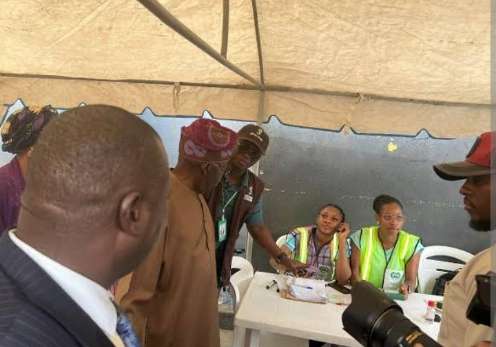 Tinubu cast his vote alongside his wife, Remi.
More updates loading: click here to Join Our WhatsApp Group for more news