Killings: Intersociety Releases Special Report On Military Siege And Terror, Raises Alarm Over Looming Massacre In South East
The International Society for Civil Liberties and Rule of Law (Intersociety) on Monday released a special report, alleging that 600 unarmed citizens were killed in the South East of Nigeria in just ten months and 14 days, warning that another massacre looms in the region.
According to the report, made available to The Street Reporters Newspaper, no fewer than 650 civilian homes have been Razed while 22,000 people were forced out of their homes.
The report also alleged that about 1000 persons were arrested with about 100 others tortured and disappeared without traces.
Further alleging the several communities in the South East, including Izombe, Ohafia, Egudene-Nkanu, Ukpor, Ihiala, Orlu, Oru East, Umunneochi, Okigwe, Isiukwuato, 71 others have been militarily terrorized, the Intersociety questioned the integrity of most military and police intelligence and operational conducts in the South East.
The report revealed that "Most of the military and police intelligence and operational conducts emanate from "hearsay, spinning, mangling and concoctions" and fueled by ethnic profiling, class criminalization and stigmatization", saying that "Such biased and pollutant intelligence can also be best described as "IPOB/ESN Toxins".
The full report was signed by principal officers of the International Society for Civil Liberties and Rule of Law (Intersociety), including a Criminologist/Researcher and the Board Chairman at Intersociety, Emeka Umeagbalasi; the Head, Democracy and Good Governance Program, Chinwe Umeche, Esquire; the Head, Civil Liberties and Rule of Law Program, Obianuju Joy Igboeli, Esquire; and the Head, Campaign and Publicity Department, Chidinma Udegbunam, Esquire.
It reads in full:
The Nigerian military siege and terror in Old Eastern Nigeria particularly targeted at Igbo Ethnic Nationality and her population has resulted in the mass killing of at least 600 unarmed citizens of the Region. The military mass killings had taken place in the past 10 months and 14 days of 2022 or 1st January to 14 November 2022.
The military siege and terror have also led to burning down or destruction of at least 650 defenseless civilian homes-perpetrated in repeated attacks carried out in over 81 communities during which estimated 22,000 civilian occupants including ageing, infants, women and children were forced out and rendered homeless or forced to take refuge elsewhere including extended families' homes. The culpable military and police crack squads and allied others had during the period arrested or abducted at least 1000 unarmed citizens and disappeared 100 without traces till date. In other words, the militarily abducted and disappeared citizens run the high risk of not returning alive to their families or being located alive.
The attacks on Old Eastern Nigerian Trado-Judeo-Christian communities also occurred as a result of ethnic and religious profiling and hatred-with leading state actor perpetrators being soldiers of the Nigerian Army and STS, IRT, CTU, Anti Kidnapping/Robbery/Cultism police crack squads and Nigerian Army-allied Ebubeagu militias. The DSS is also found to be skeletally involved in open killing of unarmed Easterners.
However, the Spy Service Agency is deeply culpable in indiscriminate arrest or abduction of several unarmed citizens taken into custody and held unlawfully and tortuously for one year and above without trial and knowledge of their families.
Jungle Justice, Ethnic Profiling And Hatred Fueled Military Siege And Killings In The East
The conduct atrocities or internationally prohibited acts of the above named state actor security agencies are nothing short of application of jungle justice including ethnic profiling, hearsay evidence, extra jus, extrajudicial, extra legal, criminal labeling, stigmatization, discriminatory and hate policing or soldiering.
These are on account of their full scale application solely targeting members of the Trado-Judeo-Christian Igbo population and their neighbors; whereas the deployed security forces turn total blind eyes on non Eastern genocidal groups especially the Jihadist Muslim Fulani Herdsmen, militarily aided to settle in forests, bushes and farmlands in the East.
Apart from the fact that no single conviction has been secured by the prosecutorial security agencies against any of the Eastern indigenous citizens arrested alive and taken into long detention; it is also observe that no single Jihadist Fulani Herdsman has been arrested, paraded and judicially convicted or killed in gunfire since the beginning of 2022; or held individually or pluralistically responsible for abducting not less than 400 native Igbo-Christians and slaughtering of 200 others in the past 314 days of 2022.
Fresh Civilian Massacre And Other Atrocious Conducts Looming In The East
Recent findings by the International Society for Civil Liberties and Rule of Law have strongly indicated that fresh military massacre of unarmed citizens in their hundreds is looming in the East between this November 2022 and Election Day of 25th Feb 2023.
This is against the backdrop of the recent launching of "the 2022 Operation Golden Dawn" in South-East, "Still Waters" in South-South and "Enduring Peace" in North-Central. From available records or statistics, such military operations have not only ended up in deceit but also led to mass murders, grisly civilian property destructions, infliction of fears on the affected general populations and aiding and abetting the genocidal activities of Jihadist Fulani Herdsmen and allied others in bushes, farmlands and forests located in the three Regions.
Such recent military operations have also increased the number of armed non state actor fighting parties and their counterfeiters as well as 'street criminal entities (.i.e. gangs of armed robbers, kidnappers, cultists, criminal miners of solid mineral resources).
Sacrilegious acts such as sexual harassment or abuse including rape, arrest of nursing mothers and abduction of heavily pregnant women in their homes or maternity hospitals and termination of their pregnancies, etc have been on the increase since the barbarous military operations took off in the East in 2016 and allied others in late 2015.
It must statistically be remembered that in the first military operation carried out on 29th and 30th May 2016 in the East, not less than 140 unarmed citizens were massacred in Onitsha, Anambra State and Asaba, Delta State and in the second military operation launched in the Region between 12th and 15th Sept 2017, not less than 180 unarmed citizens were massacred in Aba, Isi-Alangwa, Asa/Ogwe and Umuahia located in Abia State.
Military Operations Aided Herdsmen Jihadist Incursion Into Eastern Forests Since 2016
The armed Jihadist Fulani Herdsmen's jihadist incursion into the East particularly in forests, farmlands and bushes of Delta State, Edo State, Ebonyi State, Anambra State, Enugu State, Imo State, Abia State, Rivers State, Cross River State, Akwa Ibom and some parts of Bayelsa State and Igbo parts of Kogi, Nassarawa and Benue States in the North-Central was aided and abetted during the military operations starting from the first Nigerian military operation in 2016.
This is to the extent that the Jihadist Fulani Herdsmen were militarily aided to invade and occupy not less than 700 locations in the three Regions above mentioned.
The jihadist invasion and occupation had taken place between beginning of 2016 and last quarter of 2018-with their reinforcements sustained since then under the watch and protection of the military; leading to emergence of counter jihadist non state actor armed opposition groups. The military siege and terror enveloping the joint communal forest ("Be Atunshi Forest") of Egudene (Akpawfu), Amechi Idoodo and Amegunze Communities in Nkanu-East of Enugu State is a clear case in point.
It was found by Intersociety in 2021 that the Jihadist Fulani Herdsmen staged a fierce come back in 2021 aided by the military after being communally dislodged in March 2020.
This also led to not less than six military raids, killings and civilian house property burnings or destructions in Akpawfu Community and environs since 2021.
According to a former Deputy Inspector General of Police in charge of ICT, Retired DIG Ozo Celestine Okoye, "Fulani Herdsmen armed with AK-47 Riffles had already occupied 332 locations in the South-East alone". See the New Telegraph Newspaper of 27th March 2021.
81 Igbo-Christian Communities Under Military Terror And Brigandage
There are no fewer than 81 Igbo communities presently under military siege and terror. The military siege and terror in the affected communities are perpetrated through permanent or temporal military occupation of the areas or constant military patrols with attendant atrocious and other internationally prohibited conducts.
The communities are: Izombe/Oguta, Imo State; interior parts of Ogbaru, Anambra State; Amangwu-Ohafia and its neighbors in Ohafia; Uturu and its environs in Abia State; Asa, Ogwe, Isialangwa, Etche and Owerre-Nta in Abia State; Egudene (Akpawfu)/Amechi Idoodo/Amegunze in Nkanu-East, Enugu State; Amichi/Ebenator/Ukpor, Anambra State; Uli, Orsumoghu, Lilu, Amorka and Ihiala in Ihiala, Anambra State; Ihitenansa, Orsu-Ihiteukwa, Eziawa and Umuhu-Okabia in Orsu, Imo State; Awomama, Amiri and Akatta in Oru East; Omuma, Otulu and Mgbidi in Oru West, Imo State; Ajalli, Ufuma, Ndiokolo and Awgbu in Orumba North; Nando, Nsugbe, Aguleri, Igbariam, Umueri and Umuleri in Anambra East, Umunya and Nteje in Oyi; Omor, Igbakwu, Anaku and Omasi in Ayamelum; Agulu in Anaocha, Amansea, Achalla and Ebenebe in Awka South; Umunze, Owerre-Ezukala and Ogbunka in Orumba South, Anambra State; Ogwa and Mbaitoli in Mbaitoli, Imo State; Orlu and its environs in Imo State; Umunneochi and its environs in Abia State; Okigwe and its environs in Imo State; Isiukwuato and its environs in Abia State; Ohaji-Egbema and its environs in Imo State; Obigbo and Ikwere in Rivers State; Nsukka, Uzo-Uwani, Igbo-Eze North/South and Igbo-Etiti and parts of Isi-Uzo in Enugu State; Ozalla-Nkanu West and parts of Udi, Ani-Nri, Awgu and Ugwuogo-Nike-Opi Nsukka Axis in Enugu State; and Efium and Ezza in Ohaukwu, Egedege/Ishielu, Ishiagu, Afikpo, Onicha and Abakiliki metropolis in Ebonyi State.
Military Terror, Jihadist Attacks And Street Criminalities Heightened In The Igbo 81 Communities
The military siege and terror in the named 81 Igbo-Christian communities have not only become a reoccurring decimal but also heightened Jihadist Fulani Herdsmen attacks and attacks by well-armed street criminal entities. It was observed in the course of this Special Investigation that about 70% of the named communities host highest concentration of Jihadist Fulani Herdsmen invasion and their jihadist genocidal attacks since 2016 (Ukpabi-Nimbo).
Many of the affected 81 communities are also under attacks by non state actor street criminal entities including gangs of kidnappers, armed robbers, cultists, ritualists and criminal miners of solid minerals. In other words, the affected communities have continued to record the highest incidences of the trio of military terror, jihadist attacks and attacks by well-armed street criminal/counterfeiting entities. These are despite the fact that the communities record the highest presence or concentration of military and police deployments.
It was further investigated and observed that the deployed security forces in the areas have been turning their guns and sworn duties against innocent and defenseless road users and local inhabitants and channel same into protecting the jihadist and street criminal gangs as well as aiding and abetting their criminalities including partaking in kidnapping, mining, robbery and jihadist attacks.
Totality of these has forced the affected communities and visitor-road users into being militarily terrorized and inflicted with fears or severally killed, abducted, tortured, disappeared, sexually harassed-with their defenseless houses and other properties burned down or destroyed beyond repair and recognition.
Disproportionate Security Postings And Professional Crudity Aiding Military Terror In The East
There has been systematic policy of disproportionate and discriminatory internal security and defense high ranking postings by Nigerian Government and the country's internal security and defense establishments.
This has been the case in the East since 2016. In investigations carried out by Intersociety in 2016, 2017, 2018, 2020, 2021 and 2022, it was observed that about 95% of the heads of security and defense formations in the East have been allocated to senior security and defense officers from outside the East who are mainly Muslims; a clear evidence of the Government of Nigeria's "structural violence" against the East.
This is to the extent that the current GOC, 6 Division of the Nigerian Army, Port Harcourt is Major Gen Aminu Chinade (Northern Muslim), GOC 82 Division, Enugu is Major Gen Umar Musa (Northern Muslim), 34 Brigade Commander, Obinze is Brig Gen Sani Suleiman (Northern Muslim), 14 Brigade Commander, Ohafia is Brig Gen Adegoke Adetuyi (South-West indigene), Brig Commander, 2 Brigade, Uyo is Brig Gen Abubakar Wase (Northern Muslim), Commander, 302 Artillery of Nigerian Army, Onitsha is Col M.B. Abubakar (Northern Muslim), Air Vice Marshal Ibikunle Daramola is Air Officer Commanding Ground Tactical Command, Enugu; CP Mustapha Bala Mohammed is Commissioner of Police, Abia State (Northern Muslim), CP Ahmed Ammani is CP, Enugu State (Northern Muslim), CP Muhammed Ali is CP, Delta State (Northern Muslim), CP Mohammed Ahmed Barde is CP, Imo State (Northern Muslim) and CP Aliyu Garba is CP, Ebonyi State (Northern Muslim). These are just to mention but a few.
As a matter of fact, too, none of the four serving Police AIGs in the East in charge of Zone 6 Calabar (Kamaldeen Kola Okunlola), Zone 13 Awka (Abutu Yaro), Zone 5 Benin (Lawan Jimeta) and Zone 9 Umuahia (Isaac Akinmoyede) is from the East.
It is further observed that at least 90% of the principal officers in all the military (army, navy and air force), police and spy-police formations in Rivers, Bayelsa, Akwa Ibom, Delta, Cross River, Edo, Enugu, Ebonyi, Imo, Anambra and Abia States are in the hands of non-Easterners who are mainly Muslims.
Totality of these explains the high incidence of hateful and discriminatory policing and soldiering in the East particularly in the South-East; to the extent that the ethnically and religiously lopsided security and defense chiefs in the East have designated citizens bearing Igbo-Christian names irrespective of their age bracket or gender as "criminal class".
Intersociety has documented pieces of evidence showing how deployed security forces open fire on defenseless passers-by around the crime scenes; killing them and labeling them "gunned down unknown gunmen or IPOB/ESN members".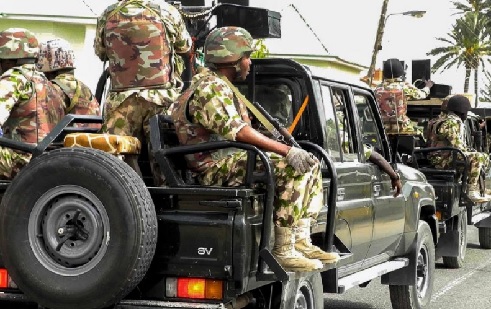 Soldiers also hide under flimsy excuses to launch deadly attacks on several communities, killing locals and setting their houses ablaze. Few days ago at Izombe-Oguta in Imo State, houses were burned down and scores killed on account of alleged killing of a Dangote Truck Driver by non state actor gunmen.
In Isuofia-Aguata, Anambra State, a soldier escaping from the scene of unknown gunmen attack corked his riffle and killed a defenseless civilian running into his compound to escape the gunfire between soldiers and some armed persons.
The open partisanship and hateful policing and soldiering by the deployed security forces and their commanders are so alarming and shocking that non-Easterners especially members of Muslim population living in the East are more protected and secured much more than members of the indigenous Eastern Christian population.
The study done by Intersociety in 2021/2022 to ascertain the ethnic and religious identity composition of the Nigeria's top security, defense and justice headships clearly indicated that "out of 22 of such top positions, Muslims are in control of 18".
These have corrupted and bastardized the principle of neutrality and secularism in the procedural and operational codes or guidelines of the country's security and defense forces particularly in the East especially since June 2015.
Today, "membership and sponsorship of IPOB/ESN" is recklessly and indiscriminately used by the deployed military and police crack squads in the East to unleash grisly and egregious terror on defenseless citizens of the region.
The citizens in the Region are so profiled or discriminated against in the line of security duty that those arrested with Igbo-Christian names are instantly deemed as "condemned criminals" just because of their ethnic and religious identities. Members of other tribes particularly those bearing South-West (Yoruba) and Northern Muslim names are deemed 'incapable of being felonious criminals" in the East.
Intersociety has also investigated and found that citizens arrested at social functions or entertainment arenas in the East are instantly tagged "IPOB/ESN members" or "mothers/fathers/wives/sons/daughters/in-laws/sisters/brothers/relatives/girlfriends of IPOB/ESN members".
Arrested suspected street felons (.i.e. armed robbery suspects and suspected cultists, hired killers, property thieves, rapists, drug/human traffickers, kidnappers, murderers, carjackers, shoplifters, cyber criminals, solid mineral criminal miners etc) are routinely paraded publicly as "IPOB/ESN members" and later shot and killed or detained and tortured to death or held incommunicado for years without trial. Heavily pregnant mothers or those in the hospital labor wards are tagged "wives or sisters of IPOB/ESN members" and abducted and humiliated.
Eight Of Every Ten Killed And Nine Of Every Ten Arrested In The East Are Innocent And Defenseless
The public statements by the deployed security and defense forces in the East are so fed with lies and concoctions that 98% of them are vexatious, provocative and questionable. Such concocted public statements also include statements on state actor intelligence and operational conducts.
Most of the military and police intelligence and operational conducts emanate from "hearsay, spinning, mangling and concoctions" and fueled by ethnic profiling, class criminalization and stigmatization. Such biased and pollutant intelligence can also be best described as "IPOB/ESN Toxins".
By statistics, therefore, it is the finding of Intersociety that out of every ten crimes reported and linked to "ESN/IPOB terrorism" in the East, eight are most likely not correct or linked to what actually transpired; with the truth being that they were perpetrated by members of street criminal gangs or invading Fulani jihadists or state actor secretly funded armed counterfeiters; that out of every ten persons arrested and taken into custody by police (.i.e. IRT, STS, CTU, anti cult/robbery squads, etc) in connection with "Biafra matters", nine are most likely to be evidentially not involved and eight unlikely to come back alive; that out of every ten persons abducted by soldiers over "Biafra matters", eight are most likely not to be evidentially involved and nine unlikely to come back alive; that out of every ten persons openly killed by police or soldiers and labeled "ESN/IPOB members", eight, if not nine are most likely to be defenseless and unarmed; that out of every ten persons arrested by DSS over "Biafra matters", eight are most likely not involved and nine likely to be tortured, starved and held for several months or years without trial and knowledge of their families; that out of every ten IPOB activists arrested, eight are not likely to return alive; that out of every ten dwelling houses burned down or razed by soldiers/ebubeagu militias/police crack squads, etc, eight have nothing to do with "Biafra/IPOB matters" and the remaining two are prohibited by law from being burned or razed; that out of every ten Christian religious sanctuaries (.i.e. sacred places of worship for Sabbath churches and related others) burned down or destroyed by soldiers and police crack squads, same ten are prohibited from being burned or razed under the law; and that out of every ten traditional religious sanctuaries or deities targeted and destroyed over "Biafra matters", same ten are victims of horrendous crimes against property and a fundamental breach of the Geneva Conventions of 1949 and its 1977 Protocols.
Army-Allied Ebubeagu Militias And Armed Counterfeiters As Part Of Military Terror In The East
It is no longer hidden that nefarious activities of the Nigerian Army-allied Ebubeagu Militia and various secret Government funded armed groups counterfeiting mainstream non state actor anti jihadist armed groups have been identified as part of the Nigerian Military siege and terror in the East especially after April 2021 formation of the killer militia. Sequentially speaking, Ebubeagu Militia is Nigerian Army-allied while the armed counterfeiters killing, maiming and abducting defenseless Easterners are Ebubeagu-allied; having been secretly formed and funded through the instrumentality and cover of Ebubeagu militia.
As a matter of strong suspicion, Nigerian Army, Ebubeagu Militia, armed counterfeiters and Jihadist Fulani Herdsmen appear to have a symbiotic relationship or a common goal of unleashing terror and brigandage on Easterners-with Governments of Imo and Ebonyi States as their major promoters.
In the impeccable words of Prof Obasi Igwe, a renowned professor of political science at UNN "from the word go, the Ebubeagu was a nonstarter designed to fail, and so it has done.
There are allegations and issues of missing engineers (in Ebonyi State), government-sponsored 'IPOBs' (ESN counterfeiters)… the mysterious killing of Ahmed Gulak and other souls from near and abroad, unhindered AK-47-bearing Fulani herdsmen involved in kidnappings, murders, rapes and seizures on the highways, the existence of some Ebubeagu outfits with imported Miyetti Allah or non-Igbo personnel; in short, the general orchestration of insecurity in the East, with most of the fingers pointing at the Federal Government in collaboration with some governors against their peoples".
Previous Statistics/Reports
Intersociety had on 19th Jan 2022 disclosed in its Special Report that "Security Forces, Jihadists killed 1400 Defenseless Civilians In 14 Months (Oct 2020-Dec 2021) In Eastern Nigeria, Abducted/Arrested Over 4800, Disappeared 1000, Attacked 100 Igbo Communities, Burned Down 1000 Dwelling Houses And Other Properties Valued At Over N40B And Forced 44,000 Out Of Their Homes".
On 18th July 2022, Intersociety updated the Special Report by disclosing that "Soldiers Of The Nigerian Military And Others Deployed In Eastern Nigeria Raided 150 Communities In Past 20 Months (Oct 2020-June 2022), Burned Down Or Destroyed 1,450 Defenseless Civilian Homes, Forced 51,000 Out of Their Ancestral Homes, Killed 1,360, Burned Down Or Destroyed Or Looted Properties Worth N57B And Caused N600B Trade And Investment Losses Following The Eastern Siege And Atrocities.
The Jihadist Fulani Herdsmen have been responsible for not less than 200 Eastern Christian civilian deaths and 400 abductions while armed counterfeiters and street criminal entities account for no fewer than 250 civilian deaths and up to 1000 abductions.
Homicidal and property destructive attacks arising from armed Eastern Security Network (ESN) on civilians got drastically reduced following increase in deadly attacks by those counterfeiting the activities of the Network. Finally, between 20th Oct 2020 and 14th Nov 2022, the military and police crack squads in the East have accounted for 2000 civilian deaths, 6000 arrests, raiding of 180 communities, razing of 1,700 houses and rendering 60,000 homeless.
Instances Of Military Terror And Mass Killings In The East: 1st January 2022-14th Nov 2022
Dozens of unarmed citizens were killed by the military and its allied Ebubeagu militias between January and April 2022 including the 2022 Easter Eve mass killing and burnings at Ekeututu in Orsuihiteukwa, Eziawa, Ihitenansa, Umuhuokabia, Awomama, Mgbidi, Ihiala and other neighboring communities. Hundreds of civilian buildings were also set ablaze. Scores have been killed in Oguta including five persons killed by soldiers on 25th August 2022. Ten persons were killed by soldiers in Awka North on July 15, 2022. Ten civilians were killed by soldiers on 26 June 2022 in Yakurr, Cross River State.
In Ebonyi State, eighteen (18) civilians were killed in Ohakwu under controversial security circumstances. In seven days or 12th-19th May 2022, not less than 50 civilians were gunned down by the military in Imo, Anambra, Ebonyi, Abia and Enugu including 25 lost in Imo, 15 in Anambra and 10 others in Ebonyi, Abia and Enugu.
In Ogbaru, Uli, Nteje and Ukpor in Anambra State, no fewer than eighty (80) lives were lost to soldiers between June and July 2022. On 17th July 2022, fourteen (14) unarmed citizens were massacred by Nigerian Army-allied Ebubeagu Militia in Awomama, Imo State.
The slain victims were massacred on their way home from a marriage function. A day earlier, over a dozen unarmed citizens were abducted and disappeared by the militias at a betting arena in Okwudor, Imo State.
The Izombe Community in Oguta had militarily been invaded at least five times since January by soldiers of 34 Brigade, Obinze in Imo State; killing several civilians and burning dozens of civilian houses and other properties.
The latest of such attacks on the Community took place on Monday, 7th Nov 2022 when soldiers invaded the Community over alleged killing of a Dangote Truck driver. The Community is an oil-rich and home to some suspected armed crude oil thieves who the Nigerian Army classified as "IPOB/ESN members" and use as a cover to attack the Community. Ebem-Ohafia and Amangwu-Ohafia Communities in Ohafia, Abia State are one of the worst hit areas in the East under military siege and terror.
The communities have been regularly raided, leading to dozens of civilian deaths and razing of several defenseless houses and other properties. In the latest attack by the Nigerian Army on Thursday, 3rd Nov 2022, no fewer than ten civilians were killed and 50 civilian houses burned down. The Nigerian Army later admitted "killing three IPOB members who abducted and killed a soldier".
The widespread attacks by the military on Igbo-Christian communities and their civilian houses and other properties also involved war-grade attacks such as use of military helicopters, machine guns and explosives.
Not only that Obigbo in Rivers State is still under military siege by soldiers of 6 Division in Port Harcourt but also Egudene-Akpawfu in Nkanu-East, Enugu State had lost dozens of civilian houses and civilian lives to Nigerian Army under 82 Division since the beginning of January 2022. Since late Dec 2021, the Community had been invaded at least five times.
The Nigerian Army had in 2021, following the communal lodgment of Jihadist Fulani Herdsmen from the Community's "Be Atunshi Forest" shared with communities of Amechi Idoodo and Amegunze; assembled the Community's reps at its Onokolo Market Square and gave them matching order to "produce those responsible for the dislodgment or be collectively treated as flashpoint for ESN/IPOB camp"; thereafter, hell was let loose on the Community till date.
On the Christmas of 2021, soldiers stormed the Community and disrupted the Eve of Christian church services, burned down several civilian houses and arrested scores and killed three. Days later, the Army issued a statement, labeling one of those arrested (Godwin Nnaji) as "ESN Commander being looked for". Citizen Godwin Nnaji later turned out to be a 40-year-old Mason arrested in his sleep sharing same bed with his blind mother.
In one of its latest raids carried out on 14th and 15th Oct 2022, the Army engaged in land and air bombardments in the "Be Atunshi Forest" and its surroundings including nearby civilian homes, leading to destruction of lives and properties.
This is to the extent that schools and hospitals in the area have been deserted and social activities grounded; thereby throwing the Community and its environs into a ghost town. At least three persons were killed in nearby Amechi Idoodo Community as well as others killed in Akpawfu during the attack. The Army later claimed that it is "searching for IPOB/ESN hideouts".
In 2021, the Army raided the Community and its environs more than three times. Similar situation was also the case in Awgu where soldiers in Nov 2021 and Oct 2022 invaded Awgu including Mgbowo Community, razing several civilian houses and killing scores; claiming to be "looking for IPOB/ESN members/commanders".
The 'Four-Corner' and environs located in Ozalla, Nkanu-West in Enugu State has been under Jihadist Fulani Herdsmen siege and attacks since early second week of Nov 2022. This is to the extent of disrupting vehicular and pedestrian movements and other social activities along the Four-Corner section of the ever-busy Enugu-Port Harcourt Expressway and adjoining roads.
The ongoing sustained jihadist attacks in the area are taking place despite the area hosting at least six Army checkpoints including those at Okpanku and Udi Hill and four others mounted few meters away from each other between the Four-Corner and Independence Layout Junction. The six Army roadblocks are manned by soldiers of the 103 Battalion under the command of Lt Col Tagwoi, a non Easterner.
While defenseless road users and locals in the area are routinely targeted by soldiers at the six roadblocks for molestation, brutalization and extortion; the Jihadist Fulani Herdsmen are provided safe passage and cover to assemble and launch jihadist terror attacks on defenseless road users and residents of the area.
In Ebonyi State, the State Government has continued to use Ebubeagu militia to attack and unleash terror on its critics.
A former Government Commissioner, politician and renowned journalist, Chief Abia Onyeike was abducted at night on Wednesday, 8th Nov 2022 by Ebubeagu militias and bundled to a police station located at Old Government House in Abakiliki where he was inflicted with bruises and deep cuts and nearly killed. He was accused of "constantly criticizing the Governor and State Government of Ebonyi State" and was saved by the swift intervention of the NPF Headquarters, Abuja. Not forgotten was the mass abduction and killing of citizens of the East by Police IRT and STS Squads and others using "IPOB/ESN membership" as a cover.
The abduction and 18 months detention of Midwife Ifeyinwa Egole by Police IRT is a case in point. She was arrested in Feb 2021 in Orlu, Imo State along with her husband (Sabbath Pastor Cletus Egole) and accused of "using their Sabbath Church as a training ground for IPOB/ESN".
The Police IRT also burned down her Maternity Hospital, their family house and church. Not done, they took the couple to Police IRT's Bureau of Intelligence, Abuja where Pastor Cletus Egole was killed in custody in June 2021.
As if that was not enough, Sabbath Pastor Cletus Egole's youngest brother, Pentecostal Pastor Chinedu Egole was abducted in his Port Harcourt base and killed in May 2021 in police custody at Tiger Base of Police IRT in Owerri.
The Police IRT also forced the couple's first son and Pastor Cletus Egole's immediate younger brother (Eugene) into disappearance without traces. Midwife Ifeyinwa Egole was held by Police IRT amidst severe torture for 16 months without trial till she was granted bail in June 2022. Mrs. Ngozi Umeadi, an Insurance staff, was a nursing mother with a newly delivered infant when she was arrested by Police IRT on 21st May 2021 and accused of "IPOB membership".
She was held by Police IRT without trial and access to her family and child for a year and six months until her court bail and release on 24th Oct 2022. In the blue law hours of 30th August 2022, soldiers of 34 Brigade, Obinze in Imo State, invaded a Community Health Center at Amalulu in the State and broke the doors of the Heath Center, arrested scores of the staff crew members and patients on admission including heavily pregnant women in labor wards.
The soldiers later took them away, claiming that "they got an intelligence report that a suspected IPOB member's wife was admitted at the Health Center as she was about to put to bed". These instances are just to mention but a few.
"Membership Of IPOB" Now A License To Kill, Maim, Abduct, Torture And Burn Houses In The East
"Membership of IPOB (Indigenous People of Biafra)" has now become a license for deployed military and police crack squads to hatefully and unlawfully kill, maim, abduct; torture and rape unarmed citizens in the East and burn down or destroy their houses and other properties.
This is to the extent that the security forces now go about with reckless abandon killing, maiming, abducting, molesting, torturing, sexually abusing and degrading civilian citizens and setting their houses and other properties ablaze using "IPOB membership or ESN membership" as a cover. It has also gotten to an alarming level of soldiers invading communities at will and unchecked and engaging in wanton destruction of civilian lives and properties-claiming to be "looking for IPOB/ESN hideouts or members or commanders".
The sacred Palace of the Traditional Ruler of Akama-na-Asaa (HRH Eze Agugoesi) in Ihitenansa, Orsu LGA in Imo State was nearly burned down and visited with heavy destruction in Jan 2022 by soldiers of 34 Brigade. It was the business card of the first son, Prince Barr Agugoesi that saved the Palace from being burned down. The leader of the arsonist soldiers, a Northern Muslim Captain, later told the Lawyer-Prince on phone that "they received intelligence that the palace was a camp for IPOB/.ESN".
Strictly and legally speaking, 'IPOB activists' are specifically unarmed in Nigeria till date and no Nigerian law permits security forces to kill unarmed civilians under whatever guise or criminal labeling.
The law also does not empower security operatives to kill unarmed citizens under a proscribed organization except caught in felonious acts with riffles, shooting, killing, maiming and destroying.
This is more so when members of the Islamic Movement in Nigeria or Shiite Muslims which also had their Islamic Movement vindictively proscribed have been moving and worshipping freely with their members and places of worship not militarily attacked or targeted for death or destruction.
Contrary is the case when compared to ongoing, unchecked and untamed mass killings and property destructions including widespread attacks on Sabbath churches and traditional sanctuaries in the East using "IPOB membership" as a cover.
For documentary evidence of military burnings in the East, watch click here:
Intersociety's Contacts:
Mobile Phone/WhatsApp: +2348174090052
Email: info@intersociety-org.ng
Tagged:
Nigeria
South East
South East Killings