This post has already been read 522 times!
…As Foremost Rights' Activist, AWA Bamiji, Named Member of Civil Society Committee, Tinubu/Shettima Presidential Campaign Council
PRESS RELEASE: It's a celebration galore in the seat of power or rather, Federal Capital Territory, Abuja, and around the World presently as Youths, Women and Elders, all of whom had earlier registered their sharp discomfort on sighting the inaugurated list of the Tinubu/Shettima Presidential Campaign Council members of the ruling Party, All Progressives' Congress (APC) Presidential Candidate/Running Mate, Asiwaju Bola Ahmed Tinubu and Senator Kashim Shettima respectively, by President Muhammadu Buhari, GCFR, without seeing the much awaited name of this young, gentle and handsome man of many paths, Political Czar, multi – talented Rights' Activist of uncommon dimension, Obafemi Awolowo University, OAU, Ile – Ife, trained Youth Activist/foremost Economist, Most outstanding Youth Developer of decades, Veteran Journalist, International Youth Mobiliser of all seasons and Public Commentator of untainted reputation, Comrade Alarape Wahab Animasahun (AWA) Bamiji, whose name has become household for a very long period of time in Nigerian Political, Civil Societies' and Media spaces due to his Groups' frequent staging of all forms of successful Youth enlightenment Programmes across the States of Federation and Federal Capital Territory, and his Twenty One year old Yoruba Youth Group has been championing the popular advocacy, "2023: Yoruba Presidency, Non – Negotiable" under the ever formidable Platform of Agbarijo Egbe Odo Yoruba, Grand Council of Yoruba Youths, since June 2019, immediately after the May 29, 2019 inauguration of General Muhammadu Buhari (Rtd), as the new Executive President, Federal Republic of Nigeria, GCFR, are now jubilating over the thoughtful inclusion of his name in the supplementary list of the Campaign Council's members over the weekend.
His Grand Council of Yoruba Youths, which staged this year's September 23 Yoruba National Day in the Banquet Hall of Oyo State APC Secretariat, Oke – Ado, Ibadan, where the Rave of the moment, Human Capacity Developer, Grand Commander of African Politics in making and APC Presidential Candidate, Asiwaju Bola Ahmed Tinubu, was bestowed AFRICAN MAN OF THE CENTURY ODU'A AWARD, the event that also witnessed the mega endorsement of Mr Babajide Sanwo-Olu, Prince (Dr) Dapo Abiodun and Senator Teslim Folarin, the Three (3) APC Southwest Gubernatorial Candidates of Lagos, Ogun and Oyo States, respectively, had since joined forces with other ethnic and Civil Society Groups across Nigeria, in its universally celebrated advocacy, "2023: TINUBU IS A GO!", under the aegis of COALITION FOR A BETTER NIGERIA, projecting Asiwaju Bola Ahmed Tinubu for 2023 PRESIDENT, and the preparations are now in serious gear across the States of Federation including Federal Capital Territory, Abuja, to stage its much talked about FEBRUARY 14 NIGERIAN YOUTHS 4 TINUBU in Abuja, Federal Capital Territory, with aim of showing NIGERIAN YOUTHS' undying love on Valentine's day to Asiwaju Bola Ahmed Tinubu 2023 Presidential ambition and bestow on him same spot, beautifully carved GRAND COMMANDER OF AFRICAN POLITICS in form of Asiwaju Bola Ahmed Tinubu's statue playing a football match as Captain of African Football Team in Politics, in geniune appreciation of his long time contributions to Human Capacity Development, Politics, and Businesses in the Continent of Africa
The notable Political Leaders in and outside Nigeria have indicated their keen interest in this historic project which is going to be the first of its kind in Politics globally and are seriously working with this mathematical Organiser, that is about breaking the Guinness Book of Record with her fantastic plan to make it a huge success. All Nigerians in Diaspora that have plan to come home in February and vote found the date of event very convenient apart from looking forward to mingle with their Coallegues, highly promising Youth Leaders across the 36 States of Federation and Federal Capital Territory.
As a workaholic, who is ever selfless, ever dynamic, ever progressive, better focused and highly resourceful, said he had to joyfully appreciate concern of majority of People over him and popular nomination of his name across board for the inclusion in the Tinubu/Shettima Presidential Campaign Council (PCC) membership list because he had paid his due and had ever been supportive to Asiwaju Bola Ahmed Tinubu's progress in life and preparing a powerful global network of enthusiastic youths for decades ahead of his Principal's declaration for Presidential ambition, followed by the Primaries and now by the inauguration of the Presidential Campaign Council and he promised to adequately represent the collective interest of the teeming and reputable members of the Civil Societies' Community, the Consistuency he has been operating for 3 decades running, who share the same vision with him, but are unable to make the Campaign Council membership list due to limited and available spaces. In his profound appreciation of everybody's support, he prayed, "our individual efforts will continue to speak for all of us and we shall continue to meet God Almighty at every point of our needs. The name we bear at the same time matters a lot as People's support has always been my strength from Childhood. The reason I always see any opportunity that comes my way as that of the less privileged and optimistic masses. "Eni ki i je Awa de". "2023: Awa Oninu Rere l'okan!".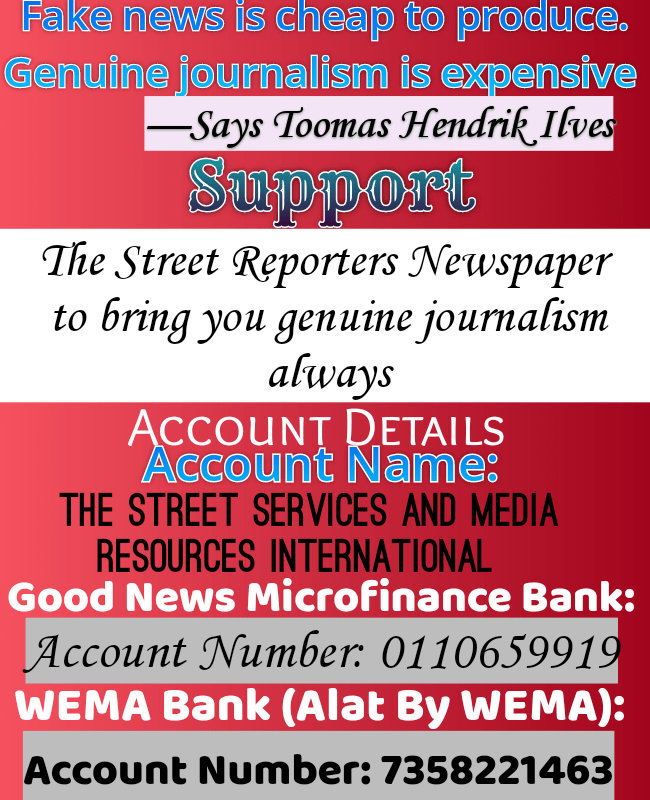 Awa Bamiji, who was trainned by all the Prominent members of Afenifere, Yoruba Council of Elders (YCE), Yoruba Unity Forum, Yoruba General Assembly, Afenifere Renewal Group and NADECO members in and outside Nigeria, both living and dead, among whom are the past and present Yoruba Governors since 1999 till date, Senator Abraham Adesanya, Chief Bola Ige, Pa Emmanuel Alayande, Justice Adewale Thompson, Senator Ayo Fasanmi, Pa Reuben Fasoranti, Chief Bisi Akande, Aremo Segun Osoba, Alhaji Lam Adeshina, Otunba Niyi Adebayo, Chief Iyiola Oladokun, former Deputy Governor of Oyo State, Prince Biodun Ogunleye, former Deputy Governor of Lagos State, Chief Sooko Adeleke Adewoyin, former Deputy Governor of Osun State, Chief Gani Fawehinmi, SAN, Otunba Dele Ajomale, former Chairman, APC, Lagos State, Mrs Jumoke Anifowose (Nee Ajasin), Mrs Ronke Okusanya, former Commissioner, Ekiti State, Dr Amos Akingba, Alagba Adebayo Faleti, Prof Akinwunmi Ishola, Prof O. O. Akinkungbe, Prof Akin Oyebode, Prof Adebayo Williams, Prof Ropo Sekoni, Prof Banji Akintoye, Prof (Mrs) Bolanle Awe, Prof (Mrs) Sophie Oluwole, Prof Felicia Adetoun Ogunseye, Nigerian first female Professor, Kola Ogundowole, Prof Akin Mabogunje, Prof Taoheed Adedoja, former Minister of Youth and Sports' Development, Prof Soji Adejumo, former Chairman, SUBEB, Oyo State, Ambassador Segun Olusola, Ambassador Olu Otunla, Comrade Baba Omojola, Comrade Alfred Ilenre, Comrade Ayo Opadokun, Ambassador Tokunbo Dosumu Awolowo, Mr Tokunbo Ajasin, Senator Biyi Durojaiye, Prince Tajudeen Oluyole Olusi, Leader, Afenifere Egbe Ilosiwaju Yoruba, General Alani Akinrinade (Rtd), Leader, Yoruba Assembly, Archbishop Bolanle Gbonigi, Archbishop Ayo Ladigbolu, Leader, Yoruba Unity Forum (YUF), Barrister Femi Falana, SAN; Chief Niyi Akintola, SAN; Comrade Frank Kokori, Mr Sunny Ajose, former Chief of Staff to Asiwaju Bola Ahmed Tinubu, Reverend Tunji Adebiyi, former Aide to former late President MKO Abiola, Chief Anthony Enahoro, Senator Abraham Adesanya, Incoming President Bola Ahmed Tinubu, by God's grace, Chief Bisi Akande and former Governor Babatunde Raji Fashola, SAN; Otunba Jumoke Ogunkeyede (JMK), Ambassador Sola Iji, Mr Ayo Afolabi, Publicity Secretary, APC Southwest, Chief Akin Oke, former Chairman APC, Oyo State, Alhaji Lai Muhammed, Dr Leke Pitan, former Commissioner for Health, Lagos State, Mr Tunde Fowler, former Chairman, Federal Island Revenue Service, Dr Kunle Olajide, Secretary, Yoruba Council of Elders (YCE), Hon Wale Osun, Leader, Afenifere Renewal Group (ARG), Prof Bayo Ademodi, late Special Adviser on Regional Integration to Arakunrin Rotimi Akeredolu, SAN; Oloye Lekan Alabi, Dr Wale Okediran, President, Association of West African Authors, Senator Tokunbo Afikuyomi, Mr Dare Babarinsa, formerly in Tell Magazine, Justice Mustapha Akanbi, Pioneer Chairman, ICPC, Chief (Mrs) Rita Lori Ogbebor, Itsekiri High Chief, Mr Niyi Idowu, Mrs Ayo Obe, Comrade Moshood Erubami, Comrades Femi Aborisade, Kayode Opeifa, Danladi Sunday Oladele a. k.a Lado, first NANS President; Segun Mayegun, most popular former NANS President; Debo Adeniran, Amitolu Shittu, Biodun Sowunmi, Shina Loremikan, Waheed Lawal, Laoye Sanda, Wole Aina, Princess Bisi Sangodoyin, Ibadan based Gender Activist, Dr Balogun P.A, Executive Director, late Beko Ransome – Kuti led ICG, Ms Yeni Kuti, Chief (Mrs) Alao – Aka Bashorun, Senator Opeyemi Bamidele, Senator Femi Ojudu, Mr Kunle Ajibade, Mr Bayo Onanuga, Barrister Festus Keyamo, Mr Dele Alake, late Hon (Justice) Kayode Eso of Supreme Court, Hon (Justice) Badejoko Adeniji, immediate past Chief Justice of Oyo State, Prof Sabitu Olagoke, leading first Class Obas in Yorubaland and their erudite Secretary, Alayemore of Ido Osun and others too numerous to mention here, has the ever revolutionary Nobel Laurette, Prof Wole Soyinka, as his Number 1 living Mentor in the Civil Societies, to whom he dedicated the latest breakthrough to, is the Executive, President Bola Ige Centre for Justice; Longstanding Mobiliser for the June 12 anniversary across the Southwest States; Secretary, Beko Ransome – Kuti memorial Committee; President – General, Grand Council of Yoruba Youths, most outstanding Yoruba and National Youth Leader and National Coordinator Coalition (of Civil Societies) for A BETTER NIGERIA. He predicted 2023 Presidential election to be a straight forward fight between his Principal (APC) and Alhaji Atiku Abubakar of the People's Democratic Party (PDP) just like that of Bashorun MKO Abiola (SDP) and Alhaji Bashiru Tofa (NRC) in 1993 Presidential election because the wide margin in popularity of both Candidates and assures Nigerians of the readiness of the Civil Societies' Community for any spontaneous and violent reactions that may greet the announcement of the result. We are once beaten, twice shy, and luckily for us, President Muhammadu Buhari GCFR is very sincere about the process of transition of power to another elected President".
The endorsement of Asiwaju Bola Ahmed Tinubu 2023 by Governor Seyi Makinde through Barrister Bayo Lawal, his Deputy, Today, didn't come as a surprise to me at all as Political Strategist because we are ever visionary in giving out our beautifully carved 48 Ori – Olokun Odu'a Awards during the triple celebration of Yoruba National Day, Yoruba Youth @ 20 and Asiwaju Bola Ahmed Tinubu @ 69 held last year's September inside Lagos Airport Hotel, Ikeja, till last September Yoruba National Day Celebration, in which Political, Religious and Traditional Heavyweights in Nigeria including President Muhammadu Buhari GCFR, Prof Yemi Osinbajo, Senator Ahmed Lawan, Rt (Hon) Femi Gbajabiamila, members of Nigerian Governors' Forum including Governor Seyi Makinde of Oyo State who got Okanlawon Ti Ile Odu'a Award. We believe that we need the strategic Leaders of the Opposition Party to make our collective dream a reality. To God be the glory!
DEDICATION: I dedicate this release to Gen Buba Marwa (Rtd), Executive Chairman, National Drug Law Enforcement Agency (NDLEA), Senator Ibrahim Shekarau, former 2 term Governor of Kano State and present sitting Senator, Kano Central, Senator Sheu Sanni, Chief Mike Ezekome, SAN, Alhaji Asari Dokubo, Leader of Niger Delta Volunteers' Front and Ex Militant Leader, Alhaji Yerima Shettima, President, Arewa Youth Consultative Forum and memory of Prof (Mrs) Dora Akunyili for their individual and unique contributions to our Political struggles.
Comrade Awa Bamiji, reporting from Akure home of Pa Reuben Fasoranti, who got the beautifully carved 2018 Grand Council of Yoruba Youths' Baba Eto Ti Ile Odu'a Ori Olokun Award during the Yoruba National Day Celebration in honour of his close friend of five decades, Senator Ayo Fasanmi's 92 Birthday ceremony, which was witnessed by our Royal Mentor, Oba Ni Igbejo, the Secretary, Yoruba Traditional Council, Alayemore of Ido Osun, who doubles as Secretary, BoT, National Council of Traditional Rulers of Nigeria, (NCTRN) and Comptroller General, Council of Traditional Leader of Africa (COTLA)